Collector Profile
Joe Rock
Tackling the 2000 SP Authentic Football Set
by Kevin Glew
It's all about the Tom Brady rookie.
That's the reason Joe Rock became interested in the 2000 SP Authentic Football set.
Rock has built the top three, 2000 SP Authentic Football sets on the PSA Set Registry - two of which are comprised entirely of PSA GEM-MT 10s.
"I knew the set was all about the Brady card when I started collecting it," said Rock. "The Brady SP Authentic rookie is one of the coolest football rookies to obtain, but I just kept saying to myself, 'How cool would it be to have the whole set in PSA 10?' ... I got so obsessed with getting PSA 10s that I ended up having eight sets [at one point]."
Though he resides in Livonia, Michigan, Rock is a diehard New England Patriots fan. The veteran hobbyist likes Brady because the Pats quarterback attended the University of Michigan, but Rock admits that he didn't start collecting Brady rookies until after the superstar's second Super Bowl victory in 2004.
The Brady rookie (#118) is one of 81 Future Watch rookies in the 2000 SP Authentic Football series that are serial numbered out of 1,250. The Brady card presents an early photo of the now five-time Super Bowl-winning quarterback poised to make a throw, but the text on the back does little to hint at his future greatness.
"He has good zip on all his passes and his leadership skills are clearly NFL-caliber," reads a sentence on the card back. "The classic pocket-passer with good size and arm strength won a backup job to starter Drew Bledsoe to start the season."
Rock doesn't recall there being much hype about Brady when the Pats pivot was drafted in the sixth round in 1999.
"He wasn't even predicted to be that good," said Rock. "So he didn't have as many rookie cards as some of the guys that were first rounders, and I bet you his SP rookies were really cheap back in 2000."
Like many hobbyists, Rock wishes he had stockpiled Brady rookies when they were first released, but in the eight years he has been assembling his 2000 SP Authentic Football sets on the PSA Set Registry, he has watched PSA 10 Brady rookies escalate rapidly in price.
But while the value of Brady's rookie dwarfs that of any other single in the 2000 SP Authentic Football set, it's also only one of the 171 cards that Rock had to track down to complete his sets.
The 2000 SP Authentic Football cards were sold in 24-pack boxes with five cards in a pack. There are two classifications of cards in the set. The first 90 cards (#1 to #90) highlight veteran players and stars. This portion of the set generally features two or three players from each NFL team that are sequenced alphabetically by team city (beginning with the Arizona Cardinals and ending with the Washington Redskins).
The veteran card fronts showcase a large player photo surrounded by glossy white borders and silver highlights. The player's name runs down the left side in script above the set name. The player's team and position are indicated at the bottom, while the SP Authentic logo is on the top right.
The card backs flaunt a color base that varies by team. The back also displays the card number and player name at the top, with the NFL logo, team name, player number, and position running down the left side. To the right of this information are the player's vitals (Height, Weight, Born, College), biographical information, and a small color photo. The player's statistics, Upper Deck logo and hologram, as well as copyright information are printed across the bottom.
Cards #91 to #171 highlight Future Watch rookies that are serial numbered to 1,250. Their front design is different than the veteran cards. The cards are still glossy and boast white borders with silver highlights, but the player's uniform number is displayed prominently on the top left, while their first and last names are split between the top and bottom. The SP Authentic logo and serial number (#/1,250) are on the top right, while the team logo is at the bottom.
Unlike the veteran cards, the backs of the Future Watch cards have a white base. These backs exhibit the card number, vitals, and Future Watch branding down the left side. To the right of this, there is a small color photo, the NFL logo, the player's uniform number, and name above a short bio, the player's position, copyright information, and the Upper Deck logo and hologram.
Rock began submitting 2000 SP Authentic Football cards in bulk to PSA in April 2009. The concept of having cards graded was something he couldn't have grasped when he was growing up in the 1960s. He was raised in Redford, Michigan, but moved to Livonia, Michigan, when he married his wife, Kathy, in 1981. He recalls collecting 1960s baseball cards and keeping them in a shoebox.
Like many, however, he lost interest in sports cards during his teens. Eventually he started working at a Farmer Jack's grocery store in 1975, where he worked in various capacities for 32 years. Then he started collecting cards again in the early 1990s when his son, Adam, became interested in hockey cards.
"His favorite player was Patrick Roy and mine was always Steve Yzerman," said Rock.
But as noted earlier, Rock didn't start collecting the 2000 SP Authentic Football set until after Brady won his second Super Bowl in 2004. Since that time, he has purchased five wax boxes, bulk lots of raw cards, and traded with other collectors to finish his Registry sets.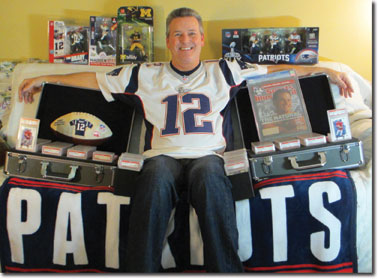 Since April 2009, he has submitted more than 1,500, 2000 SP Authentic Football cards to PSA to be graded
"I sent in over 1,500 cards for grading, but you can multiply that by 10 and that's a ballpark figure of the number of cards I looked through with a magnifying glass," said Rock.
After many of the cards in his initial submission were graded PSA 10, he made it his mission to assemble the entire set in PSA 10s.
"Some people would say, 'Joe, you're wasting your money; you're never going to get your money back,'" recalled Rock. "But I was just obsessed with getting all PSA 10s. It [the money] didn't matter to me. I just wanted to get all 10s. I just kept thinking how cool it would be to have the whole set in PSA 10."
Thanks to his determination, it only took him about a year to complete his first set in all PSA 10s.
Rock cites Emmitt Smith (#22), Brett Favre (#32), Peyton Manning (#35), and Jerry Rice (#75) as some of the key star cards in this set. In total, there are 13 Pro Football Hall of Famers in this series (see accompanying chart), but that number will grow as players like Manning and Brady become eligible for the Hall in the future.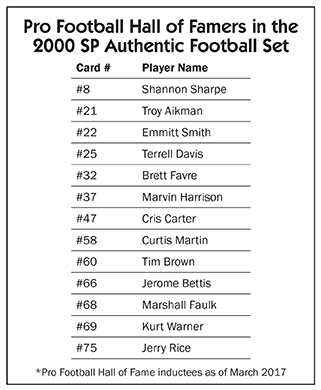 Other notable rookies, outside of Brady, include Brian Urlacher (#122), Chad Pennington (#124), Jamal Lewis (#132), Ron Dayne (#138), Shaun Alexander (#140), Thomas Jones (#143), Plaxico Burress (#149), Peter Warrick (#150), Jake Delhomme (#160), and Mike Anderson (#164).
"The next highest valued card after the Brady is the Brian Urlacher rookie," noted Rock.
Of the 265 Urlacher cards graded, there have been 116 PSA 10s.
Rock also ranks the Jamal Lewis (#132) as another important rookie. This card pictures the Baltimore Ravens running back in motion with the ball cradled in his right hand. There are 40 PSA 10s.
At one time, the most difficult card for Rock to uncover in PSA 10 was Kerry Collins (#54). The New York Giants quarterback is highlighted preparing to make a throw on the front of his single. Rock initially submitted 26 examples of this card and only received one PSA 10.
"Then, in 2016, I obtained over 100 examples and went through all of them picking out the best 15 to send to PSA. I hit the jackpot and got back eight PSA 10s," said Rock.
Rock also noted that the Jake Plummer single, the series' first card, was tough to find in gem-mint condition. This card was vulnerable to damage because as the set's first card it was generally at the front of collector boxes. There are just four PSA 10s.
The biggest challenge for Rock in assembling his sets was that he had to have most of the cards graded himself.
"There are some common cards with a population of four PSA 10s and I own three of them," he said.
To uncover the highest grade 2000 SP Authentic cards, he had to scavenge through thousands of raw examples. While he was doing this, the most common condition flaws he discovered were corner damage and chipping on the edges of the color backs on the veteran cards (#1 to #90).
Rock says he chose to have his cards graded by PSA because they're the longest serving card grading company and he likes the comfort and security of having his cards protected in their holder.
With two full PSA 10 sets, Rock has achieved his collecting goal, but with his passion for the 2000 SP Authentic Football set still strong, he's now pursuing Future Watch rookies that have serial numbers lower than 100 out of 1,250.
"I'm always looking for low serial number cards," said Rock. "Whenever rookie cards are on eBay, I always look at those numbers."
Rock has also been adding gold parallel Sign of the Times autograph inserts to his collection. There was approximately one regular Sign of the Times autograph in each 2000 SP Authentic Football box, but the extremely rare gold parallels were serial numbered to the player's jersey number. For example, Rock owns a PSA 10 Urlacher Sign of the Times autograph gold parallel that's #27/54 (Urlacher's uniform number is 54). And just recently he obtained a Joe Namath Sign of the Times autograph gold parallel that's #06/12, which received a PSA NM-MT 8 grade for the card and a PSA/DNA 10 for the autograph.
And for the record, for those who thought Rock was crazy to grade his 2000 SP Authentic Football cards, he has sold four sets comprised of PSA MINT 9s and PSA 10s for approximately $28,000 over the years.
"I have three sets left and two are all PSA 10s, with the third one consisting of all PSA 10s except for one card," said Rock. "I'm the only one in the world with all 171 cards in PSA 10."
His plan is to keep at least one of his sets, but at the rate Brady rookies have been increasing in value, you couldn't blame him if he was tempted to sell.
"The sky seems to be limit on this guy [Brady]," said Rock. "I mean, who's going to win five Super Bowls ever again?"
For more information on the 2000 SP Authentic football set, please visit http://www.psacard.com/cardfacts/football-cards/2000-sp-authentic/754.
---
Please feel free to contact Kevin Glew at [email protected] if you have any additional information or comments. A special thank you goes out to Joe Rock for providing his entire set for scanning for this article. Please note that the Population Report figures quoted and Set Registry rankings reported are those as of March 2017.