PSA Set Registry
Collecting the 1922 American Caramel (E120) Baseball Card Set
An Ornate and Overlooked Vintage Issue
by Kevin Glew
In a decade when the baseball card market was dominated by strip cards and generally unimaginative issues, the 1922 American Caramel "Series of 240" (E120) set stands out for its vast selection of stars, superb photos, and ornate design.
"The set has the largest selection of active players of any set of the era," noted Larry Mayer, who owns the No. 2 Current Finest, 1922 American Caramel (E120) set on the PSA Set Registry. "I think the design is extraordinary and really differentiates it from the other candy card sets. Additionally, as with many caramel sets, you can get cards of the greatest players of the era for a much lower price than the more famous sets."
Jim Chanin, who has more than 60 sets on the PSA Set Registry and won the 2016 PSA Set Registry Award for Best Collection of the Year, ranks his No. 1 Current Finest, 1922 American Caramel (E120) set as one of his favorites. He says no other set from the era rivals its beauty and detail.
"It was just very carefully thought out and all of the great players are in there," he said. "It's hands down the nicest set of the 1920s."
The E120 set consists of 240 cards - 15 singles dedicated to each of the 16 major league teams at the time. Fortunately for collectors, this emphasis on equality didn't come at the expense of any superstars. Cards of Babe Ruth, Ty Cobb, Walter Johnson, Grover Cleveland Alexander, Tris Speaker, and Rogers Hornsby are all part of this set.
Measuring 2" by 3-1/2" each, the E120 cards can be found in two colors: American League players are presented on sepia-toned singles, while the National Leaguers are featured on greenish-blue cards.
Large black-and-white photos in an oval frame are the centerpiece of the fronts. The bulk of these are staged action photos. Many pitchers, for example, are highlighted in their windups, while catchers are regularly pictured in their gear. The photos on two of the cards - Bibb Falk and Zach Wheat - are particularly memorable because they look like the players have just taken mighty swings and are almost falling over.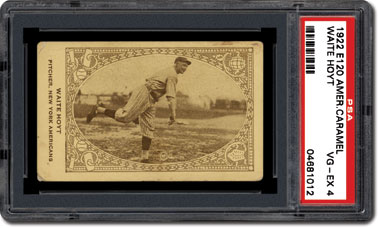 The most distinctive feature of the fronts, however, is the ornate frames surrounding the photo. There are eight different frame designs - one for each of the eight teams in the American and National Leagues. Players from the same team boast the same frame with four exceptions: Walter Mails (Cleveland), Frank (Dixie) Davis (St. Louis Browns), Adolfo Luque (Cincinnati), and Eppa Rixey (Cincinnati).
"Someone took a lot of care in designing this set," said Mayer. "From a design standpoint, it really is way above the other caramel sets."
Most of the fronts are aligned vertically, but several have horizontal photos, including cards of Hall of Famers Frank Frisch, Waite Hoyt, and Rabbit Maranville.
The player's name, which often includes their nickname, is displayed at the bottom. The player's position is below the name to the left of the team name, which consists of the team city and the league rather than the club's true nickname. For example, New York Yankees players are referred to as New York Americans.
The vertical backs present text printed in the same shade of color as the fronts. The top lists the team name, followed by the manager's name and a team checklist of the players by position. There are no card numbers.
"The team checklist on the back is a great concept, particularly for those trying to put together a set. You don't see that in very many sets," noted Mayer.
The back also fashions text explaining the set's composition and encourages collectors to purchase an album for their cards. "We supply handsome blank albums to hold 120 pictures - one for American League, one for National League - for 16 cents each postpaid," reads a sentence on the card back.
The bottom of the backs also flaunt the company name and its locations (Lancaster and York, Pa.).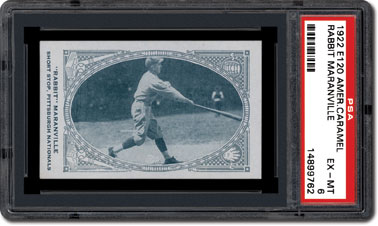 One of these cards was reportedly issued in each package of candy. Lew Lipsett's The Encyclopedia of Baseball Cards shares a report from a collector that indicates that these cards were wrapped in a way that enabled youngsters to see what card was in the pack. As a result, kids often flipped through packs in the stores to find packages with star players.
It can be safely concluded that these cards were not printed until after February 18, 1922, because that was when Rube Marquard and Larry Kopf were dealt by the Cincinnati Reds to the Boston Red Sox for Jack Scott. The Marquard and Kopf cards have been updated to reflect this transaction.
Not surprisingly, the key to this set is the Ruth single. This card offers a close-up shot of Ruth holding a ball in his right hand. Of the 36 submitted, the two PSA NM-MT 8s represent the highest graded examples. Chanin has been building his set for years and he has never seen one of the PSA 8s.
Ty Cobb's card is also highly sought after. Somehow, however, the manufacturers managed to spell his last name incorrectly (Cob). This card presents a black-and-white photo of Cobb throwing. The two PSA EX-MT 6s are the top examples.
This set also contains a desirable card of pitching legend Walter Johnson. The photo of the Washington Senators ace showcases him in a throwing motion. There's one PSA 8 and one PSA 6.
Mayer notes that the Gabby Hartnett (Chas (Dowdy) Hartnett on his card) and Pie Traynor (Harold (Pie) Traynor on his card) singles are considered rookie cards. These right-handed hitting Cooperstowners are both featured swinging a bat on their cards.
"That's pretty substantial to have two Hall of Fame rookie cards in the set, along with a total of 35 Hall of Famers," said Mayer.
Some of the other Hall of Famers in this set are Eddie Collins, Stanley Coveleski, Goose Goslin, Harry Heilmann, Rube Marquard, Eddie Roush, George Sisler, and Ross Youngs.
"I consider the most important cards from this set to be the George Sisler and the Rogers Hornsby cards because this is when they were at the height of their careers," noted Mayer. "1922 was the year that Hornsby won the National League Triple Crown, when he hit .401 and had 152 RBIs and out-homered Babe Ruth. And George Sisler hit .420 in 1922."
Chanin says he has had trouble tracking down a decent example of the Marquard card. His Marquard single is a PSA VG+ 3.5.
"There are three examples higher, but I haven't seen them," he said.
Like the Cobb card, the Coveleski and Youngs singles have their last names spelled incorrectly. Coveleski has an "e" added to the end of his, while "Youngs" is missing the "s." There are several other uncorrected errors in this issue that are summarized in the accompanying chart.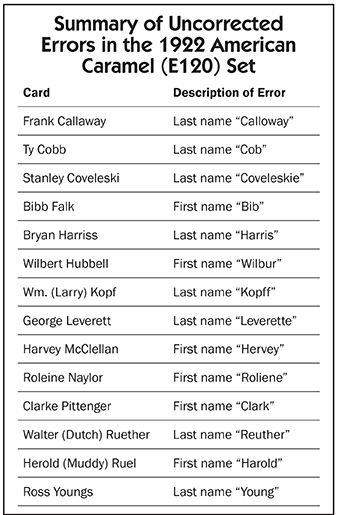 American Caramel also issued the Series of 120 (E121) and Series of 80 (E122) in 1922. Though they offer many of the same photos as the E120 series, these cards are not as coveted largely due to their less-inspired design. The fronts do not have the ornate framing around the photos and the backs are simply horizontal advertisements (with no team checklists).
Nearly 100 years old, the E120 cards are understandably difficult to find in top condition. Of the 2,825 submissions, there have been just 13 PSA 8s, three PSA NM-MT+ 8.5s, and 54 PSA NM 7s. The thin stock these cards were printed on made them susceptible to creases. Raw examples are also often uncovered with paper missing on their backs from being glued into albums.
"It's very, very hard to find high-grade examples," said Chanin. "Even now, after looking for years and years, there are a number of [cards where] PSA EX 5s are the highest graded examples. It's a tough set and you have to be patient to get cards that are even decent."
But Mayer believes the E120 cards are still a relative bargain. He points out that there are just two Ruth cards from this series that have graded higher than the PSA 6.
"In comparison, try to think what the third-best graded example of a 1933 Goudey Babe Ruth would cost," noted Mayer.
He thinks the E120 cards represent a "good value."
"I think this is a set that's not exclusive for very sophisticated, deep-pocketed collectors," said Mayer. "There are some sets that are so incredibly rare that you'd basically be insane to try to complete them, unless you have many, many years and hundreds of thousands of dollars. This is not one of those sets. Plus, it has such a great selection of superstars that are not easily available in other sets, so that alone should make this one of those sets that's collected fairly widely."
For more information on the 1922 American Caramel (E120) baseball card set, please visit http://www.psacard.com/cardfacts/baseball-cards/1922-american-caramel-series-240-e120/1935/.
---
Please feel free to contact Kevin Glew at [email protected] if you have any additional information or comments. Please note that the Population Report figures quoted and Set Registry rankings reported are those as of February 2017.