PSA Set Registry
Collecting the 1909 Ramly Cigarettes (T204) Baseball Card Set
A "Golden" Example of Vintage Design
by Kevin Glew
It's cardboard gold.
That's a succinct summary of the 1909 Ramly Cigarettes (T204) set. Not only do the cards in this set boast embossed gold decorations and gold borders, but they're so rare that high-grade examples can fetch five-digit prices.
With that said, this 121-card set does have its detractors. Some lament the fact that it doesn't feature cards of superstars like Ty Cobb, Honus Wagner, Christy Mathewson, and Cy Young, but those who passionately collect this issue will counter that it does house cards of 15 Hall of Famers, including a Walter Johnson, one that many collectors regard as his rookie. And what this set lacks in star power, it makes up for with its scarcity and elaborate design.
"The design is pretty impressive," said Larry Mayer, who owns the No. 6 Current Finest 1909 Ramly Cigarettes (T204) set on the PSA Set Registry. "Plus, I'm always interested in rarities and the T204 set is way harder to put together than many of the tobacco era sets, not only in high grade but just finding the cards in general."
Measuring 2" by 2-1/2" each, the fronts of the cards generally showcase black-and-white, head-and-shoulder shots in a gold, oval frame against a white background with embossed gold decorations, as well as gold borders. In most cases, the player's last name, position, team, and league (typically abbreviated to A.L. or N.L.) are listed at the bottom, but this information varies on some cards (see accompanying "Omissions and Irregularities in Player Information on Card Fronts" chart).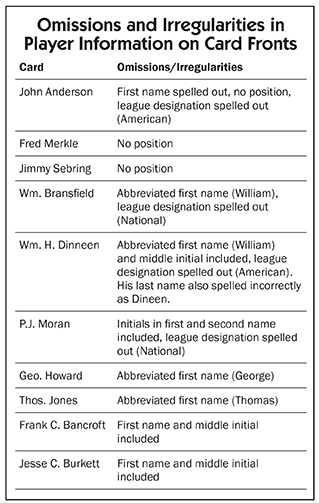 "I like the real photo images on the cards rather than the artwork," said Scott Brockelman, who owns the No. 1 Current Finest, 1909 Ramly Cigarettes (T204) set on the PSA Set Registry. "You won't find any other set that looks like this. They're immediately recognizable."
Rich Rubin, who owns the No. 2 Current Finest, 1909 Ramly Cigarettes (T204) set on the PSA Set Registry, is also fond of the design.
"It's not only a very beautiful set, but it's also a unique and adventurous set," he said. "If you look at the tobacco cards up until that date, there's nothing that compares to it - certainly in terms of design and the fact that it's embossed ... [Y]ou've got to respect the effort that went into creating these cards. It was a set that aspired to elevate the standard of what had previously been achieved."
Six cards - John Anderson, Frank C. Bancroft, Wm. Bransfield, Jesse C. Burkett, Wm. H. Dinneen, and P.J. Moran - have also been uncovered with square framed photos. These cards have white borders on their fronts and blank backs.
"Nobody knows for sure why these were printed," noted Brockelman. "But all six subjects have strong Worcester ties. They're all either local heroes, natives, or players. I have no proof of this, but I think they were probably made before the regular set and were some kind of test or trial."
These rare, square framed cards sell for big bucks.
The backs of the regular Ramly cards (with oval framed photos on their fronts) offer an ad about the cigarettes and indicate where they were manufactured. Although this offering is commonly referred to as the Ramly set, close to half the cards in this series can also be found with backs advertising T.T.T. cigarettes. Brockelman notes that the T.T.T. brand was named after Thomas Telemachus Timayenis, a controversial Greek novelist and playwright who also owned the Mentor Company, which produced Ramly and T.T.T. cigarettes. You'll find approximately one T.T.T. back for every 50 Ramly backed cards.
"There has been a myth propagated that the T.T.T. cigarettes sold for more and that's why the cards are rarer," said Brockelman. "But I've found newspaper ads where they sold for exactly the same amount. They were 10 cents per pack."
The T204 cards were issued one per cigarette pack, along with a coupon that could be used to send away for a large premium that featured portraits of several players from the same team.
"They're made of almost newsprint stock," said Brockelman of the premiums. "There were six teams available."
Brockelman owns the only known surviving premium; it offers photos of Pittsburgh Pirates players and, interestingly, includes Honus Wagner, who doesn't have a card in the Ramly set.
Brockelman believes that limited quantities of the Ramly cards were produced and distributed regionally, in the New England area. It's safe to say that the cards were not released until after the 1909 baseball season began. We can conclude this because the set offers a card of New York Giants center fielder Bill O'Hara (incorrectly spelled as O'Hare on his card), who didn't make his major league debut until April 15, 1909.
"It was a regional issue that I suspect wasn't even produced for an entire year," explained Brockelman. "I believe it came out early in the summer of 1909 and I don't think it lasted very long."
The cards in this issue are not numbered and there's no set sequence, but there's a definite focus on Boston players. There are 16 Red Sox players and eight Boston Doves players featured.
"The company was in Boston, and a lot of the players that are in this set have a connection to Boston or, even more specifically, the Worcester area," noted Brockelman. "Some of them weren't even players at the time."
As noted earlier, many of the era's biggest stars are not featured, but this set does harbor singles of 15 Hall of Famers, including Chief Bender, Roger Bresnahan, Mordecai Brown, Jesse C. Burkett, Frank Chance, Eddie Collins, Jimmy Collins, Johnny Evers, Clark Griffith, Miller Huggins, Walter Johnson, Willie Keeler, Ed Plank, Joe Tinker, and Bobby Wallace.
Widely considered one of his most desirable cards, the Johnson single is the set's key card.
"That's the big dollar card in the entire set," said Brockelman. "It's not an extremely difficult card to find, but it does cost a lot of money when you do find it. And like other Hall of Fame rookie cards have done in 2016, it has started to rise in value."
Of the 31 submitted, the two PSA NM-MT 8s are the highest graded examples. Brockelman owns the only Johnson with a T.T.T. back that's known to exist. This card would likely command a significant premium over the regular Ramly single.
Brockelman and Mayer agree that the second-most coveted Hall of Famer single in this set is the Jesse Burkett. Mayer notes that Burkett recorded more than 2,800 career hits and holds the major league record for most inside-the-park home runs (55), but the legendary outfielder retired four years prior to this set being released. The veteran hobbyist points out that Burkett only had two rare cards released of him during his playing career: the 1893 Just So Tobacco card (#2) and 1902-11 Sporting Life Cabinets (W600).
"There's almost no way of getting an example of a Jesse Burkett card from his playing days," said Mayer. "So this card [the Ramly card], from when he was managing the Worcester Busters in the New England League, is really the only option if you want to get a card of one of the greatest players of that era. I think it's the most important card in the set for that reason."
Rubin owns the sole PSA 8.
Mayer adds that another interesting personality highlighted in the set is Tim Murname, who played professionally until 1884; however, by the time this set was produced, he was president of the New England League and a highly respected baseball writer for The Boston Globe. In 1946, when the National Baseball Hall of Fame created the Honor Rolls of Baseball, he was one of the 12 original writers to be honored.
"To the best of my knowledge, I don't know of any sports writer being included in a baseball card set from the same era," said Mayer. "So I think that's pretty cool."
Brockelman and Rubin say the Doc Gessler single is the toughest common card in the set to track down.
"There's no rhyme or reason to why it's so difficult. It's probably just simple attrition," noted Brockelman. "It could've been a card that nobody really cared about, and since there was only one card per cigarette box, they simply threw it away or tossed it aside."
Just 10 Gessler cards have been submitted and the highest graded example is a PSA NM 7.
Brockelman adds that, like Gessler, almost all of the players from Boston teams are elusive in decent grade.
"My suspicion is that's because of where this set was issued and the likely popularity of those local players, those cards were probably snapped up by all of the kids and very few of them have survived as a result, especially in decent condition," said Brockelman.
But it's relatively difficult to uncover any card from this series in top grade. Of the 2,549 cards submitted, there have been just one PSA MINT 9, one PSA NM-MT+ 8.5, and 54 PSA 8s.
"There's some chipping to the gold borders, but the cards are also very thin and they're a different size than the rest of the tobacco and caramel cards [from that era]," said Brockelman. "So if they're stacked with anything else, they tend to stick out and they take the brunt of the wear."
It's also clear that the manufacturer devoted more time to the design than they did to proofreading. More than a dozen of the players' last names are spelled wrong, and Brockelman notes that the images on the Harry Howell and Jack Powell cards were mixed up.
But these idiosyncrasies seem to add character to this fascinating vintage issue, and given the rarity of the cards and their attractive and elaborate design, it's not surprising that high-grade singles can inspire bidding wars.
"It's a set that I think is gaining more popularity. We've had some more come to market and more people seem to be getting on the bandwagon to collect it than there used to be," said Brockelman. "For many years, this set was considered so scarce that it wasn't collectible."
Mayer shares similar observations.
"I do think that the set is pretty actively followed, but because of its rarity and because mid-grade cards sell in the multiple hundreds of dollars, you're not going to have hundreds of people pursuing it," said Mayer. "I would say that interest in the set is slightly higher today than it was 10 years ago, but it's always been a well-respected set. People have found this set to be kind of fascinating, beautiful, and unique, so it's never been out of the minds of elite [vintage] series collectors."
Rubin believes there will continue to be a relatively strong market for the set.
"In terms of popularity, I think it's a set of the future, but some sets always remain a set of the future," he said. "It's never going to be T205 and obviously it's not going to be T206 ... but I think that it should be and will be a more desirable set."
For more information on the 1909 Ramly (T204) baseball card set, please visit http://www.psacard.com/cardfacts/baseball-cards/1909-ramly-t204/116.
---
Please feel free to contact Kevin Glew at [email protected] if you have any additional information or comments. Please note that the Population Report figures quoted and Set Registry rankings reported are those as of February 2017.