PSA Set Registry
Collecting the 1933 World Wide Gum Sea Raiders Trading Card Set
A Vintage Non-Sports Treasure
by Kevin Glew
It's a set that most pirate card collectors would like to have in their treasure chest.
Thanks to its colorful images and detailed (and sometimes gory) descriptions of some of history's most notorious pirates, the 1933 World Wide Gum Sea Raiders set has become a coveted issue.
"If you're talking about a [20th century] non-sports pirate set, this is the one that everybody thinks of," said Daniel Mims, who owns the No. 3 Current Finest, 1933 World Wide Gum Sea Raiders set on the PSA Set Registry.
Daniel Hollandbeck, who has assembled the registry's No. 4 Current Finest, 1933 World Wide Gum Sea Raiders set, agrees.
"If you're picking half a dozen [non-sports] sets from the 1930s to collect, I think this one has to be one of them," he said. "It's just a well-produced, well-done set. It was a high production value set for the time."
Hobbyists should note that there are U.S. and Canadian versions of this set. According to Dr. James Chris Watson's Non-Sports Bible (Sheridan Books, Inc., 2007), the U.S. version (R124) consists of 24 cards (#1 to #24) that showcase English text and indicate they are "Printed in U.S.A" on their backs. These cards were produced and distributed in the United States and can be found with the city name of Boston – or in rare instances, Montreal – to the right of the company name on their backs.
But there's also a Canadian version of the 1933 World Wide Gum Sea Raiders (V359) that consists of 48 cards (#1 to #48). The first 24 cards have the same fronts as the U.S. series, but the Canadian cards can be uncovered with solely English text (V359-1) or French and English text (V359-2) on their backs. These cards have the city name of Montreal next to the company name on their backs and indicate they were "Printed in Canada." The high number cards (#25 to #48) are very difficult to track down and command a significant premium.
Because collectors generally focus on the fronts and the card numbers rather than the backs (U.S. or Canadian), this set is often collected as a 48-card offering with a combination of the American or Canadian cards for cards #1 to #24 and then the English only or bilingual Canadian backs for cards #25 to #48.
Both the U.S. and Canadian cards were released in penny packs under the World Wide Gum Company brand, which was the name of Goudey's Canadian subsidiary based near Montreal. The yellow wrappers feature a sinister looking pirate with a sword between his teeth and they falsely advertise that this is a "Series of 240 Sea Raiders."
An uncut sheet of the 24 U.S. cards was sold by Robert Edward Auctions for $4,443.75 in 2013. This sheet revealed that these cards were printed in four rows of six cards across, in numerical order. In other words, the top row from left to right consisted of cards #1 through #6, the second row was comprised of cards #7 through #12, and so on.
Measuring 2-3/8" by 2-7/8", the white-bordered cards flaunt a colorful drawing of a pirate or one of their tactics. In general, the low-number cards (#1 to #24) showcase more action images than the high-number Canadian singles (#25 to #48), which generally feature close-ups of the pirates.
"In terms of aesthetic appeal, there aren't many other vintage non-sports sets that come to mind that are better than this one," said Hollandbeck. "I'm a huge fan of the artwork."
Capt. Teach (Blackbeard), the set's first card, boasts one of its most memorable drawings. It presents the ruthless buccaneer wielding pistols in both hands with a sword strapped to his waist with purple smoke emanating from his hair. Legend has it that Blackbeard would put candles in his long black hair and light them to make it look like his head was smoking, giving him a demonic look that was designed to intimidate others.
One of the set's most haunting images can be found on the Edward Low single (#35), which exhibits a close-up of the angry-looking pirate with a man dangling from a noose in the background.
The pirate's name or a short description of the pirate practice is indicated in the background of the artwork, while the branding, "Sea Raider Chewing Gum," is emblazoned in a rectangular blue box at the bottom.
"I think part of the appeal of the Sea Raiders set is that it's from that post-Great Depression era, but it has retained its quality," said Mims. "It's printed on a durable, heavy stock and it's rare that you find sets from that time period with that kind of quality. The artwork is great. The only thing really comparable in my mind is the 1933 Goudey Indian Gum cards."
The backs exhibit the card number at the top followed by the pirate's name or the title of the pirate's practice or position. Cards dedicated to specific pirates periodically offer gruesome details. The Captain Francis Lolonois card (#20), for instance, indicates that "on one occasion he beheaded the entire crew of a Spanish man-o-war," but he was eventually "captured by savage Indians who tore him to pieces alive." In contrast, the back of Captain Misson's pasteboard (#19) describes him as a "moral pirate" who "allowed no swearing and drinking by his crew."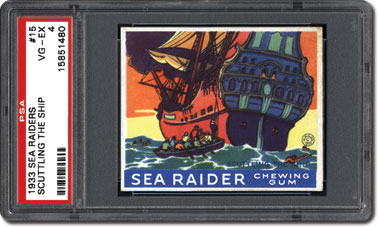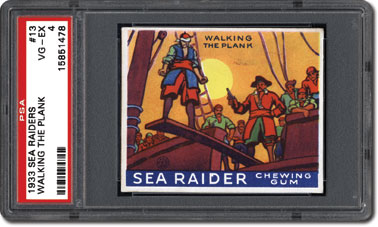 One of the most memorable pirate practices outlined is "Walking the Plank" (#13). The back of this card asserts that this was one of the tactics pirates used to dispose of criminals. "A plank would be fixed like a diving board over the side of the vessel, the man blindfolded, and with hands behind him, made to walk the plank until he fell into the sea," reads a portion of the text on the card back.
The bottom of the backs incorrectly share that the cards are one of "a series of 192 Sea Raiders Cards." This is followed by production and copyright information, which, as noted earlier, is different on the U.S. and Canadian cards.
This 48-card set is extremely difficult to put together in any combination of American and Canadian cards.
"If you have unlimited means, that eliminates a lot of obstacles many times," said Hollandbeck. "But this is a tough set for people even if they have unlimited means."
Ambitious collector Steve Lucas has attempted to collect all of the back variations. For the record, there are four different back variations of cards #1 to #24 (see accompanying chart).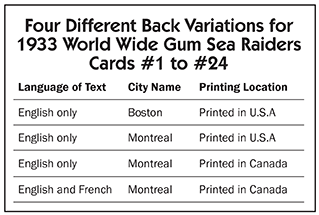 Lucas says the English only, Boston back, low-number cards (#1 to #24) are the most plentiful.
"You could probably put together a set or two a month [of the Boston backs] just buying them off of eBay or from different auction houses," said Lucas. "The problem is they're tough to find in high grade."
Lucas says there are Sea Raiders collectors willing to pay a premium for the rare U.S. cards with "Montreal" as the city name on the back, but in his experience, these were not as tough to find as the Canadian bilingual low-number cards.
"I was missing two of the bilingual backs that I just could not find after years and years of searching," said Lucas.
As noted earlier, cards #25 to #48, which can be found with English only backs and English and French backs, were only created for the Canadian issue and are very difficult to track down. Lucas notes that the high-number Canadian cards are more elusive to uncover than the low-number Canadian cards (#1 to #24).
"The high numbers are the toughest whether they are bilingual backs or not," said Lucas.
The Capt. Teach (Blackbeard) single (#1) is one of the series' most desirable cards. Not only is he a well-known pirate represented with a captivating image, but his card back also offers a riveting description. Blackbeard is touted as "a thoroughly and completely evil arch pirate" who "was a true terror of the seas. His appearance was as vile and ferocious as his nature." The card further states that when he was ultimately killed by U.S. Navy Lieutenant Robert Maynard, "Maynard returned to Virginia with Blackbeard's head hung at the yardarm of his vessel."
Blackbeard's card is also the first in the series and was often on top of collector piles, which subjected it to additional wear and tear. Compounding its condition woes was the fact that it was on the top-left corner of the print sheet, an edge-sheet position that generally makes cards more vulnerable to flaws.
"The Blackbeard card is not tough to find, but if you want it in PSA [EX] 5 or greater, it's very tough," said Hollandbeck.
Just two examples have graded as high as PSA NM 7. A PSA EX-MT+ 6.5 (with a Boston, Printed in U.S.A back) sold for $570 in a Greg Bussineau Sports Rarities auction in July 2016.
Captain Kidd, the second card in the set, is also sought after. This card offers a drawing of the proud captain standing guard while his underlings dig to bury a treasure chest. Similar to the Blackbeard card, the three PSA 7s represent the highest graded examples.
Mims notes that the last card in the low number series, Sir Henry Morgan (#24), also generates a premium. The back of Morgan's card shares that he was a "wicked, vicious, treacherous, almost unparalleled human brute" and that he "looted" many of the rich cities of the Caribbean "indulging in shocking cruelty, torture, murder and every other conceivable deviltry." But he later sailed for England, was pardoned for his crimes and eventually knighted, and later named the lieutenant governor of Jamaica, where he ended up "executing many of his former comrades in crime."
"He's a recognizable name," said Mims of Morgan. "But the first and last cards in a set would always be at the top and bottom when people were putting their sets together, so they got handled more. As a result, it's harder to find those in the same condition as the cards in the middle."
The Morgan card was also located on the bottom-right corner of the print sheet. A PSA EX-MT 6 (with a Boston, Printed in U.S.A back), which represents the highest grade available for this card, sold for $270 in a Greg Bussineau Sports Rarities auction in December 2015.
But it's the high-number Canadian singles (#25 to #48), in either the English or bilingual backs, that are most challenging to uncover.
"Most of what I'm missing in my set are in those high numbers," said Mims. "Just to find any copy at all of some of the cards is very, very difficult. You'll often see where a PSA [GOOD] 2 or PSA [VG] 3 comes on the market and it will still sell for $300 or $400."
Hollandbeck believes that fewer of the Canadian cards were printed.
"I don't know for sure, but I'm guessing that because the population in the U.S. in the 1930s eclipsed that of Canada's by quite a bit, a lot more cards would have been issued in the U.S. than in Canada," he said.
Hobbyists say the "Pirates' Legacy" single (#45) is the set's most coveted and challenging card in top grade. The image on the front is a treasure map.
"I know the map card is one of the hardest cards to find. I have a PSA [PR] 1 of that card," noted Paul Wiles, who owns the No. 9 Current Finest, 1933 World Wide Gum Sea Raiders set on the PSA Set Registry.
Mims has had a similar experience.
"The map card seems to be the one that everyone has difficulty finding," he said. "Who knows, maybe with this card collectors said, 'This is not a pirate card' and they just threw it in the garbage."
This was also the last card that Hollandbeck needed to complete his registry set.
"I think you get interest in that card from not only card collectors, but map collectors as well," he explained.
A PSA VG-EX 4 (with a Montreal, English only back) fetched $2,025 on eBay in February 2016.
The set's final card "A Difference in Weapons" (#48) also commands big bucks. This card describes the weapon preferences of pirates from different countries. It was not only the last card on the bottom of collector piles, but it was also located on the bottom-right corner of a print sheet.
According to the PSA Population Report, 1,355 Sea Raiders cards have been submitted and there has yet to be a PSA GEM-MT 10 and there are just six PSA MINT 9s. This makes competition for high-grade examples fierce.
"I've had to lower my expectations and standards just to fill holes in the set," said Mims. "There are quite a few people collecting the set, and like anything else, people want the best condition they can find. So when some of the low-population, high-grade cards come up for sale, you'll really see people starting to pay premiums for them."
So while it might be daunting to put together a high-grade 1933 World Wide Gum Sea Raiders set, the thrill of the hunt in tracking down these cards in top condition also appeals to determined non-sports collectors. And when hobbyists do track these cards down, they'll find they're more affordable than most sports cards from the same era.
"If you've been following what has been going on in the vintage sports card market, it has just been on fire over the last couple of years," said Mims. "There seems to be no ceiling if you have top-grade vintage material. But I think there's going to come a point where people are going to start looking for alternate markets, and some of these non-sports sets will begin to attract some attention. The 1933 Sea Raiders is a good quality set; it's historical and it has great subject matter ... so I think it will continue to gain some popularity."
Hollandbeck also hopes this will be the case.
"Deep down I want to believe that the future for all [vintage] non-sports cards is really promising, especially since the sports genre is hitting another stratosphere [price-wise]," he said.
• • •
Author's Note: The sheet positions quoted throughout the article are based on a Boston back, "Printed in U.S.A." sheet. I believe it's a safe assumption that the sheets with the other back variations followed the same numeric pattern.
• • •
For more information on the 1933 World Wide Gum Co. Sea Raiders trading card set, please visit http://www.psacard.com/cardfacts/non-sports-cards/1933-world-wide-gum-co-sea-raiders/28633.
---
Please feel free to contact Kevin Glew at [email protected] if you have any additional information or comments. Thank you to Daniel Hollandbeck for providing the cards for this article. Please note that the Population Report figures quoted and Set Registry rankings reported are those as of December 2016.