PSA Set Registry
Collecting the 1910 Standard Caramel (E93) Baseball Card Set
Setting the "Standard" for Vintage Caramel Issues
by Kevin Glew
It's one of the "sweetest" candy sets ever produced.
That's how a devoted 1910 Standard Caramel (E93) collector might describe their favorite issue, and with 60 percent of its cards showcasing Hall of Famers, it would be hard to argue with them.
"There are three things I like to collect in an early baseball set," explained Joel Tschantz, who owns the No. 4 Current Finest, 1910 Standard Caramel (E93) set on the PSA Set Registry. "I like a set that has cards of Honus Wagner, Ty Cobb and Christy Mathewson, and this one does. I like a set that has [Joe] Tinker, [Johnny] Evers and [Frank] Chance, and this one does. And then I'm a Cleveland fan, so I like any set that has the three best Cleveland players - Nap Lajoie, Addie Joss and Cy Young. So by the time I found those cards, I was almost a third of the way done with the set."
Bill Nichols, who owns the No. 11 Current Finest, 1910 Standard Caramel (E93) set on the PSA Set Registry, also relishes the star power in this set and appreciates the fact that it's just 30 cards.
"I like the fact that there aren't a ton of cards that you have to accumulate," he said. "And from a financial perspective, there's no Joe Jackson like the E90-1 series."
Measuring 1-1/2" by 2-3/4" each, the 30 cards in the 1910 Standard Caramel set (E93) feature tinted images based on photographs set against color backgrounds on their white-bordered fronts.
"They're beautiful cards," said Tschantz. "You've basically got two different types of backgrounds. You've got the solid, one-color type of background on a good portion of the cards, but then you also have a few that have a horizon, more like a T206 type background on them."
Nichols also likes the design.
"I just love the way these cards are printed," he said. "I love the color on them. It's just a beautiful set."
The majority of the images showcase the players fielding or throwing. There are just six players featured with a bat. Ironically, one of them is Cy Young, whom many consider to be the greatest pitcher of all time.
"That's kind of a weird card," said Tschantz. "When you think of Cy Young, you think of a roly-poly guy standing on the pitching rubber, and on this one, he's got a bat. It doesn't make much sense."
The player's last name, team city and league are indicated at the bottom.
The card backs boast a vertical orientation. The title of the series, "Base Ball Stars," is presented at the top followed by text introducing the card, which reads: "This card is one of a set of 30 stars from original photographs." An alphabetical checklist of the players is printed in brown on the backs. The checklist features each player and their full team name. Despite the checklist, there are no individual numbers on the cards. The bottom contains copyright information as follows: "Manufactured only by Standard Caramel Co., Lancaster, Pa."
The year the cards were released is not included in the copyright information. But from reviewing the cards, it's safe to say that they were unveiled during the 1910 season. Evidence of this can be found on the Jim Delahanty and Harry Coveleski singles. Delahanty is featured as a Detroit Tiger and he was not dealt to the Tigers until August 13, 1909, while Coveleski was acquired by the Cincinnati Reds on January 20, 1910, and is pictured as a Red in what would be his only season with the club.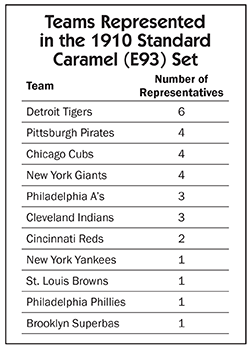 Just 11 of the 16 major league teams at the time are represented in the set (see accompanying chart). The 1909 American League pennant-winning Detroit Tigers are represented on a set-high six cards, while the reigning World Series champion Pittsburgh Pirates are showcased on four, along with the Chicago Cubs and New York Giants. The National League's two worst teams in 1909 - the St. Louis Cardinals and Boston Doves - are completely ignored, as are the Boston Red Sox, Chicago White Sox and Washington Senators in the American League.
Aside from the aforementioned Cobb, Wagner, Young, Mathewson, Joss, Lajoie, Tinker, Evers and Chance cards, this set also houses pasteboards of nine other Cooperstowners: Chief Bender, Mordecai Brown, Fred Clarke, Eddie Collins, Clark Griffith, Hughie Jennings, John McGraw, Eddie Plank and Rube Waddell.
The Cobb single is the most coveted of the Hall of Famers. This card pictures the "Georgia Peach" extending to make a catch.
"That Cobb pose shows up in several different E-sets," said Tschantz. "It's just cropped differently in other sets."
Duke Chung, who sold his registry set in a Memory Lane auction in January, says the orange background on the Cobb card makes it particularly appealing.
Of the 69 evaluated, there has been one PSA MINT 9 and two PSA NM-MT 8s. The sole PSA 9 fetched $81,301.20 in a Mile High Card Company auction in July 2015.
The Wagner card is also highly desirable. This single features the legendary shortstop in a throwing motion against a red background. The only PSA 9 fetched $49,906.80 in a Mile High Card Company auction in July 2015.
That same auction offered the only PSA 9 example of the Mathewson single. This card presents a young looking Mathewson with his glove against his chest poised to begin his motion.
"I think the Christy Mathewson card is probably the most appealing card in the set," said Tschantz.
The PSA 9 commanded $52,402.80 in a Mile High Card Company auction in July 2015.
The most elusive Hall of Famer card in high grade has been the Chance. There has yet to be an example that has graded above a PSA NM 7. Tschantz says the yellow background on this card is sometimes faded. The only PSA 7 garnered $4,773.60 at auction in November 2015.
One of the non-Hall of Famer cards that Chung likes is the Tommy Leach card. This single offers a side view of the Pirates outfielder with a bat leaning against his leg in front of a tri-colored background.
"Every time I see that card, it reminds me of a sunset in California," said Chung. "I've always loved looking at that card."
Of the 46 submitted, there has been just one PSA 9.
With 34 submissions each, the Jim Pastorious and Bill Donovan cards are the lowest population singles in this set, but it's tough to uncover any of the cards in top condition. Of the 1,588 that have been submitted, there are only 13 PSA 9s, five PSA NM-MT+ 8.5s and 31 PSA 8s. One of the reasons these cards are so evasive in mint condition is that they were marketed to children with candy. As a result, they were played with and handled more than tobacco cards, which adults received with cigarettes.
"The centering can also be a little bit of a challenge," said Tschantz. "I always check the backs because a lot of these cards ended up getting glued into scrapbooks. You'll see a card and the front of it just looks beautiful, but then you flip it over and there's paper missing on the back because somebody ripped it out of a scrapbook."
Tschantz also notes that the background colors on the fronts are sometimes faded.
If you look closely, you'll also discover that three last names are spelled incorrectly: Harry Coveleski (misspelled Coveleskie), Jim Delahanty (misspelled Delehanty) and Deacon Phillippe (misspelled Phillippi).
Since November 2014, many of the highest graded E93 cards have surfaced in auctions. In November 2014, Love of the Game Auctions sold what was then the No. 4 registry set (which boasted a 5.00 GPA) for $25,960. Eight months later, 17 high-grade cards - including four one-of-one PSA 9s - realized some record prices in a Mile High Card Company auction. And later that summer, Memory Lane sold 30 individual cards from what had been Chung's No. 3 PSA Set Registry set for a combined $31,446. These prices indicate that there's a strong market for high-grade cards from this series.
"As people finish or hit a wall with their tobacco cards, this set is just a natural place to go," said Tschantz. "If you want something that's attainable, that's still a challenge and that really looks good, this set jumps out for that. And the fact that it's only 30 cards makes it attractive too."
Chung offers a similar assessment.
"There are really a lot of reasons why you would want to collect this set," he said. "There are a lot of Hall of Famers. There are only 30 cards. I think it's a difficult challenge, but it's attainable. And there's so much history in this set that there will always be an appreciation for it."
For more information on the 1910 Standard Caramel (E93) baseball card set, please visit http://www.psacard.com/cardfacts/baseball-cards/1910-standard-caramel-e93/1958.
---
Please feel free to contact Kevin Glew at [email protected] if you have any additional information or comments. Please note that the Population Report figures quoted and Set Registry rankings reported are those as of September 2016.