PSA Set Registry
Collecting the Tough but Colorful 1935 Goudey 4-in-1 Baseball Card Set (R321)
An Unheralded, Vintage Baseball Issue
by Kevin Glew
It's the Bob Meusel of vintage baseball sets.
The longtime outfielder was a productive hitter for the Murderers' Row Yankees, but unfortunately, when you're batting behind Babe Ruth and Lou Gehrig, few seem to notice.
The 1935 Goudey set has suffered a similar fate. Released after the legendary 1933 and 1934 Goudey issues, this offering has been largely overlooked by hobbyists.
"It's a neat looking set with a lot of nice artwork, and it's really underappreciated when you compare it to other sets," said Levi Bleam, owner of 707 Sportscards and the top 1935 Goudey set on the PSA Set Registry.
Bleam is part of a small but passionate group that has been stockpiling cards from this 75-year-old offering.
"There's a group of us out there that will pay pretty much anything just to get certain cards in any condition," said Devin Harmon, who owns the registry's No. 2 Master Set.
Often referred to as the 4-in-1 set, this issue showcases pictures of four players on each card. The cards measure 2-3/8" by 2-7/8" and there are 36 different card fronts. In most cases, the four players are from the same team, and the majority of the pictures are scaled-down versions of those used in the 1933 and 1934 Goudey sets. Thirty card fronts showcase red borders, while the remaining six boast blue borders.
The card fronts generally flaunt the players' last names and their team names. With four players displayed on each of the 36 cards, there was room for 144 players. However, because six players (Jim Bottomley, Ed Brandt, Mickey Cochrane, Adam Comorosky, Willie Kamm and Gus Mancuso) are highlighted on two cards each, only 138 players are part of the set. It's important to note that each card front also has two to four different backs.
The backs feature puzzle pieces. Each card back boasts a picture number and a card (puzzle piece) letter (e.g., PICTURE 3 CARD F) and is part of one of nine puzzles. Six of the puzzles are six-piece single player puzzles and three are 12-piece, team puzzles. In total, there are 114 different backs. Each picture number refers to a specific puzzle and the card letter represents the piece of that puzzle. For example, using the accompanying chart as reference, a back with PICTURE 1 CARD A, would represent piece A of the Detroit Tigers puzzle.
These cards were distributed in packs with gum. The red, white and blue wrappers advertise Big League Chewing Gum and showcase a silhouette of a batter whose physique resembles Babe Ruth's. The wrappers also invited youngsters to become members of the Knot Hole League of America and included coupons that collectors could redeem for balls, gloves or a "Dizzy" and "Daffy" baseball suit.
With or without the coupon removed, these wrappers could also be saved and redeemed for a premium photo. Collectors were encouraged to save 10 wrappers and take them to the store where they bought their cards from to redeem them for one of 15 premium photos. Measuring 5-1/2" by 9-1/2", these premium photos (R309-2) were printed on thin, glossy paper and featured players and team collages. Mickey Cochrane, Lefty Gomez, Hank Greenberg and Mel Ott were among the players on these premiums, while the three teams featured are the Boston Red Sox, Cleveland Indians and Washington Senators. Some publications list Lester R. Bell as a 16th photo, but veteran hobbyists insist that this premium doesn't exist.
Most hobbyists simply collect the 36 card fronts. These three dozen cards comprise the Basic Set on the PSA Set Registry. More ambitious collectors - like Harmon and Bleam - however, are intent on amassing all 114 different front/back combinations (which is considered the Master Set on the PSA Set Registry).
One of the major attractions of this set is the high number of Hall of Famers in it. In many cases, these Cooperstowners are showcased on the same cards. A trio of pasteboards feature three inductees each on them. Bill Dickey, Tony Lazzeri and Red Ruffing are pictured together, as are Paul Waner, Waite Hoyt and Lloyd Waner. The third card to exhibit three Cooperstowners includes Burleigh Grimes, Chuck Klein and Kiki Cuyler.
The most coveted card features Babe Ruth, who shares his pasteboard with Ed Brandt, Rabbit Maranville and Marty McManus. This is the last major release of the "Bambino's" playing career and the only card that pictures him as a Boston Brave.
Another highly coveted single exhibits four Cardinals: Tex Carleton, Dizzy Dean, Frankie Frisch and Ernie Orsatti.
Other major Hall of Famers in this set include Jimmie Foxx, Hank Greenberg and Charlie Gehringer.
If you're attempting to acquire all 114 front/back combinations for the Master Set, there are some cards that are more difficult to find than others.
"A more common card with a difficult back can cost more than a Hall of Famer with an easier back," explained Harmon. "It is the front/back combination that makes the cards difficult to find."
According to the PSA Population Report, there are three cards (1K, 6B and 7C) that have only been submitted to PSA eight times, respectively. These cards constitute the lowest population cards in the set.
In the accompanying chart, we list the 1935 Goudey cards that have been submitted to PSA the fewest number of times.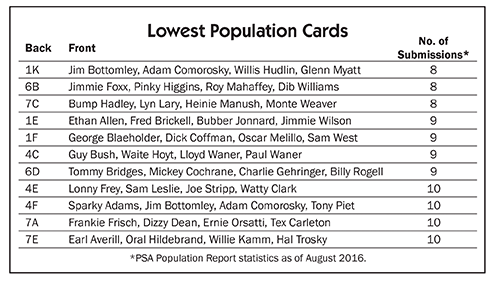 High-grade examples are even tougher to find. Of the 5,611 submitted, there has yet to be a PSA GEM-MT 10 card and there are just three PSA MINT 9s and 106 PSA NM-MT 8s.
"For most people, the true collectible grade for these is a PSA [EX] 5, because that's the condition in which you most commonly find these cards," said Bleam.
The colored borders on these cards are the main reason they're elusive in top condition.
"It's just like the cards in the 1971 Topps set, but these cards are 36 years older," said Bleam.
The puzzle backs can also be problematic.
"The back, with age, is subject to toning and most backs are found with a bit of toning," said Harmon.
But the dearth of these cards in top condition adds to their appeal for Harmon. He believes this set represents a good investment for collectors in the future.
"I definitely think it's a sleeper," he said.
For more information on the 1935 Goudey 4-in-1 baseball set, please visit http://www.psacard.com/cardfacts/baseball-cards/1935-goudey-4-1/2570.
---
Please contact Kevin Glew at [email protected] if you have any additional information or comments. A special thanks to Devin Harmon and Levi Bleam for their contributions to this story. Please note that the Population Report figures quoted and Set Registry rankings reported are those as of August 2016.