PSA Set Registry
Collecting the 1954 Bowman Baseball Card Set
The Forgotten Baseball Issue of the 1950s
by Kevin Glew
The underdog New York Giants swept the Cleveland Indians in the 1954 World Series.
And today, when people reminisce about that Fall Classic, they're likely to re-enact Willie Mays' incredible, over-the-shoulder catch that robbed Vic Wertz of extra bases in the eighth inning of Game 1, trumpet the pinch-hitting heroics of Dusty Rhodes or wax nostalgic about the mound dominance of Johnny Antonelli.
But if you study the backs of the 1954 Bowman cards, it's a less heralded Giant that has the most colorful story. On the reverse of his pasteboard (#25), catcher Wes Westrum, who hit .187 for the Giants during the 1954 season, is applauded for his grit.
"There was one season when he was using a piece of raw steak in his glove to ease the pounding of the ball into a bruised hand," reads a sentence on his card back.
It's hard to picture how Westrum made this work, but he was a consummate team player, and in an era where catcher's mitts had little padding, he did what he had to do to keep himself on the field. More than 60 years later, Westrum is one of the least talked-about contributors to that championship squad and in many ways his status mirrors the 1954 Bowman set's reputation in the hobby. This 224-card issue has been largely forgotten in vintage baseball card circles.
"I think that the big issue with the 1954 Bowman set is how it compares with the 1954 Topps set," said Larry Mayer, who owns the No. 9 Current Finest, 1954 Bowman Master Set on the PSA Set Registry. "It has some advantages over the Topps set, but it has one really, really big disadvantage in that the Topps set has the three great rookie cards [Hank Aaron, Ernie Banks and Al Kaline]."
Some also consider the design of the 1954 Bowman singles to be somewhat uninspired compared to the trailblazing 1953 Bowman Color cards, which presented vibrant player photos. The 1954 Bowman issue also lacks the multi-player and horizontal action scene cards that made its predecessor a classic.
"The [1954 Bowman] design is basically a combination of the hand-painted pictures of the 1953 Topps set and the extremely simple design of the 1953 Bowman set, both of which are classic, well-designed sets," said Mayer. "So all in all, the design should be really great; however, there is one thing I don't like about it. For some reason, straight off the printing press, these cards look drab. Almost all of the skies are gray. It's as if someone who was highly depressed was hired to paint these photos."
Mayer also points out that there are no game action scenes on the cards.
"For the most part, the players are just pictured in posed shots, doing nothing," he said.
Mayer notes that there are a few simulated action scenes. The Nellie Fox single (#6), for example, pictures the Chicago White Sox infielder in a fielding pose, while Mel Clark (#175) is presented pretending to bunt.
On top of the player portraits, almost all of the card fronts flaunt a facsimile autograph of the player in a small colored box at the bottom. There are seven cards - Fred Baczewski (#60), Ray Katt (#121), Morris Martin (#179), Johnny Antonelli (#208), Jerry Snyder (#216), Hal Rice (#219) and Memo Luna (#222) - that showcase the player's name printed out.
The horizontal card backs showcase black and red print on a heavy gray background and highlight the player's name in a bat design at the top with the card number in a ball design to the right. The player's position, team and vitals (e.g., Born, Height, Weight, etc.) ensue followed by biographical details on the left side. The bios are generally restricted to the player's on-the-field accomplishments, but in some cases, you can read about the player's military service or about the high school or collegiate sports they excelled in (see accompanying sidebar).
In a few cases, the author of the card backs shares funny stories. For example, the back of the Willie "Puddin-head" Jones card (#143) explains that he "likes to eat chocolate cakes baked by his wife, but he has to forego them during the season to keep his weight at his best playing level."
The right side of the backs exhibit the player's 1953 and lifetime batting and fielding records, while a trivia question graces the bottom. The trivia questions range from statistical stumpers to queries about game protocol and nicknames. Bowman wasn't ambitious enough to come up with 224 trivia questions, so some of the questions are repeated.
It should also be noted that there are 41 variations on card backs. In most instances, these are statistical errors that have been corrected, but in two cases - Vic Raschi (#33) and Dave Philley (#161) - a sentence was added to reflect a trade. For years, hobby publications have dismissed these variations and said that they don't command a premium, but this is no longer the case. These variations need to be tracked down to complete the Master Set, and the rarest of them regularly command significant premiums. More information on the toughest variations is included in the accompanying sidebar.
The traded lines added to the Raschi and Philley cards offer us insight into when these cards were originally produced. Raschi was acquired by the St. Louis Cardinals on February 23, 1954, while Philley was landed by the Cleveland Indians on February 19, 1954. So, with updates added to the second versions of these cards to reflect these transactions, we can safely say that the original (non-trade line) cards had already been printed in mid-to-late February.
The 1954 Bowman cards were distributed in seven-card, nickel packs and one-card, penny packs and were issued in two series (#1 to #128, #129 to #224). Numerically, the cards were sequenced in a 16-card rotation that ensured all 16 major league teams were represented on 14 cards each. For example, New York Yankees players are featured on cards #1, #17, #33, #49, while Boston Red Sox players are highlighted on cards #2, #18, #34, #50 and so forth.
Thanks to a legal ruling around that time that individual player contracts determined who the card companies could include in their sets, Bowman was not able to produce cards of certain stars of the era. Hall of Famers Jackie Robinson, Monte Irvin and Warren Spahn had exclusive contracts with Topps, and after Bowman had manufactured a Ted Williams card and some had made their way into packs, it was determined that Topps also possessed an exclusive agreement with "Teddy Ballgame." As a result, Bowman was forced to pull the Williams card (#66) relatively early in the production run and replace him with teammate Jimmy Piersall, who also appeared on card #210. For years, the Williams card was heralded as one of the hobby's rarest post-war cards, but while it's still highly coveted, it's not as rare as initially perceived.
"I think that the theory that it was produced in extraordinarily small quantities is incorrect," said Mayer. "It was clearly produced in smaller quantities than even the Piersall, but not ridiculously smaller than that."
Steve Kornblau, who owns the No. 6 Current Finest, 1954 Bowman Master Set on the PSA Set Registry, concurs.
"In my opinion, the Williams card is more common than originally thought," he said. "When people go to price their cards for sale, I think they're looking to get a huge premium for even a [Williams] card that's graded a [PSA PR] 1."
The Williams card is often hampered by poor centering and print defects. Of the 916 submitted, there has yet to be a PSA GEM-MT 10 and there are just three PSA 9s. One PSA 8 fetched $6,000 in Robert Edward Auctions sale in October 2015.
Bowman did manage to secure an exclusive deal with Mickey Mantle in 1954. Next to the Williams, the Mantle card (#65) is the most sought-after in this set. Of the 2,800 evaluated, there have been 10 PSA 9s (no PSA 10s). One PSA 9 fetched $57,939.50 in a Mile High Card Company auction in October 2013.
Mayer notes that Bowman managed to cement exclusive deals with 13 Hall of Famers for the 1954 set, including Mantle, Nellie Fox (#6), Ralph Kiner (#45), George Kell (#50), Pee Wee Reese (#58), Enos Slaughter (#62), Eddie Mathews (#64), Roy Campanella (#90), Robin Roberts (#95), Red Schoendienst (#110), Bob Feller (#132), Early Wynn (#164) and Bob Lemon (#196).
"The 1954 Bowman set really has a much, much stronger group of veteran players than the 1954 Topps set," said Mayer.
Willie Mays (#89), Yogi Berra (#161), Duke Snider (#170) and Whitey Ford (#177) appear in both the 1954 Bowman and Topps sets. The Mays card commands the most interest out of this group.
Kornblau also ranks the Phil Rizzuto card, which leads off this issue, as one of this set's key singles. This card suffered additional wear and tear from being on top of collector piles. Of the 783 evaluated, there has been one PSA 10 and five PSA 9s.
But as noted earlier, Bowman's 1954 rookie crop pales in comparison to its Topps counterpart. While the Topps set boasts rookies of Cooperstowners Hank Aaron, Ernie Banks, Al Kaline and Tommy Lasorda, Mayer notes that Bowman countered with the cardboard debuts of Don Larsen (#101), Ernie Johnson (#144), Frank Thomas (#155) and Daryl Spencer (#185).
According to the PSA Population Report, the Omar Lown (#157) has been submitted the fewest number of times of any of the non-variation cards in this set. Just 114 have been graded and there are three PSA 9s and 20 PSA 8s.
Two of the toughest commons in high grade are Al Corwin (#137) and Danny O'Connell (#160). Both have only one PSA 9 and 16 PSA 8s. Kornblau says that almost every O'Connell card that he has seen has been off-center.
"The last three sales of PSA 8 [O'Connell cards] have been $1,225, $1,080 and $962," noted Ron Hobbs, who has amassed the registry's No. 3 Current Finest, 1954 Bowman Master Set.
Hobbs says the Corwin card is also evasive in pristine form. This card is tough to find with proper left-to-right centering. Hobbs paid $498 for the PSA 8 in his set.
In general, however, the 1954 Bowman cards are not as difficult to obtain in high grade as the 1954 Topps cards.
"Nearly 50% of the submissions [of 1954 Bowman cards] to PSA are graded unqualified [PSA NM] 7 or above, which is the highest of any set until the 1956 Topps set. And more than a quarter of the submissions are graded unqualified PSA 8 or above, which is the highest of any set until the 1957 Topps set," pointed out Mayer.
The availability of high-grade examples has helped keep the prices of most 1954 Bowman cards lower than those for singles from baseball series from the same era.
"Beyond the Mantle and the Williams, this tends to be an overlooked set," said Kornblau.
Other Sports That Players Excelled In
The biographical information on some of the 1954 Bowman cards shares the players' high school and collegiate accomplishments in other sports. Here's a rundown of some of the players' athletic achievements away from the diamond:
Jackie Jensen (#2) - "All-American football player at the University of California."
Walt Dropo (#7) - "Was No. 1 draft choice by the Chicago Bears."
Jim Greengrass (#28) - "Lettered in football, baseball, track, soccer and tennis at high school."
Alvin Dark (#41) - "He was a topnotch football player at LSU and could have been a pro."
Bob Friend (#43) - "Earned ten letters in baseball, football and basketball at high school and was picked as all-state halfback in football."
Joe Nuxhall (#76) - "He was All-Ohio in football and basketball in high school."
Vic Janowicz (#203) - "He first gained fame as an All-American football player at Ohio State University."
Dick Littlefield (#213) - "He's also a good amateur hockey player."
Frank Baumholtz (#221) - "Frank gained great fame at Ohio State University as a basketball player and played pro basketball for a time."
Most Elusive Variations
The biggest challenge facing 1954 Bowman Master Set collectors is tracking down the more than 40 variations.
"If you're trying to put together the Master Set in PSA NM-MT 8 then it's really, really tough," said Mayer.
Mayer, Steve Kornblau and Ron Hobbs have devoted a considerable amount of time to chasing down these variations, most of which are statistical corrections on the card backs.
With just one PSA NM-MT+ 8.5 and two PSA 8s, the Saul Rogovin variation (#140) that indicates that he had 7 wins, 12 losses and 62 strikeouts in his "Past Yr." stat line is the hardest to obtain in top form. There are two other more plentiful versions of this card that boast different stats in these categories.
Hobbs notes that the Sal Maglie variation (#105) that has the answer to the trivia question as 1904 is also very tough to find and commands a significant premium. There's only one PSA 8.5 and five PSA 8s, compared to seven PSA MINT 9s and 41 PSA 8s of the other version of the Maglie card that lists the quiz answer as 8.
"I paid $1,125 for a PSA 8.5 [of the tough Maglie variation], and I thought I got a steal," said Hobbs.
The table below highlights the five toughest 1954 Bowman variations. For a complete list of the variations, you can view the 1954 Bowman Master Set composition on the PSA Set Registry.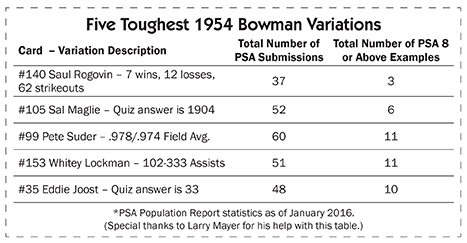 For more information on the 1954 Bowman set, please visit http://www.psacard.com/Cardfacts/Set/157/1954-bowman-baseball-cards
---
Please contact Kevin Glew at [email protected] if you have any additional information or comments. Please note that the Population Report figures quoted and Set Registry rankings reported are those as of January 2016.