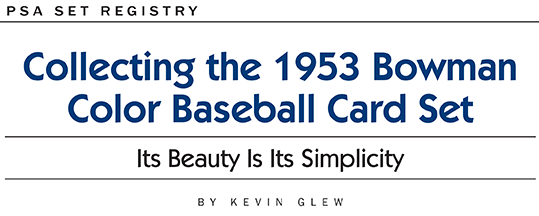 They were the "best cards" that Joe DiMaggio had ever seen.
At least that's what the "Yankee Clipper" was quoted as saying on the 1953 Bowman Color Baseball boxes. And today, more than six decades after their release, many collectors still agree with him.
"The cards are just gorgeous," said Allan King, who has assembled the No. 4 Current Finest 1953 Bowman Color Baseball set on the PSA Set Registry. "The cards just glow. They're beautiful cards."
John Branca, whose 1953 Bowman Color set was inducted into the PSA Set Registry Hall of Fame in 2005, concurs.
"Out of all the sets, I just thought the 1953 Bowman set was the best looking set in the entire hobby," he said. "When you get one of these cards in high grade and it's well centered, it's about as nice as it comes."
You can thank Topps for Bowman's stunning 1953 Color series. Trying to re-establish their stranglehold on the bubble gum card market after Topps raised the bar with their 1952 effort, Bowman's 1953 series offered full-color photographs of major league players on baseball cards for the first time.
These vivid and colorful photos are the sole feature of the card fronts, and many of them highlight the player's strengths or personality. For example, the Phil Rizzuto card (#9) shows the scrappy Yankees shortstop in a bunting pose, while Mickey Mantle (#59) is captured at the end of his powerful swing.
One of King's favorite cards is the Bob Friend single (#16).
"He looks 20 years old in the photo, and he has this big smile on his face like a kid who's at the circus for the first time," noted King. "The joy of baseball is epitomized on that one card. I love that card."
Many of the American League players are photographed at Yankee Stadium, while most of the National Leaguers are pictured at the Polo Grounds. There are, however, a few exceptions. The photos on the Enos Slaughter (#81) and Bob Feller (#114) singles, for example, feature palm trees in the background which indicates that they were taken during spring training.
For the first time in Bowman's history, they included statistics on the backs of the cards. The backs present the player's previous season and lifetime numbers and left room for collectors to write in the 1953 stats.
The horizontal backs feature primarily black text on a gray background. The card number is highlighted inside a diamond shape design on the top left with the player's name to the right of it. The player's position, team and vitals (e.g., Born, Height, Weight, etc.) are indicated in a red stripe below, followed by biographical information.
The bios generally detail the player's on-the-field accomplishments, but in a few instances, insight is offered into the player's activities away from the field. For example, Charlie Grimm's card back (#69) reveals that he's also a "left-handed banjo player and noted teller of German dialect stories."
The card backs also take us back to an era when many players had to fulfill military obligations. Harry Chiti's card (#7) shares that the Cubs catcher "probably won't see any action this season because Uncle Sam has his services temporarily," while one sentence on the back of Whitey Ford's pasteboard (#153) says, "The return of Whitey from Uncle Sam's service to the Yankee mound staff is looked upon by delight from everybody from the President down to the bat boy."
The 1953 Bowman Color set also introduced two of the earliest examples of multi-player cards. Card #44 presents a photo of Yankees stars Yogi Berra, Hank Bauer and Mickey Mantle on the dugout step (though you can only see Mantle's head and arm in the photo). A second combo card features the Bronx Bombers' double play combo of Billy Martin and Phil Rizzuto (#93).
Distributed in five-card/five-cent packs with cartoon images of DiMaggio on them, the 1953 Bowman Color cards were reportedly issued in three series (#1 to #64, #65 to #112 and #113 to #160). Cards in the high-number series (#113 to #160) - and in particular cards (#113 to #128) - are difficult to find in top condition.
Information on the card backs sheds light as to when these cards were distributed. For example, it wasn't until March 13, 1953, that it was officially announced that the Boston Braves would be moving to Milwaukee. If you examine the 1953 Bowman series, you'll notice that the first-series Braves cards (Sam Jethroe (#3), Sid Gordon (#5) and Jim Wilson (#37)) are identified as Boston Braves on their backs. But starting with Grimm's card (#69) - the first Braves card in the second series - the cards have been updated to reflect the move to Milwaukee. So from this, we can deduce that the first series was in production before March 13, 1953.
Further, you'll notice that Clyde Vollmer is pictured as a member of the Boston Red Sox on his card (#152), but if you read his card back, it indicates that he was sold to the Washington Senators in April 1953. This transaction was completed on April 22, 1953, so we can say safely say that this card - and the series it was in - was not produced until after this date.
The general hobby consensus is that the 1953 Bowman cards were printed in smaller quantities than the previous and ensuing Bowman issues from that era. Some have speculated that this could be due to the high cost of producing cards with color photos.
Bowman also produced a 64-card, black-and-white series in 1953. One popular hobby theory is that these cards were originally meant to be another series in the 1953 Bowman Color set, but because Bowman had underestimated the costs of producing the color series, the company was forced to produce these cards in black-and-white to save money. In what appears to be another cost-cutting measure, DiMaggio disappeared from the packaging of the black-and-white series.
"My hunch is that they wanted to stop paying Joe DiMaggio a sales percentage and his contract probably only specified he got a percentage of sales from the color cards, but I could never prove this," said Dave Hornish, author of The Modern Hobby Guide To Topps Chewing Gum: 1938 to 1956. "I doubt the cost cutting was related to color versus black-and-white printing; all their [Bowman's] other 1953 issues are in vivid color."
Available in one-cent and five-cent packs, the black-and-white cards were marketed as a separate set (#1 to #64) and there are five Hall of Famers - Johnny Mize (#15), Bob Lemon (#27), Hoyt Wilhelm (#28), Casey Stengel (#39) and Bucky Harris (#46) - in this issue.
"It's interesting that some of the significant players of the era didn't get into the Color set," said Branca.
Another reason why Bowman may have been forced to release this set in black-and-white is the large costs they incurred from lawsuits against Topps. As Hornish describes in his book, Bowman had launched multiple lawsuits against the New York-based company alleging among other things infringement on their trademarks, unfair competition and contractual interference. The majority of the lawsuits were dismissed, with the court emphasizing that the individual contracts that Topps and Bowman had forged would determine which company would have rights to feature a player in their set.
The end result was that Topps held exclusive deals with superstars Jackie Robinson and Willie Mays, while Bowman possessed rights to standouts like Stan Musial, Duke Snider and Gil Hodges. Ted Williams, who was serving in the Korean War in 1953, was not in either company's set.
There's no distinguishable sequence to the cards in the 1953 Bowman Color set. The 16 major league teams at the time are, for the most part, evenly represented. With 12 cards each, the New York Yankees, Cleveland Indians and Washington Senators are the most featured, while the lowly Pittsburgh Pirates, who had a 42-112 record in 1952, have only five cards dedicated to them.
Even though it doesn't boast cards of Robinson or Mays or any major rookies, the 1953 Bowman Color set has no shortage of star power. One of the key cards is the Mantle (#59). Regularly hampered by poor centering, there has been one PSA GEM-MT 10 and 22 PSA MINT 9s.
The Musial card (#32), which features the gentlemanly outfielder smiling in the dugout, is widely considered his best card. Though "Stan the Man" was exclusive to Bowman in 1953, this was also the last year he appeared in one of the company's sets. There has yet to be a PSA 10 of this single.
Dodgers shortstop Pee Wee Reese is showcased in a horizontally aligned action photo on the card following Musial (#33). This photo, which presents Reese leaping over a baserunner sliding to break up a double play, appears to have been taken during spring training. One of the most memorable and coveted pasteboards of its era, this card is often found with poor centering. Of the 1,275 evaluated, there has been one PSA 10 and 16 PSA 9s.
The Hall of Famers in the high-number series (#113 to #160) are even more elusive in pristine form. The Duke Snider (#117) is almost always uncovered with centering issues. Just eight PSA 9s (and no PSA 10s) have surfaced.
Another sought-after, high-number Hall of Famer is Yogi Berra (#121). Showcasing a photo of a grinning Berra on the Yankees dugout step with his glove tucked under his arm and his mask on the ground in front of him, this is one of Berra's most desirable cards. Regularly found with poor centering and print lines, the Berra has just eight PSA 9 examples.
But the most coveted Cooperstowner card in the high-number series is the Whitey Ford (#153). This pasteboard is regularly found with poor centering and the photo is sometimes out of focus. Of the 773 submissions, there have been just three PSA 9s.
"The Whitey Ford is a very tough card to get," noted King. "I got that card raw and it graded a [PSA NM-MT] 8; I was really thrilled about that. That's a beautiful card, with him looking down at his hand with the ball. That's a wonderful card featuring a young Whitey Ford."
Among the other Cooperstowners in this set are Richie Ashburn (#10), Nellie Fox (#18), Larry Doby (#40), Roy Campanella (#46), Monte Irvin (#51), Leo Durocher (#55), Robin Roberts (#65), Ralph Kiner (#80), Eddie Mathews (#97), Warren Spahn (#99) and Early Wynn (#146).
But some of the non-Hall of Famer cards are also keys to this set. The first card, Davey Williams, and the last card, Cal Abrams (#160), both suffered wear and tear being on the top and bottom of collector piles respectively. There has yet to be a PSA 10 of the Williams card and there are just four PSA 9s, while there's one PSA 10 of the Abrams and three PSA 9s.
The Luke Easter card (#104) is another sought-after single. Easter is photographed kneeling inside the on-deck circle at Yankee Stadium with two bats resting against his left leg. There have been just two PSA 9s.
Another desirable single is the Whitey Lockman (#128). This is the last card in the toughest sequence of high-number cards (#113 to #128). This card is often plagued by poor left-to-right centering and there are just two PSA 9s.
"For years, the Whitey Lockman was impossible," noted King. "When I was putting the set together, there were five Whitey Lockmans in PSA 8 and there were no PSA 9s."
There are also two commons in this series - Al Corwin (#149) and Joe Adcock (#151) - that have yet to register a PSA 9 or PSA 10 example. Both cards have centering issues.
Another mystery of this set is that it boasts two Corwin cards. On top of the aforementioned card #149, the New York Giants reliever is also highlighted on card #126. The cards have different photos, but aside from the month of Corwin's date of birth being misspelled "Recember" on card #126, the text on the backs is the same. So why would there be two cards of this nondescript right-hander?
One theory is that when all of the legal issues between Bowman and Topps had been settled, perhaps card #149 in the Bowman series had been assigned to a player that had an exclusive contract with Topps. So in their haste to remove that player from their series, Bowman simply forgot that they had already included a Corwin card. Hornish doesn't subscribe to this theory.
"I think the Corwin error was just a screw up [where] one of the pictures was misidentified," he said. "I guess it's possible another player was pulled, but in the 1953 to 1955 era, Topps was almost always the one who had to yank players due to contractual issues."
There are a few other errors in the 1953 Bowman Color set. The year of birth on Al Dark's card (#19) should be 1922 not 1923, similarly Minnie Minoso's birth year (card #36) should be 1925 not 1922. The most egregious error, however, is that a photo of Floyd Baker was used on Mickey Vernon's card (#159). None of these errors were corrected.
These idiosyncrasies, combined with the vibrantly colored photos and strong player selection, have made the 1953 Bowman Color set one of the most beloved baseball sets ever produced.
"As far as absolutely beautiful cards go, this set blows everything else away," said King. "It's the most beautiful set that there is. I mean, just look at them. They glow. They're gorgeous."
Branca offers a similar assessment.
"It's definitely a top 10 set of all time," he said. "It's somewhere right after the 'Big Three,' and because of its attractiveness, I'd put it at No. 1 in overall eye appeal."
For more information on the 1953 Bowman Color Baseball card set, please visit http://www.psacard.com/Cardfacts/Set/154/1953-bowman-color-baseball-cards.
---
Please contact Kevin Glew at [email protected] if you have any additional information or comments. Please note that the Population Report figures quoted and Set Registry rankings reported are those as of November 2015.