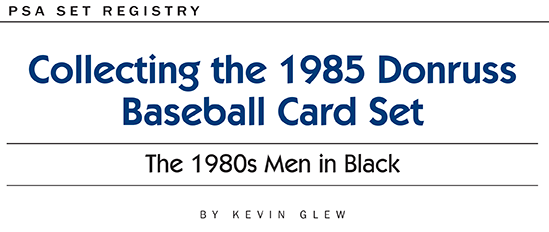 Card collectors have a love/hate relationship with black borders.
On the one hand, black borders can be frustrating because they're so fragile that cards pulled directly from packs often show chipping. Yet on the other hand, the challenge of finding blemish-free borders is also what motivates many of these collectors. And, in a lot of cases, the black borders are what they like most about the card design.
That, in a nutshell, seems to be the story of hobbyists pursuing the 1985 Donruss Baseball set, which like the 1971 Topps Baseball set before it, features pasteboards with jet, black borders.
Bill Davidson, who owns the top 1985 Donruss Basic & Master Sets on the PSA Set Registry, says his memories of the 1971 Topps set are what inspired him to assemble the 1985 issue.
"I remember opening those [1971 Topps cards] as an 11-year-old boy and how beautiful those borders made the pictures look," he said.
Brady Hill, who has assembled the registry's No. 4 Current Finest, 1985 Donruss Master Set, shares a similar story.
"They're beautiful cards," he said of the 1985 Donruss singles. "I remember that when the set came out, I was as giddy as a kid can get. They were black, and my dad and I had collected the 1971 Topps set before it. When the 1985 Donruss cards came out, to me, it really dwarfed what Topps and Fleer had done with their sets at the time. I think Donruss really took their sets up a notch in 1984, and they continued it in 1985."
It should be noted that the black borders are interrupted briefly by five, short red stripes on the lower side borders of the card fronts. The fronts of the regular cards also present a photo, the Donruss logo, the player's name, their position and a team logo.
Davidson loves the way the cards are laid out.
"[The 1985 set] reminds me of my collecting days with the 1984 Donruss set. That set is truly beautiful, and the design [of the 1985 set] isn't much different from the 1984 set, with the exception of the black borders, which I love," he said.
The horizontal backs flaunt black text on a predominantly yellow background. The card number is highlighted inside a ball graphic at the top, alongside the player's name, vitals (e.g., Born, Home, Height, Weight, etc.) and copyright information. The player's yearly statistics ensue, followed by their contract status, details on how they were acquired and "Career Highlights."
On top of the regular cards, Diamond Kings (#1 to #26) returned for a fourth consecutive Donruss set. Painted by renowned artist Dick Perez, these cards offer both a portrait and action drawing of the player. Six of the 26 Diamond Kings (Ryne Sandberg (#1), Bert Blyleven (#4), Cal Ripken (#14), Jim Rice (#15), Don Sutton (#16) and Tony Gwynn (#26)) have since been inducted into the National Baseball Hall of Fame. The Sandberg single leads off the set, and being in the front of collectors' boxes, it was often subjected to additional wear and tear. As a result, it tends to command a premium. One of the 10 PSA GEM-MT 10 examples fetched $150 on eBay in April 2014.
For the second year in a row, Donruss also included a Rated Rookies subset (#27 to #46). These cards share the same format as the regular cards but carry the words "Rated Rookie" on the bottom-right corner of the photo. Unfortunately, 1985 was not a stellar year for "Rated Rookie" cards; the most notable are Danny Tartabull (#27) and Shawon Dunston (#39).
Of the 660 cards in this series, 653 are numbered, while the final seven cards are unnumbered checklists.
The 1985 Donruss cards were distributed in 15-card wax packs that also included three pieces to a Lou Gehrig puzzle. To see what the completed puzzle looked like, collectors could view a smaller version of the finished product on card #635.
These cards were also available in 45-card rack packs (that included nine puzzle pieces) and in factory sets. The factory sets generally sell for more than hand-collated sets because collectors believe they will find higher-grade cards inside. Other collectors warn, however, that the factory set cards are wrapped tightly in cellophane which often damages the cards.
What the 1985 Donruss Baseball set lacks in notable "Rated Rookies," it makes up for with the first-year cards of players who made their big league debuts in 1984. Kirby Puckett (#438), who hit .296 in 128 games for the Minnesota Twins in 1984, is the sole Hall of Famer rookie in this issue. Of the 3,798 submitted, there have been 172 PSA 10s, one of which fetched $152.51 on eBay in February 2015.
Roger Clemens also made his Donruss debut (#273). His card, which features an excellent action shot of him, has decreased in value in recent years. One of the 323 PSA 10s sold for $73.99 on eBay in February 2015.
On top of "The Rocket," this set boasts the rookie cards of three other Cy Young Award winners: Dwight Gooden (#190), Bret Saberhagen (#222) and Orel Hershiser (#581). Of this trio, the Hershiser seems to command the most. One of the 44 PSA 10s sold for $58.99 on eBay in July 2014.
This set also houses the first-year cards of several other notable big leaguers, including John Franco (#164), Eric Davis (#325), Mark Langston (#557) and Jimmy Key (#559).
"There are a lot of good rookies in this set, but not a lot of them are Hall of Fame superstars," noted Hill.
Terry Pendleton, the 1991 National League MVP, also debuts in this offering. Unfortunately, Donruss introduced him as "Jeff Pendleton" on the initial version of his card (#534). His name was later corrected, but with just seven PSA 10s, the error version is much more difficult to uncover in pristine condition than the corrected version (59 PSA 10s.).
Among the most prominent, non-rookie Hall of Famers in this issue is Cal Ripken Jr., who's featured on two cards: a Diamond Kings single (#14) and his regular pasteboard (#169). PSA 10 examples of either card generally command between $30 and $40 each.
Not surprisingly, one of the most coveted Hall of Famer cards is the Nolan Ryan single (#60), which also has an uncorrected error on it. The back of the card states that Ryan broke the single-season strikeout record in 1972, but it actually happened in 1973. Of the 906 Ryan cards evaluated, there have been 65 PSA 10s, one of which garnered $119.99 on eBay in December 2014.
Other Hall of Famers in this offering include Eddie Murray (#47), Robin Yount (#48), Dave Winfield (#51), George Brett (#53), Gary Carter (#55), Reggie Jackson (#57), Ozzie Smith (#59), Mike Schmidt (#61), Tony Gwynn (#63), Carlton Fisk (#208), Steve Carlton (#305), Paul Molitor (#359) and Joe Morgan (#584).
Davidson points out that the Yount and Jackson cards were difficult for him to track down in pristine condition. He says they're both "prone to print and focus problems." Just four and seven PSA 10s exist of the Yount and Jackson singles respectively. One of the PSA 10 Yount cards commanded $199.99 in June 2014.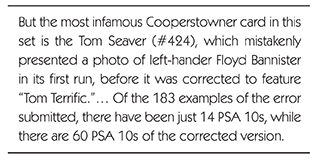 But the most infamous Cooperstowner card in this set is the Tom Seaver (#424), which mistakenly presented a photo of left-hander Floyd Bannister in its first run, before it was corrected to feature "Tom Terrific." Some publications list the corrected version for a premium, but the PSA Population Report indicates that the error version is much more elusive in top condition. Of the 183 examples of the error submitted, there have been just 14 PSA 10s, while there are 60 PSA 10s of the corrected version. A PSA 10 of the error realized $105.99 on eBay in November 2014.
This set also boasts two Pete Rose cards. Baseball's all-time hits leader is highlighted on card (#253) with the Montreal Expos and again on card #641 as a first baseman and manager with the Cincinnati Reds. Hill believes this was likely a business decision by Donruss.
"If I were guessing, I would say Rose was a very popular player at the time, so [Donruss] probably thought it was better to have a couple of Pete Rose cards in the set [as opposed to just the one]," he said.
PSA 10 examples of either Rose card can generally be purchased for $30 to $40.
One of the most popular singles in this issue upon its release was the "Two for the Title" card (#651) that features photos of Dave Winfield and Don Mattingly and documents their battle for the 1984 American League batting crown. There are two versions of this card, one has Winfield and Mattingly's names in white print on the front, while the other has their names in yellow. So far, 57 PSA 10s of the white letter version have been uncovered, while there has been just eight PSA 10s of the yellow version. A PSA 10 of the yellow version sold for $79.88 on eBay in January 2015.
Hobbyists can also pursue a 1985 Donruss Master Set on the PSA Set Registry, which requires collectors to track down both versions of the aforementioned Pendleton, Seaver and "Two for the Title" cards, as well as variations of the Jack Perconte (#74) and Mike Jones (#640) singles. The Perconte variations list his "Career Highlights" on the card backs in either three or four lines, while the "Career Highlights" are listed in four or five lines on the two Jones cards.
If you look closely, you'll also notice several uncorrected errors on cards in this issue. On top of the Seaver card, there are three other instances where the wrong player is showcased in the photograph: Ernie Camacho (#129, photo is Rich Thompson), Danny Jackson (#374, photo is Frank Wills) and Al Nipper (#614, photo is Mike Brown). Other uncorrected miscues include Frank Tanana being listed as batting left twice on his card back (#220) and Darrell Evans' card (#227) showing that he hit 80 home runs in 1980.
Aside from trademark chipping that comes with black bordered sets like this one, Davidson says the 1985 Donruss cards are also sometimes hampered by miscuts and registration issues.
And though its popularity doesn't yet rival that of its Donruss predecessor, the 1985 offering, thanks to its challenging black borders and strong player selection, should attract more collectors in the future.
"I think that over time more people will gravitate towards it," said Hill.
Davidson, whose Basic Set boasts an impressive 9.87 GPA, expresses similar thoughts.
"This set will continue to be popular with collectors," he said. "Even with the black borders, it is possible there will one day be an all PSA 10 set."
For more information on the 1985 Donruss baseball set, please visit http://www.psacard.com/CardFacts/Set/317/1985-donruss-baseball-cards.
---
Please feel free to contact Kevin Glew at [email protected] if you have any additional information or comments. Thanks to Bill Davidson and Brady Hill for providing some images featured in this article. Please note that the Population Report figures quoted and Set Registry rankings reported are those as of September 2015.