(Newport Beach, California) – Professional Sports Authenticator (www.PSAcard.com), the world's largest memorabilia authentication and grading service, certified its 25 millionth item on September 4, 2015.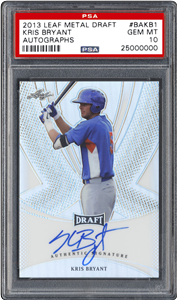 The milestone collectible is a 2013 Leaf Metal Draft Kris Bryant autographed baseball card that was graded PSA Gem Mint 10. The card is pedigreed on the insert label as the 25,000,000th PSA item.
"After PSA's founding in 1991, it took seven years to reach the one million milestone, but since 1998, PSA has averaged well over a million submissions annually. We reached the 20 million mark in November 2012. The combined total value of the 25 million sports, entertainment and historical collectibles that PSA experts have now examined, authenticated and certified is well over $1 billion," said PSA President Joe Orlando.
"We could not have reached the 25 million milestone without the continuing tremendous public support of both buyers and sellers. Thank you collectors, dealers and auction houses," said Orlando.
"Achieving this significant point in the company's history underscores the strength and growth of the PSA brand and the importance of third-party certification," he explained.
For additional information about Professional Sports Authenticator and PSA/DNA Authentication Services, call (800) 325-1121. Email: [email protected]. Online: www.PSAcard.com.