No one could blame a collector if they believed in a 1985 Topps Baseball set jinx.
After all, almost every key player that made their regular issue Topps debut in this offering has faced significant adversity.
Dwight Gooden, for example, looked to be a sure-fire Hall of Famer before drugs and alcohol curtailed his career, while two-time Cy Young Award winner Bret Saberhagen's time in the big leagues was cut short by multiple shoulder injuries. And as if those health issues weren't devastating enough, five-tool outfielder Eric Davis battled colon cancer, and sadly, Kirby Puckett died of a stroke when he was just 45.
On top of this, collectors have watched the values of their Mark McGwire and Roger Clemens rookies plummet after they were alleged to have used steroids. And if you've opened a box of these cards, you'll soon understand why this set is the most difficult 1980s Topps Baseball issue to assemble in high grade. The quality control during the production process was inconsistent.
All of this is enough to make one wonder if this set is, in fact, jinxed. Robert Bush, who owns the No. 11 Current Finest, 1985 Topps Baseball set on the PSA Set Registry, remembers selling a wax case (20 wax boxes) for $5,000 in 1998 when McGwire was vying to break the single-season home run record. In February 2015, a similar wax case sold for just $1,425 on eBay.
But if you can get past all this negativity, you'll discover that there's still plenty to like about this 792-card issue. And with high-grade cards still, for the most part, very reasonably priced, now might be a good time to pursue it.
Unlike Topps' two previous baseball series, the regular 1985 player cards do not showcase two photos on their fronts. Instead, they present a large player photo, with the team name emblazoned in a rectangular box running diagonally across the bottom, to the left of the team logo. The player's name and position are indicated below the logo.
"I like the design," said Ross Hill, who owns the No. 12 Current Finest, 1985 Topps Baseball set on the PSA Set Registry. "It may seem somewhat simple compared to other sets, but the photos are good and I like the fact that the team name is fairly large on the card."
The horizontal backs boast primarily red text on a green background. The card number is indicated on the top left above the player name and to the left of the player's vitals (e.g., Height, Weight, Bats, Throws, etc.). Yearly statistics ensue, followed by biographical information and, if there's room, a "Baseball Trivia Quiz."
The manager and All-Star cards were the only two subsets to return from the 1984 issue. Scattered throughout the set, the manager cards offer biographical information and a team checklist on their backs. Eleven of the 22 players highlighted in the All-Star cards (#701 to #722) are now in the Hall of Fame. The horizontal backs of these cards flaunt information about the player on the left side and a list of 1984 statistical leaders (in a category that the player distinguished themselves in) on the right.
The first 10 cards in the 1985 set are Record Breaker singles. Five of the players spotlighted in this series have since being inducted into the Hall of Fame. Moreover, two of the most condition sensitive cards - Cliff Johnson (#4) and Joe Morgan (#5) - in the entire set are also in this subset. Both cards are hampered by poor left-to-right centering and neither has had an example grade above PSA NM-MT 8. An examination of the 1985 Topps sheets reveals that both are the last cards on the right in successive rows on a print sheet. These edge-sheet positions generally make cards more vulnerable to flaws.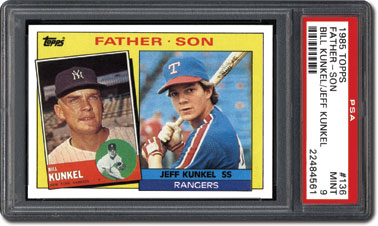 For the first time since 1976, Topps incorporated a Father/Son subset (#131 to #143). These cards shine the spotlight on baseball bloodlines like Yogi and Dale Berra (#132), Ray and Bob Boone (#133) and Tito and Terry Francona (#134). Topps also introduced a subset that highlighted the No. 1 overall draft picks (#271 to #282) that were still active.
"I really like the draft cards," said Hill. "It's interesting to look at the players [during their drafting days]. I like the history behind them."
But the most talked-about subset pays tribute to select members of the silver medal-winning, 1984 U.S. Olympic team (#389 to #404). On top of the Mark McGwire card (#401), this set also offers cards of future big leaguers like Scott Bankhead (#393), Shane Mack (#398), Oddibe McDowell (#400), Cory Snyder (#403) and Billy Swift (#404). However, it's just as notable for the 1984 Olympians that were not featured. Barry Larkin, Will Clark and B.J. Surhoff were among those snubbed by Topps.
The 1985 Topps cards were distributed in 15-card/35-cent wax packs with gum. They were also available in 28-card/59-cent cellos and in 48- and 51-card rack packs. Within each rack pack was one of 22 bonus "Glossy All-Stars" cards that highlighted the nine starters from each league in the 1984 All-Star game, the managers and team captains (Willie McCovey and Hank Greenberg).
The regular 1985 Topps cards were also available in 42-card grocery rack packs and factory sets. The factory sets can be found in plain brown boxes or in white boxes with the Topps logo on them. Five-hundred card vending boxes were also produced.
When collectors crack open these products today, they're still hoping to pull a high-grade McGwire rookie (#401). The "Big Mac" single is the first card on the left in the second-last row of a print sheet, an edge-sheet position that made it susceptible to miscuts. This helps to explain why this card is regularly found with poor left-to-right centering. Of the 48,665 submitted, less than one percent (or 252 examples) have been deemed PSA GEM-MT 10s. One PSA 10 fetched $535 on eBay in February 2015.
The Clemens rookie (#181) is also somewhat difficult to find in flawless form. Just 1.1% of the more than 22,000 sent into PSA have received the vaunted gem-mint 10 grade. One PSA 10 commanded $124.99 on eBay in February 2015.
Puckett is the only Hall of Famer with a rookie card (#536) in this issue. His card is readily available in gem-mint condition. Of the 6,260 submitted, there have been 230 PSA 10s, one of which sold for $129 on eBay in February 2015.
"In the long run, I think the Puckett [rookie] is going to be the best card [to own from this set] because he hasn't been tied to any controversy," said George Stillwell, who owns the No. 9, Current Finest, 1985 Topps Baseball set on the PSA Set Registry.
Aside from the aforementioned Saberhagen (#23), Gooden (#620) and Davis (#627), this set also boasts the Topps regular issue debuts of several other notable players, including Tony Fernandez (#48), Jimmy Key (#193), Terry Pendleton (#346), John Franco (#417), Orel Hershiser (#493), Mark Langston (#625) and Joe Carter (#694).
Located on the bottom-right corner of a print sheet, the Fernandez card typically fashions 25/75 (or worse) left-to-right centering, and there has yet to be an example grade above PSA 8.
This set also houses the non-rookie cards of several Hall of Famers, including Cal Ripken, Jr., (#30), George Brett (#100), Rickey Henderson (#115), Reggie Jackson (#200), Rod Carew (#300), Robin Yount (#340), Mike Schmidt (#500), Ozzie Smith (#605), Tom Seaver (#670) and Nolan Ryan (#760). The second-year Don Mattingly (#665) and third-year singles of Wade Boggs (#350), Ryne Sandberg (#460) and Tony Gwynn (#660) are also part of this issue.
"There are a lot of Hall of Famers in this set," said Stillwell.
The Seaver (#670) is the most evasive Cooperstowner card to uncover in pristine form. This card was situated on the top-left corner of a print sheet and most examples are hampered by poor left-to-right centering. There are just three PSA 10s, and one of the 85 PSA 9s garnered $29.99 on eBay in January 2015.
If you look closely, you'll also notice a few uncorrected errors in this issue. For example, the Bryan Little card (#257) has his named misspelled "Brian" on the front, while the Ron Darling pasteboard (#415) is missing an answer to the "Baseball Trivia Quiz" on its back. And if you think Gary Pettis looks young in his photo (#497), that's because his 16-year-old brother, Lynn, pulled a fast one on the photographer and posed for the picture.
You might think that the black-bordered, 1985 Donruss Baseball cards would be more challenging to uncover in PSA 10 condition than the 1985 Topps singles. But the PSA Population Report reveals that percentage-wise it has been almost three times as difficult to obtain a PSA 10 grade for 1985 Topps cards as it has been for 1985 Donruss singles. The 1985 Topps Baseball set is also, by far, the most difficult, mainstream 1980s Topps Baseball set to complete in gem-mint grade (see accompanying chart).
Print defects, poor photo registration and flaking on the green borders on the backs are common condition flaws on these cards, but miscuts and poor centering are the most prevalent issues.
"The biggest challenge is trying to get well-centered cards," said Bush.
The veteran collector adds that the coloring on the cards is also not as sharp as other Topps issues.
"They didn't use enough ink," he said.
All of this has made Stillwell's goal of collecting the entire set in PSA 10 a daunting task.
"It's been slow because it's hard to find the [PSA] 10s that I need," said Stillwell. "I'm looking at another five to 10 years before I can probably complete this set."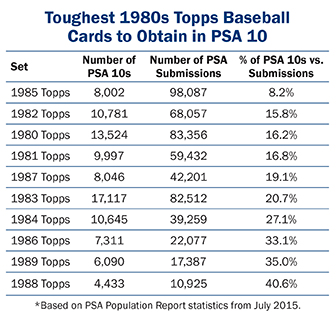 So with the relative scarcity of gem-mint examples, a solid, if not cursed, rookie crop and some interesting subsets, can this set rise above its "jinxed" status? Collectors seem to think so.
"The bottom kind of fell out of the sets from about 1987 to 1992, but the 1985 set still has some value," said Hill. "And with the rookie cards in it, years down the road, it will probably pick up in value…I think it will be slow, but it will pick up."
Stillwell is similarly optimistic.
"If I can collect the set and get all the [PSA] 10s that I need - which will take a long time [due to its monstrous size] - I think it will hold, if not increase, its value because they didn't really start flooding the market with millions of cards until 1988 or 1989."
For more information on the 1985 Topps Baseball set, please visit http://www.psacard.com/CardFacts/Set/321/1985-topps-baseball-cards.
---
Please feel free to contact Kevin Glew at [email protected] if you have any additional information or comments. Thanks to George Stillwell and Ross Hill for providing images for this article. Please note that the Population Report figures quoted and Set Registry rankings reported are those as of July 2015.