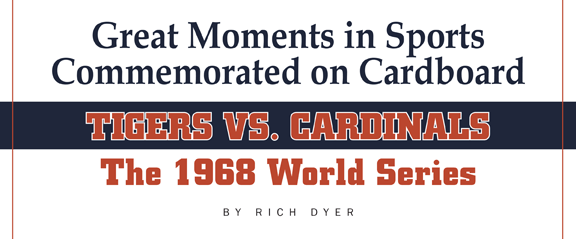 When it comes to the biggest sports events, fans want to see great players perform. In Major League Baseball the biggest stage is the World Series, and in 1968 the stars truly came out. The rosters of the Detroit Tigers and St. Louis Cardinals featured six future Hall of Famers (seven if you include St. Louis manager Red Schoendienst), the best pitchers in baseball and a long list of perennial All-Stars and Gold Glove winners.
The Tigers had three of the top four vote getters on the 1968 American League MVP ballot while the Cardinals had four of the top seven vote getters in the National League.Bob Gibson with his 1.12 ERA and Denny McLain with 31 wins set pitching standards that have not since been matched. Together, these two hurlers won 53 games and threw 19 shutouts during the regular season.
Both men won their league's Cy Young Award and MVP Award, the only time two pitchers have won both awards in the same season. The pitching supremacy they displayed in 1968 led to the lowering of the mound in 1969, from 15 inches to 10 inches, to minimize the domination of major league pitchers.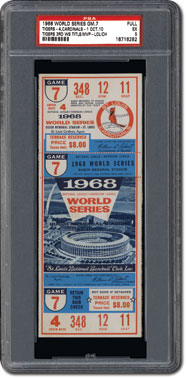 The Cardinals were the reigning World Series champions having defeated Boston in the 1967 series four games to three. Actually, the Cardinals-Tigers matchup could have happened in 1967 had the Tigers not lost a chance for the American League pennant on the last day of the season by losing the second game of a make-up double-header.
The Tigers, managed by Mayo Smith, were coming off a 103 win season in 1968 while the Cardinals finished the regular season with a 95-67 mark. The 1968 Series is considered to be the last "classic" World Series because, as it turned out, it was the last World Series to be played before the introduction of divisional play and the League Championship Series. It was truly the last of the two pennant winners from the American and National Leagues with no playoffs... just one series for all the marbles in Major League Baseball's post season.
The 1968 Fall Classic was a display of record-setting performances and several amazing plays that proved to be key turning points in the Series. It is also remembered for Mayo Smith's gamble of moving outfielder Mickey Stanley to shortstop even though he had not played the position in his minor or major league career until the last few games of the 1968 season.
The Gold Glove centerfielder, with a 1.000 fielding percentage in 1968, was asked to make the move so Smith could keep the bats of Cash, Horton, Northrup and Kaline in the lineup. Nineteen sixty-eight also represented one of only six times in major league history that a team was down three games to one and came back to win the World Series.
In the world of baseball cards, 1968 was also a banner year. The 1968 Topps set featured 598 cards and the rookie cards of two of baseball's greatest players at their position: Johnny Bench and Nolan Ryan. The card fronts featured a color photograph of the player surrounded by a border rounded at the corners. The border background looks like burlap fabric, although the fabric design can vary from one series to the next.
The 1968 set contained all of the elements that made Topps series from the 1960s so enjoyable to collect. There were the twelve League Leader cards to start the set, an eight card World Series subset highlighting the 1967 Fall Classic, All-Star cards for both the American and National League, team cards, team rookie cards that pictured two players and, of course, the checklists.
It is a popular set that is filled with superstars and Hall of Famers, and it is not too difficult to find cards in near mint to mint condition. All the Cardinals' and Tigers' star players were featured on their own cards and several also had an All-Star card.
Hall of Famer Eddie Mathews and the great Roger Maris were seen on their last individual cards in 1968 while Cooperstown residents Lou Brock, Steve Carlton, Orlando Cepeda, Bob Gibson and Al Kaline still had several years of Topps cards ahead of them.
The following year's Topps set (1969) featured an eight card subset highlighting the seven 1968 World Series games and a summary card. The cards featured black-and-white photos from the Series with white borders. The card backs displayed the box scores from each game. World Series highlight cards were a popular addition to many Topps sets in the 1960s, providing collectors with additional cards of star players and future Hall of Famers.
Here is a game-by-game timeline, highlighted in the 1969 Topps subset entitled "The Sporting News: 1968 World Series Special." This subset was another example of Topps' relationship with The Sporting News when it came to selecting yearly All-Stars and commemorating MLB events.
Game 1: October 2, 1968
St. Louis 4 • Detroit 0
The first game of the 1968 World Series was played in Busch Stadium and featured one of the most highly anticipated pitching matchups in World Series history. Flamethrower Bob Gibson was at his very best, striking out a World Series record 17 Tiger batters while walking only one in a complete game five-hit shutout. Sandy Koufax previously held the record with 15 strikeouts set in 1963.
Denny McLain did not have his normal great control and gave up three runs (two earned) on three hits in five innings pitched. Gibson capped his extraordinary performance by striking out the last three batters he faced in the 9th inning (Kaline, Cash and Horton) much to the delight of the energized St. Louis crowd.
Sometimes forgotten due to his setting the strikeout record was the fact that Bob Gibson became the first National League pitcher ever to win six World Series games. Even though the Cardinals were limited to six hits, they made them count as they were mixed in with four walks and three stolen bases. Hitting stars for St. Louis included Julian Javier with two runs batted in, Mike Shannon with two hits and Lou Brock with a solo home run and a stolen base. Mickey Stanley had two of the Tigers' five hits.
Game 2: October 3, 1968
Detroit 8 • St. Louis 1
In Game 2 the Tigers evened up the series behind a commanding pitching performance by Mickey Lolich. Lolich hurled a complete game six-hit victory, striking out nine batters. Norm Cash led the Tigers' batting onslaught with three hits, including a home run, while Al Kaline, Willie Horton (home run), Dick McAuliffe and Lolich had two hits each.
Lolich connected on the one and only home run of his baseball career off Cardinals' starter Nelson Briles and had two runs batted in. This was truly the career hitting highlight for a man with a .110 lifetime batting average.
Julian Javier and Orlando Cepeda had two hits each for the Cardinals. Future Hall of Famer Steve Carlton saw the first of his two appearances in the Series and gave up two runs in an inning pitched.
Game 3: October 5, 1968
St. Louis 7 • Detroit 3
The Cardinals unleashed their home run power when the Series moved to Tiger Stadium in Detroit for Game 3. Tim McCarver hammered a three-run homer in the 5th to erase a 2-0 Tiger lead, and then Orlando Cepeda hit a three-run shot in the 7th to break open a close game as St. Louis posted a 7-3 victory.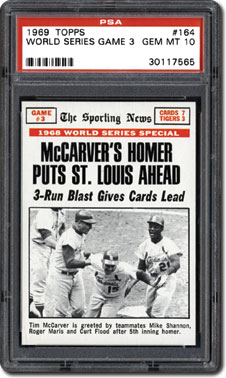 The Tigers' hope of using their home field advantage to gain momentum in the Series was extinguished by the star-studded Cardinals' line-up. Lou Brock had three stolen bases to up his Series total to six. Al Kaline started the Tigers' scoring with a two-run homer in the 2nd and Dick McAuliffe homered in the 5th. However, Ray Washburn gave up only four hits as he outpitched the Tigers' Earl Wilson.
Game 4: October 6, 1968
St. Louis 10 • Detroit 1
Bob Gibson returned to the mound to face Denny McLain once again in Game 4 and once again McLain had an early exit, due partially to an hour rain delay, going only 2-2/3 innings. Gibson won his World Series record seventh game in a complete game, five-hit, 10-1 triumph while striking out 10 batters. Gibson also helped his cause with his second career World Series home run.
But the real hitting star was Lou Brock who homered, tripled and doubled while driving in four runs. Brock also stole his seventh base, tying his own Series record. It was now very apparent that the experienced and talented St. Louis team was playing at peak performance as the Tigers were now reeling and only a single game away from losing the Series.
Future Hall of Famer Eddie Mathews started at third base for the Tigers and got one hit in his last appearance as a major league ballplayer. Jim Northrup homered off Gibson for the only Tiger run.
Game 5: October 7, 1968
Detroit 5 • St. Louis 3
Things looked pretty bleak for the Tigers, trailing 3-1 in the Series, when the Cardinals led off Game 5 with three runs in the 1st off Game 2 hero Mickey Lolich. Orlando Cepeda hammered a two-run homer early in the game to silence the home crowd. The game had tightened up when, with the Cardinals leading 3-2 in the 5th, Lou Brock hit a one-out double.
Next came the first of two key plays in the Series, one that is still debated to this day. With Brock on second, Julian Javier laced a line-drive single over the head of shortstop Mickey Stanley which left fielder Willie Horton charged, played on one hop and fired what was perhaps the finest throw of his career to home plate. Brock chose not to slide but tried to score standing up. Tigers catcher Bill Freehan fielded Horton's near perfect throw on one hop, blocked the plate and tagged out Brock.
To this day, the picture of Brock with his left foot either on or off the edge of home plate and being tagged by Freehan is scrutinized by baseball's historians with no undisputed conclusion as to whether he was safe or out.
The Tigers got to Nelson Briles and the Cardinals relief pitchers with three runs in the 7th with Al Kaline getting the big hit off Joe Horner, a two-out, two-run single to left. Kaline has often stated that this clutch hit is one of his great career memories.
Once again the light-hitting Lolich played a big hitting role by singling to start off the Tigers' 7th inning rally, and once more Mayo Smith made a pivotal managerial decision by letting Lolich bat instead of using a pitch hitter. Lolich had settled down after a rocky 1st and went on to shut out St. Louis over the final eight innings The final score of 5-3 sent the series back to St. Louis with the Cards up three games to two.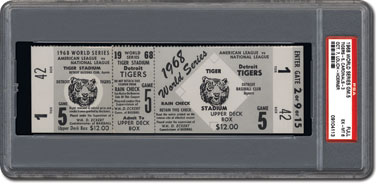 Perhaps just as controversial as the play at home plate was the pre-game rendition of "The Star-Spangled Banner" by Jose Feliciano. Feliciano was invited to sing by Tigers broadcaster Ernie Harwell and his personalized, bluesy, solo performance accompanied by his own acoustic guitar caused quite a stir.
It seemed America was not ready for an alternative, non-traditional rendition of "The Star-Spangled Banner" at the time. However, in looking back, it can be said that Jose Feliciano's performance has paved the way for many different interpretations of our National Anthem that are now commonplace.
The Play at the Plate in Game 5
When breaking down the play at the plate in Game 5, it becomes obvious that as the play developed it became a "perfect storm," an event where a rare combination of circumstances occurred that impacted the outcome in Detroit's favor.
Normally, there would be little doubt that Lou Brock on second base would score safely on any single to the outfield. However, the line-drive single off the bat of Julian Javier was hit over shortstop Mickey Stanley's head, and with the ball in front of him, Brock hesitated just slightly, thereby costing him a split second in his race to the plate.
Left fielder Willie Horton was normally pulled in late innings for defensive purposes due to his tender knees. But this being the 5th inning, Horton was still on the field. He charged the ball without moving too far laterally and came up firing to home plate with good momentum behind him.
Although Horton wasn't known for having an outstanding outfield arm like his teammate Al Kaline, he was a catcher with a good throwing arm when the Tigers signed him out of high school. It really shouldn't come as a surprise then that Horton was able to make such a great throw to cut down Brock at home plate.
Baseball fans still question why Lou Brock didn't slide, but what gets forgotten is that this wasn't an oversight on Brock's part, according to Detroit Tigers historian/blogger Karen E. Bush (2011). All during the 1968 season, he seldom bothered to slide into home, showing little regard for opposing teams' attempts to throw him out from second base, and for good reason. Lou Brock had demonstrated that he could easily outrun the finest outfield arms in the National League.
So far in the Series, he'd already stolen seven bases with at least one in every game. It can be assumed then that Brock's base running success in the Series had lifted his confidence to an exceptionally high level. So once again, Brock came home standing up much to the chagrin of many baseball enthusiasts who still ask, "Why didn't he slide?" A collision at home was avoided when Brock tried to touch the side of the plate with his left foot, but he couldn't completely reach around or through Bill Freehan.
It is also notable to remember that with Freehan we are talking about a former University of Michigan tight end whose reputation for blocking the plate was acknowledged on a level similar to Lou Brock's legendary speed. On this play, the Tigers catcher stood there like the imposing plate blocker he was and tagged out Brock.
To this day, even when viewing the replay, it's hard to determine if umpire Doug Harvey's call was correct or not. Brock, however, still claims he was safe. In a 2012 quote re-published by Baseball Premier Newsblog he stated: "The ball went over Mickey Stanley's head at short. I did not have a great jump, but I thought I could make it…Willie Horton made the throw of his life. I never thought Horton could make that throw and the next thing I knew I was going to collide with Bill Freehan and we know who would have won that. I was safe but the umpire called me out so I was out."
In a 2010 interview with Michigan's Midland Daily News, Horton recalled the Tigers scouting report on Lou Brock. "We knew that Lou Brock didn't ever slide [at home plate]. We had noticed that the outfielders in the National League just lobbed the ball in [assuming that Brock would score before any play could be made at the plate]."
So if there was an opportunity to throw Brock out at the plate, the Tigers were prepared to deliver the play. Horton lists the throw as the most memorable moment of his remarkable career, a career the Tigers have honored by retiring his number and erecting a statue in Comerica Park.
Prior to Game 6, Bill Freehan shared that after Game 5 sports writers had asked him if Brock touched home plate. "I had to be the worst person in America to know because I was trying to catch the ball and wouldn't see a thing, so all I know is that I was surprised he didn't slide."
Game 6: October 9, 1968
Detroit 13 • St. Louis 1
Denny McLain took the mound for the Tigers after a short rest due to his early exit from Game 4. Some historians consider this decision another of manager Mayo Smith's brilliant moves during the Series as he started McLain on only two day's rest. This was an uncommon practice at the time and very seldom happens in today's modern baseball.
Ray Washburn pitched for St. Louis and was the victim of a 10-run Tiger ambush in the 3rd inning. This tied a World Series record for the most runs scored in one inning. Jim Northrup's grand slam home run led the way to a final score of 13-1. McLain finally displayed his pitching talent with a complete game victory, and Detroit evened up the series 3-3 to set the stage for a highly anticipated Game 7 with the winner to be crowned the World Champion!
Game 7: October 10, 1968
Detroit 4 • St. Louis 1
Bob Gibson and Mickey Lolich, both 2-0 in the Series, locked up for an exciting Game 7 matchup. And true to form, both pitchers shut down the opposition with no runs through six innings. The Cardinals could have broken through in the bottom of the sixth when both Brock and Flood singled. However, Lolich set an obscure World Series record by picking off two base runners from first base in the same inning. Like McLain in Game 6, Lolich was pitching on two days rest. Gibson, with three days rest, was again dominant and still cruising in the 7th when with two outs both Cash and Horton singled.
Next up was Jim Northrup who appeared to be one of the few Tigers who could handle Gibson's power pitching having homered off him earlier in Game 4. Up until this moment that was the only run that Gibson had given up in the Series.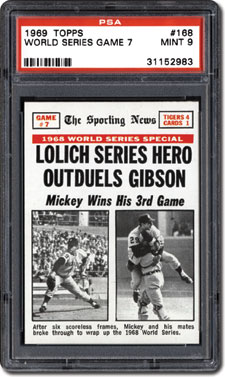 On the first pitch, Northrup laced a shot to the right of centerfielder Curt Flood who took a step in, recovered and went back on the ball but couldn't make the play. Northrup ended up on third and the Tigers took the first lead of the game.
Freehan followed Northrup's triple with a double, and although the Cardinals scored one run off Lolich in the 9th on a Mike Shannon home run, the Tigers prevailed 4-1 to win the Series.
Northrup's Triple to Center in Game 7
This was the second key play in the Series and once again it swung the Tigers' way. The outfield was wet and slippery from earlier rains. Curt Flood was playing his normal shallow center field as he was a master of chasing down fly balls hit over his head.
Flood was considered one of the great centerfielders of his era, having committed no errors during the entire 1966 season and having set a NL record with 226 consecutive errorless games. During one stretch in his career Flood won seven consecutive Gold Gloves. But on this play, everything went wrong.
He momentarily misjudged the ball as his initial step was toward the infield. His recovery to go back on the ball was hampered by the wet field as his cleats slipped on the turf and in a flash the well-hit ball was beyond his reach. Once hitting the wet outfield grass, it rolled beyond the warning track, allowing Northrup to end up on third with a triple while driving in Horton and Cash with the game's first two runs.
Baseball pundits debate to this day whether the ball was catchable had Flood not initially misjudged its flight. For Jim Northrup, it seemed that for the rest of his life he had to deal with questions as to whether his role as the Game 7 hitting hero was legitimate. Northrup felt he hit a laser shot that was clearly over Flood's head regardless of how he played the ball, and many observers who have viewed the film seem to think that he is correct.
But for Curt Flood, this was a blemish on his resume as a great centerfielder. Those that knew him well, with his deep pride and competitive nature, know that this play haunted him for the rest of his life. Like all great players, there is little doubt that Curt Flood felt he should have caught the ball.
For Jim Northrup, that hit culminated a record-setting year for clutch power hitting. Northrup hit five grand slams during the 1968 season, including his Game 6 blast in the World Series. He hit two in consecutive at bats on June 24, 1968, and then hit another five days later, becoming the first major league player to hit three grand slams in a single week.
But it is his 7th inning triple in Game 7 of the 1968 World Series that made this young man from the small farming community of Breckenridge, Michigan, a Detroit Tigers legend. Jim left the Tigers in 1974 and retired after spending the 1975 season with Baltimore.
As for Curt Flood, his career essentially ended after the 1969 season when he was traded to the Phillies. His refusal to report and his subsequent challenge of MLB's "reserve clause" led to baseball's free agency in the 1970s. Still in his early 30s, he had amassed 1,861 hits, a .293 batting average and seven Gold Gloves, mostly during his 12 years with the Cardinals.
Except for a few games played with the Senators in 1971, his life for the next few years was very difficult due to the enormous emotional and financial price he paid. A man who viewed the position he took as an issue of civil rights and whose great pride and personal sacrifice led to the financial benefits and career freedom that today's ballplayers enjoy, died much too young in 1997 at the age of 59.
Summary
Detroit Tigers: 4 games
St. Louis Cardinals: 3 games
So there you have it, the story behind one of the greatest World Series ever played thoroughly commemorated on the cardboard gold we know as baseball cards. Those of us fortunate enough to have watched the games as they happened witnessed several World Series records set by great Hall of Famers and clutch performances by unlikely heroes.
There was Bob Gibson at his dominating best (2-1, 1.67 ERA, 35 SO) and Lou Brock (.464 BA, 13 hits, 7 SB) using his speed to impact games. There was "Mr. Tiger," Al Kaline, (11 hits, .379 BA, 8 RBI) winning a World Series ring to cap his Hall of Fame career and Mickey Lolich (3-0, 1.67 ERA) outshining his more celebrated pitching partner Denny McLain to win the series MVP award.
For the Tigers, the winning players' share was $10,937, while the Cardinals' player share was $7,079. These don't seem like large amounts compared to the financial rewards earned by today's ballplayers, but in 1968 these were substantial amounts.
Did Mayo Smith's gamble pay off? There is little doubt it did when you consider that Kaline hit .379, Cash .385, Horton .304 and Northrup .250 with his two home runs and 8 RBI. One of these players would have had to sit out each game had Mickey Stanley not played shortstop.
And as for Stanley, he made two miscues that led to no Cardinal runs, had six hits, and scored four runs. In its The End of the Century series, ESPN rated Mayo Smith's decision to move Stanley to shortstop for the 1968 World Series as one of the 10 greatest coaching decisions of the 20th Century in any sport.
For the Cardinals, it was the end of a championship run that had led to three NL pennants and two World Series championships in the 1960s. They won two terrific seven-game World Series against the Yankees in 1964 and the Red Sox in 1967. After 1968, they would not return to the World Series until 1982.
For the Tigers, a great celebration took place that helped unify the city after violent civil rights riots had taken place a year earlier. Their world championship provided healing for the city at one of the most difficult times in its history. The victory also ended a 23-year drought since their last championship in 1945.
However, like the Cardinals, the Tigers' championship run ended with this one World Series win and later a loss in the 1972 Championship Series to Oakland. The core of the team was gone by the mid-1970s, and it wasn't until 1984 that the Tigers would once again raise the World Series Championship trophy.
To this day, 1968 Detroit Tigers are the most beloved professional sports team in Michigan. When a team reunion or autograph session is scheduled, Tigers fans by the hundreds attend seeking signatures and pictures with their heroes from the past.