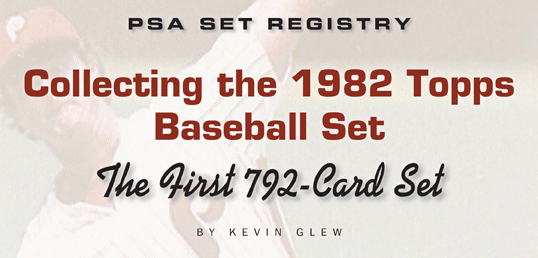 A monster is born.
At least that's how some collectors might have viewed the 1982 Topps Baseball set when it was initially released. Boasting 792 cards, it was Topps' largest baseball offering to that date.
"To be perfectly honest with you, when I started this registry set, I had visions of doing the 1982, 1983 and 1984 Topps sets, but I quickly realized that it wasn't going to be possible," said Jim Barnett, who owns the No. 3 Current Finest, 1982 Topps Baseball set on the PSA Set Registry. "Financially it was out of the question, so I just narrowed it down to 1982 and I've been working on it for 10 or 11 years. It's been a challenge."
With two stripes extending down the left side of the fronts of the regular player cards, the 1982 Topps Baseball set is sometimes referred to as the "hockey stick" set. The player's position is indicated in the outer stripe as it curves inward towards the bottom. The player's team, name and Topps logo are located on the right, below a large photo with a facsimile autograph running across it.
"I'd rank the 1982 set as the first of the 'clean' Topps print designs," said Hatch Graham, who owns the No. 1, 1982 Topps Baseball set on the PSA Set Registry.
The regular player card backs offer black and blue print on a green background. A cartoon at the top illustrates a piece of trivia about a player, while a separate, unrelated baseball fact is presented to the right. Below this is the Topps logo, card number, player vitals (e.g., Height, Weight, Bats, Throws, etc.), name and position, followed by statistics and biographical information (if there's room).
Not surprisingly, there are several subsets within this "monster." Hall of Famers Steve Carlton (#1) and Nolan Ryan (#5) have pasteboards in the Highlights subset (#1 to #6), as do Tim Raines (#3) and Pete Rose (#4), who many feel should also be honored in Cooperstown.
"The Ryan Highlight card is tough and so is the Rose," said Roger Rumsey, co-owner of 4 Sharp Corners in Walpole, Massachusetts. "Those cards do very well in high grade if you can get them, but the centering on those is tough."
Other 1982 Topps subsets include League Leaders (#161 to #168), National League All-Stars (#337 to #347) and American League All-Stars (#547 to #557). Team Leader cards - which shine the spotlight on the players who posted the best batting average and ERA on each club in 1981 - are also scattered throughout the set, along with 40 "In Action" singles.
"Any time you have multiple cards of Hall of Famers, that's a good thing. It definitely improves the quality of the set," said Rumsey of the "In Action" cards.
The 1982 Topps Baseball cards were distributed in 15-card/30-cent wax packs with a stick of gum. They were also available in 36-card grocery rack packs and 51-card regular racks, as well as in 28-card/49-cent cellos. Five-hundred card vending boxes were also produced.
Graham says the prices for unopened material have risen dramatically in recent years. He has had his best luck finding high-grade cards in rack packs.
"In many cases, the cello packs are too tightly wrapped in the 1982 series, causing excessive stress on the corners," shared Graham. "Searching for rack packs made a world of difference to the quality of the corners. Compared to prior Topps years, the 1982 Topps cards in rack packs yielded a higher volume of high quality examples."
From 1978 to 1981, Topps issued 726-card baseball sets that each housed 66 double prints. With the addition of 66 cards for their 1982 series, they were able to manufacture six, 132-card sheets with no double prints.
The Cal Ripken, Jr. rookie (#21) is the first card that springs to mind when most hobbyists think of the 1982 Topps Baseball set. The Baltimore Orioles legend is featured on an Orioles "Future Stars" card along with Bob Bonner and Jeff Schneider. Of the 24,150 submitted, there are 338 PSA GEM-MT 10s, one of which sold for $401.01 on eBay in October 2014.
"The Ripken rookie is not particularly tough [to obtain in PSA 10]," said Barnett. "I've submitted six or seven and I think I've obtained two [PSA] 10s."
Like the Ripken, many of the other notable players debuting in this set are featured on "Future Stars" cards. Terry Francona (#118), Von Hayes (#141), Chili Davis (#171), Jesse Barfield (#203), Brett Butler (#502), Ron Gardenhire (#623) Steve Sax (#681) and Kent Hrbek (#766) are among those who debut on "Future Stars" singles.
Some key rookies - Tim Wallach (#191), Dave Stewart (#213), Jorge (later George) Bell (#254), Dave Righetti (#439) and Lee Smith (#452) - did, however, have solo cards.
As noted earlier, one of the major appeals of this set is that several Hall of Famers are highlighted on multiple cards. Mike Schmidt, for example, is featured on five cards, while Nolan Ryan is on four.
"Nolan Ryan will always be the era's key Hall of Famer," said Graham.
Rumsey agrees.
"Ryan's popularity surpasses everyone in terms of the modern era," he said.
With 119 PSA 10s, however, Ryan's regular issue card (#90) is not particularly challenging to find in high grade. A PSA 10 sold for $199.99 on eBay in September 2014.
In contrast, Tom Seaver's regular card (#30) is very difficult to obtain in pristine form. This card is located in the top row (fourth from the left) on a print sheet, a position that generally makes cards more susceptible to condition woes.
"That's a card that just has massive registration problems," said Barnett. "You can't find a crisp, clear one."
There are just three PSA 10 Seaver cards.
Barnett says the Reggie Jackson regular issue (#300) is also evasive in top grade.
"The Reggie Jackson is always off-center," said Rumsey.
Not surprisingly, the Jackson card is the first card on the left in the second-last row of a print sheet, an edge-sheet position that tends to make cards more vulnerable to flaws. Of the 405 submitted, there have been eight PSA 10s. One PSA 10 sold for $338.33 on eBay in May 2014.
And some of the 1982 Topps commons are even more elusive in gem-mint condition than the Jackson. There has yet to be an example of the John Urrea (#28), Bruce Benedict (#424) and John Montefusco (#697) singles that has graded above PSA NM-MT 8. Benedict and Montefusco each have just two PSA 8 examples.
"It's unheard of to think that 1980s-era cards have that kind of rarity," said Graham of the Benedict and Montefusco singles.
"I've got 200 Bruce Benedict cards, and I was going through them this week and there's not a single one that I can submit that would even get a [PSA] 8," said Barnett, in a November 2014 interview.
Barnett says poor centering and print issues plague this card.
"I think somewhere in the printing process the plate got damaged because the team name is usually smeared. It just has massive print defects," he said. "And if you can find clear examples, then you have centering problems. And if you can find one centered, it has huge print defects and registration problems. It's probably the toughest card in the set."
The Benedict card is predictably located in the bottom row (fifth card from the right) on a print sheet, a position that traditionally makes cards difficult to find in flawless form.
Advanced collectors will tell you that this set's most desirable card is the Pascual Perez error (#383). A small quantity of these cards was initially printed without Perez's position on them, but this was corrected early in the production process, so examples without a position are rare. This card is also evasive in top condition because it resides on the bottom row of a print sheet. There are just two PSA 10s and one fetched $1,050 on eBay in June 2012.
Another notable error can be found on the George Foster All-Star card (#342). The first version of this single mistakenly showcases a facsimile autograph on the front. (While autographs were one of the attractions of the regular player cards, they were not supposed to be on the All-Star cards.) The Foster card was corrected later in the production run. As a result, the version without the autograph is listed for a premium in most hobby publications.
The most coveted error cards, however, are the "blackless" variations. Most believe that these were a result of the black ink running dry for a short period during the print process for half of the 1982 Topps cards. There are reportedly less than 100 of each of the "blackless" cards. Facsimile autographs are missing on these cards and the All-Star cards have no player names. These singles - especially those of the star players - sell for several times more than the regular cards.
But while the "blackless" cards continue to garner a large premium, there should also be strong demand for the regular 1982 Topps cards in the future.
"With the PSA [Set] Registry so popular today, contemporary baseball card collectors have been climbing the chronological ladder over the past few years," explained Graham. "As the 1970s sets become more difficult to complete, economically, a natural migration seems to be building in the demand for early 1980s cards."
Rumsey is similarly optimistic.
"Having the Ripken rookie and multiple Hall of Famer cards bodes well for the 1982 set," he said. "You've still got some of the older players in the set, like Yastrzemski and Bench, which kind of tie it back to the 1960s and 1970s sets. And it's almost 30 years old now, so it could be considered vintage. I think for those reasons it's always going to be in the upper echelon of 1980s sets. As some guys complete their 1970s sets, they're going to move in and collect this set."
---
Please feel free to contact Kevin Glew at [email protected] if you have any additional information or comments. Thanks to Jim Barnett for providing cards for this article. Please note that the Population Report figures quoted and Set Registry rankings reported are those as of February 2015.