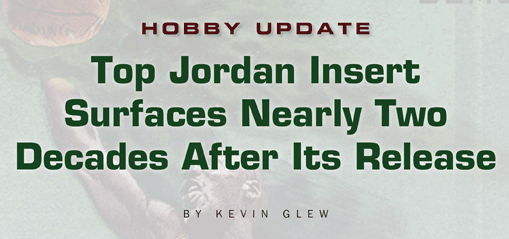 It took 17 years, but the Holy Grail of hoops inserts has finally been uncovered.
In early December, a regular Baseball Card Exchange customer pulled a 1997 Metal Universe Precious Metal Gems Michael Jordan card that's serial numbered 001 of 100 from a wax pack.
"Among modern inserts, this is the Honus Wagner, this is the Mona Lisa," said Steve Hart, owner of the Baseball Card Exchange in Schererville, Indiana.
Peter Kiefor, who works for Hart, could hardly believe it when he was told of the pull.
"It's hard for us to get excited about a lot of things," said Kiefor, "but this was one pull that we were just blown away by. And after we thought about it, we realized that this really is the ultimate card for modern collectors. There's nothing out there that's more sought after."
This Holy Grail Jordan single is part of the 1997 Precious Metal Gems (PMG) series, the hobby's most coveted set of basketball inserts. The PMG cards are limited-edition parallels of the 123 player pasteboards in the 1997 SkyBox Metal Universe set. One hundred, serial-numbered PMG parallels were produced of each card, with the first 10 (#1 to #10 out of 100) having green backgrounds on their fronts and cards #11 through #100 showcasing red backgrounds.
The fact that this Jordan card is numbered 001 of 100, and is the first of only 10 cards with a green front, has made it MJ's most desirable insert.
"I've never seen a Jordan [1997 PMG] with a green background," said Hart.
On top of their rarity, PMG inserts are also difficult to find in top condition because their surfaces are prone to chipping. The Jordan that the collector pulled does, indeed, have some minor chipping, but this actually helped to authentic the card.
"We had the card encapsulated 'Authentic' by PSA because we wanted to prove that it's real, that it does exist, because there are counterfeits of these," noted Hart.
The scarcity of this card, combined with the fact that Jordan has a massive, worldwide following, is likely to push its value well into six figures.
"You'd probably have to go back to 1968 and pull a Nolan Ryan [Topps] rookie in a [PSA GEM-MT] 10 before you would get something of this value," said Hart. "Even if you pulled an O-Pee-Chee Gretzky rookie and received a grade of [PSA] 10, it might not reach the price of this [card]."
Kiefor shares similar thoughts.
"In theory, this Jordan is the first one that came off the production line," he added. "I don't know if there's recordkeeping for the highest sale price of a modern card, but I'd think that this would set the record."
A considerably less rare 1997 PMG Jordan with a red background (90 of these were produced) that was graded PSA NM-MT 8 fetched $7,099.99 on eBay in October 2013.
The Chicago-area collector, who wishes to remain anonymous, has already been offered well into six figures for the card. The tentative plan is for the Baseball Card Exchange to sell this card on eBay in mid-2015.
"The phrase I've been using about this card is, 'Do you remember the Willy Wonka book or movie?" said Hart. "Well, this card is the Golden Ticket that was pulled, but instead of five of them, this is the only Golden Ticket!"
---
For more information on the card, you can contact the Baseball Card Exchange through their website at www.bbcexchange.com.