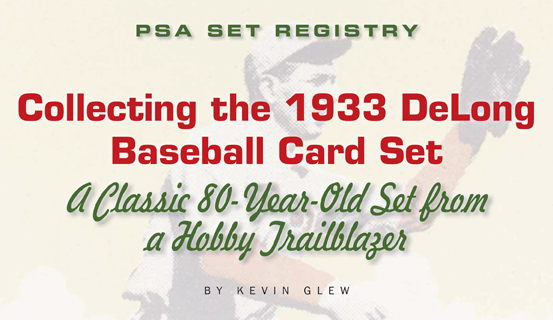 Harold C. DeLong is an underrated figure in baseball card lore.
His hobby contributions were relatively unknown until Marshall Fogel penned an excellent article about the history of the Goudey Gum Company in 2003. In his article, Fogel pointed out that DeLong was the treasurer of Goudey and likely an important creative force behind the 1933 Goudey Baseball set. But prior to the launch of that legendary issue, Enos Goudey sold his company and DeLong was no longer employed by Goudey.
Not around to celebrate the success of the Goudey series, DeLong formed his own company and unveiled a set of 24 baseball cards that were issued in packs with gum that same year. The Goudey set is often cited as the first series to be sold with gum, but DeLong's set couldn't have been far behind.
"I think the DeLong cards are pretty special. They're beautiful cards," said Fogel. "The way the artwork was done on them was spectacular."
Richard Rosamond, who has assembled the No. 9 Current Finest, 1933 DeLong set on the PSA Set Registry, agrees.
Noting how "brightly colored and nice looking" the DeLong cards are, Rosamond comments, "These cards make the Goudey cards look like a plain Jane."
Measuring approximately 1-15/16" by 2-15/16" each, the DeLong cards feature black-and-white player photos superimposed over a color stadium background. The design makes the players look like giants.
"The front of the card contains the name of the player and the team and shows the player engaged in some kind of action with the stadium in the background," noted Rosamond. "The cards have a nice presentation to them. You've got a couple of cards that are horizontal in Pepper Martin (#17) and Lefty Grove (#23)."
Located in a rectangular bar across the bottom, the player name often highlights the player's real first name. For example, Kiki Cuyler's real first name is "Hazen" and Mickey Cochrane is actually "Gordon" Cochrane.
The backs house the card number, followed by a baseball tip from the Boston Transcript editor Austen Lake that's sometimes accompanied by an illustration. The wording below the tip says, "This is one of a continuing series of famous major league players. Each card with a different tip on inside baseball. More sports series to follow." Despite this text, this 24-card set was the sole series that DeLong produced.
A number of possible explanations have been offered as to why DeLong only released one series. Fogel has heard everything from the gum tasting bad to people not liking the design of the cards.
"My view of it is that he [DeLong] was underfinanced," said Fogel.
Fogel adds that he doesn't believe the company had a wide distribution network. DeLong, like Goudey, was based in Boston, but these cards were not distributed nationally. Fogel has read that legendary collector Lionel Carter remembered buying these cards near Chicago.
"So they were manufacturing the cards in Boston and they may have gotten as far as Chicago," said Fogel.
But the renowned hobbyist is quick to note that even local distribution was "hit and miss."
It's also important to remember that in 1933, the U.S. was still feeling the impact of the Great Depression and paper wasn't in large supply for frivolities like baseball cards. DeLong also had to compete with the larger, more widely distributed Goudey issue, and Rosamond says that today it's much easier to find the 1933 Goudey cards than the DeLong singles.
But despite being released in the long shadow of the Goudey series, this set boasts its share of admirers. Thirty-seven sets are registered on the PSA Set Registry. Allan Ghamar, who owns the registry's No. 14 Current Finest set, says the small size of this issue is what drew him to it. Rosamond pursued this offering for similar reasons.
"It's a small set and it's a very good looking card," Rosamond said. "Plus, this set is full of Hall of Famers - that was another thing that struck me. I mean, good grief, they're almost all Hall of Famers."
Fifteen of the 24 players in this set have plaques in Cooperstown, with the most famous being Lou Gehrig.
"The Gehrig card is tough," said Rosamond. "There's no doubt about it. I waited and waited and waited to get mine. I've been putting the set together for five years and I think in those five years I only saw about two or three of them."
The thin white borders on the Gehrig make it difficult to find centered and the borders are often found with toning. Of the 174 submitted, the highest graded examples have been eight PSA NM-MT 8s and one PSA NM-MT+ 8.5. A PSA 8 fetched $32,410 in a Mile High Card Company auction in March 2009.
Ghamar says the "Jimmy" Foxx card is the second-most coveted Hall of Famer single. This card showcases his name as "Jimmy," even though he normally spelled it "Jimmie." There are just nine PSA 8s, with one of them selling for $6,927.80 in a Memory Lane auction in August 2009.
Other Hall of Famers in this set include Al Simmons (#2), Bill Terry (#4), Charlie Gehringer (#5), Mickey Cochrane (#6), Kiki Cuyler (#8), Freddie Lindstrom (#11), Pie Traynor (#12), Rabbit Maranville (#13), Lefty Gomez (#14), Chick Hafey (#19), Chuck Klein (#22), Lefty Grove (#23) and Goose Goslin (#24).
Ghamar says that outside of the Gehrig and Foxx cards, the Grove single - which boasts a horizontal design on the front - is one of the most sought-after cards. Of the 117 evaluated, there have been just six PSA 8s (with no cards grading higher). The Cuyler is also elusive in top condition. There are only four PSA 8s and one PSA 8.5. A PSA 8 Cuyler garnered $6,355 in an auction in April 2007.
But despite its high percentage of Hall of Famers, this set is sometimes criticized for not including some of the more high profile Cooperstowners of the era. No definite explanation was uncovered for the absence of immortals like Babe Ruth, Rogers Hornsby, Tris Speaker and Mel Ott - all of whom are featured in the 1933 Goudey set - but it likely came down to contractual issues or perhaps DeLong planned to showcase them in a subsequent series that never materialized.
Rosamond says the common cards in the 1933 DeLong set were more challenging to track down than the Hall of Famers.
"The tougher cards were some of the commons, like [Oscar] Melillo (#3). I had a hard time getting that one," Rosamond said. The few that he found at the beginning of his search slipped by because someone else outbid him, he explained.
"The [Joe] Vosmik (#20) was also tough. Vosmik might have been the last one I got graded," he said, although it wasn't the last card he obtained. "[Jimmy] Dykes (#18) was a tough card too. The last three cards I got were Melillo, Vosmik and Dykes."
Of the three commons that Rosamond mentions, the Melillo is statistically the most evasive in top grade. With just 74 sent into PSA, this is the least submitted card from this series. Only three examples of the Melillo card have been deemed PSA 8s.
The most common condition flaws on these cards are miscuts, border toning and general wear and tear from being over 80 years old.
Eight decades later, it's clear that DeLong was an underrated and important figure in baseball card lore. Not only was he likely an important creative force behind the legendary 1933 Goudey set, but he also introduced a colorful and memorable product in his own name.
"I would hope that [more] people would get into the 1933 DeLong set," said Rosamond. "It's an attainable set. It's certainly going to get more expensive as more people get into it. They're nice looking cards that really catch your eye, and as people go back to the 1930s and look into investment cards, it seems to me they've got to look at this set because it's attainable."
Rosamond also reiterates that these cards are more challenging to track down than their 1933 Goudey counterparts.
"It's one set that I feel is going to increase [in value] with time," he said. "I think people are going to start to take notice of this set and realize that this is a great set that's not going to cost them an arm and a leg to complete."
---
Please feel free to contact Kevin Glew at [email protected] if you have any additional information or comments. Please note that the Population Report figures quoted and Set Registry rankings reported are those as of July 2014.