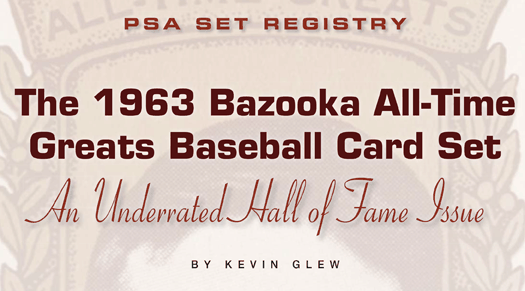 It's over 50 years old and comprised entirely of Hall of Famers.
So it's somewhat baffling as to why the 1963 Bazooka All-Time Greats set - which features cards of legends like Babe Ruth, Lou Gehrig and Ty Cobb - isn't more widely collected.
"It has definitely gained in popularity, but it's still a boutique set," noted Larry Mayer, who owns the No. 7 Current Finest set on the PSA Set Registry.
Measuring 1-9/16" by 2-1/2" each, the 41 cards in this offering are approximately the same size as T205 and T206 singles, points out Mayer. The most common version of these cards showcases the subject's photo inside a gold frame. The player's name, team and position are highlighted below the photo.
"I think it's really a striking set," said Mayer. "First of all, I'm a fan of baseball history and Topps really didn't do its part in coming out with all-time greats sets. The Fleer sets from 1960 and 1961 are okay, but they're much more expensive than this one and they just look like any other baseball card set. I think this set has a real remarkable look to it. It's just very, very different than any other set I've ever seen; and I think that makes the cards quite distinctive in a good way."
The 1960 and 1961 Fleer Baseball Greats sets that Mayer is referring to include cards of Ted Williams and several players that retired in the preceding decade. They also boast players that never made the Hall of Fame, so their title as "greats" is debatable.
Hobby critics point out that some of the photos in the 1963 Bazooka issue were taken after the players retired. The Ruth card, for example, features a worn-down looking Bambino.
"That also happened with the Fleer sets," said Mayer, who further notes that not all of the photos in the Bazooka set showcase players after they have hung up their spikes. "Indeed, I think it would've been better to show the players as they looked in their playing days. If you're going to do an all-time greats set, collectors want to see the player in their glory and not in their decrepitude."
The card backs feature the card number, player name, position and team at the top, followed by their birth date and place of residence. But a paragraph highlighting the subject's big league accomplishments blankets the bulk of the reverse, marking the first time that biographical information appeared on Bazooka cards.
A rarer version of these cards showcases silver rather than gold on the fronts. Ken Harrington, owner of the registry's No. 3 Current Finest gold and No. 1 Current Finest silver sets, was the first to assemble a silver set on the registry and many of his cards were the first PSA-graded silver examples. But why do these cards have silver on the front instead of gold?
"Somebody told me that to start with, [Topps] just missed a process," explained Harrington. "The cards needed to go through the gold [printing] process one more time and they didn't."
Mark Holt, who owns the registry's No. 2 Current Finest gold and silver sets, has been collecting the gold cards since he was kid. He didn't even know that the silver cards existed until relatively recently.
"I think the silver set is, maybe, the first parallel set of a regular Topps or Bazooka issue," he said. "I don't recall any of the other 1950s and 1960s sets having a parallel or different colored or rarer issue."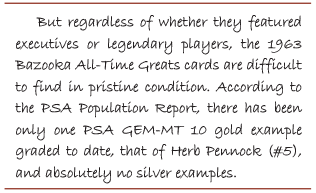 Harrington notes that the backs of the silver cards are different from the gold singles.
"The gold ones have some gold on the back. It's like a yellowish color on the backs," he said. "The silvers are all white [in the background] on the back."
Five of these cards - which were advertised as "Golden Edition" cards - were inserted into 20-piece boxes of Bazooka gum. These cards represent the only time that Bazooka cards weren't distributed as part of the packaging during this era. The boxes did, however, boast a three-card panel of contemporary players.
Harrington has also heard that these cards were distributed in 100-piece Bazooka boxes.
"My understanding is they were inserted in the boxes of the bubble gum, like a box of 100 that you would see in a store," said Harrington. "And my understanding is that out of 12 boxes, only one of them had the silver [cards] in them and the other 11 had the gold [cards] in them. That's why you don't find the silver cards that often."
Harrington says this is also why silver cards tend to command a premium.
Mayer says the Ruth (#17) is "by far the most desirable card" in the set.
Of the 67 gold Ruth cards submitted, there has yet to be a copy grade above PSA NM-MT 8 and one of the two PSA 8 silver examples fetched $600 on eBay in April 2011.
The Lou Gehrig (#15) is also highly coveted, though not nearly as expensive as Ruth. One of the Iron Horse's PSA 8 silver cards garnered $123.19 on eBay in June 2010.
The Ty Cobb single (#35) is also widely sought-after. According to the PSA Population Report, there are three PSA MINT 9 and seven PSA 8 copies of the gold version. A PSA 9 gold example commanded $190.88 on eBay in June 2010.
Harrington says that it took him more than two years to track down the silver version of the Cy Young card (#6), and until he found one, he wasn't sure if that card even existed. Today, just three copies have been graded by PSA.
Jason Pogwizd, who owns the registry's No. 5 Current Finest gold set, says the two most elusive singles in mint condition in the gold set are the first (Joe Tinker) and last (Eddie Collins) cards. Not coincidentally, he needs these two cards to complete his registry set.
With just 31 gold submissions, the Tinker card ranks in as one of the top ten least submitted cards from this issue. Harrington says that the gold Tinker is often off-center and that the silver version is much easier to uncover in top condition.
"The [gold] Tinker is generally a little doggy on the corners," said Holt. "I don't think it's any rarer than the other cards, but it's probably tougher to get in high grade because it's the first card."
The two PSA 8 Tinker gold cards represent the highest graded examples. One sold for $227.72 on eBay in November 2012.
The Collins is likewise elusive in top condition. As with Tinker, just 31 of the gold singles have been evaluated and there are only two PSA 8s (with nothing grading higher).
It's hard to criticize the player selection in a set that boasts legends like Collins and 40 other Hall of Famers. On top of Ruth, Gehrig and Cobb, this offering also houses cards of high-profile Cooperstowners like Christy Mathewson (#4), Nap Lajoie (#8), Walter Johnson (#12), Tris Speaker (#24) and Rogers Hornsby (#32). But Mayer points out that there are also some significant omissions. Jimmie Foxx, George Sisler, Joe Jackson and Lefty Grove are four of the most notable.
"The set came out in 1963, but it's very heavy on deadball-era players," said Mayer.
Mayer also wonders why more recently retired players like Bob Feller, Carl Hubbell, Charlie Gehringer and Ted Williams weren't included.
And while these legendary players were snubbed, cards of American League President Ban Johnson (#16) and baseball's first commissioner Judge Kenesaw Mountain Landis (#31) are included.
"I would imagine that if you were a kid at that time and got a card of one of the executives, it would be pretty depressing," said Pogwizd.
But regardless of whether they featured executives or legendary players, the 1963 Bazooka All-Time Greats cards are difficult to find in pristine condition. According to the PSA Population Report, there has been only one PSA GEM-MT 10 gold example graded to date, that of Herb Pennock (#5), and absolutely no silver examples.
"The gold foil gets small scratches and chips, and the centering isn't great across the whole set," explained Holt. So he was definitely stunned when the first PSA 10 was finally graded.
Pogwizd has had a similar experience collecting these cards.
"There are many issues with these cards: they're off-center, miscut, etc. I've seen a lot of these problems in ungraded material," said Pogwizd. "Also, it's so hard to keep that surface nice and clean. It's so prone to scratching and handling, so a lot of challenges make earning those high-grades really, really tough. PSA 9s get bid up incredibly high because there's such a low population."
Harrington points out that the centering issues don't seem to be as pronounced on the silver cards.
"The centering always seems to be better on the silver cards, except for a couple of the cards. The Connie Mack (#18), for example, always seems to have some centering issues," he said.
But while PSA 9s can command lofty sums, this set can still be assembled in PSA NM 7 for a reasonable price and its size makes it attainable.
"With only 41 cards, it was much more manageable than some of the other sets that I have tackled over the years," said Pogwizd.
Pogwizd also appreciates the biographical information on the card backs.
"The nice thing about this set is that I wanted a vintage set that taught me something about baseball," he said. "I like to use my collecting to learn something about the history of the sport, and this set really helped me learn about some of the early players and executives. I didn't know much about Judge Landis, but because I got interested in this set, it kind of taught me a lot about the early days of the game."
"I think the biographical information is excellent," added Mayer. "Obviously, there's only room for three sentences, but I think they did a really good job of highlighting why the player is of interest."
Holt likewise appreciates the history lesson the set offers; however, he also likes to imagine who would be in an all-time greats set if one were created today.
"It would be cool if they redid the set and included Hank Aaron, Willie Mays and Jackie Robinson," he said.
The veteran collector also believes this set will garner a stronger following in the future.
"I think it might slowly appreciate in value," said Holt. For him, this is an attractive set due to its player selection, its age and its size. With these qualities in mind, Holt thinks "that there will be more collectors attempting to go after it."
Mayer expresses similar thoughts about the set's future.
"I think it's much more interesting in its design than the Fleer sets were. It's a pretty unique and fun set and the cards are rare in high grade, so I would think that it has a pretty good chance to increase in value."
---
Please feel free to contact Kevin Glew at [email protected] if you have any additional information or comments. Thanks to Ken Harrington for providing permission to use his photos with this article. Please note that the Population Report figures quoted and Set Registry rankings reported are those as of April 2014.