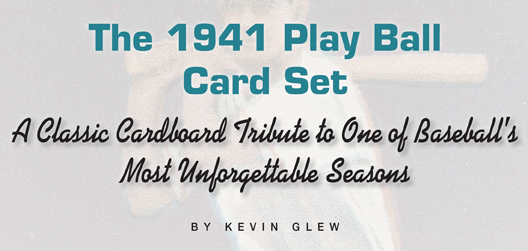 It's been called baseball's best season.
In the summer of 1941, with the U.S. on the cusp of entering a war, Americans were treated to not one, but two once-in-a-lifetime diamond performances.
While Joe DiMaggio was racking up hits in 56 straight games for the New York Yankees, Boston Red Sox slugger Ted Williams was en route to batting .406, which is the last time any big leaguer has reached the magical .400 mark in a season.
"1941 is one of my favorite years," said Al Perry, who owns the No. 10 Current Finest, 1941 Play Ball set on the PSA Set Registry. "It's the last great season of baseball before World War II. It was also sort of the last great year of freedom before the Pearl Harbor attack took place that December, so the set has those historical overtones."
And with history being written on and off the field, it was only fitting that Gum Inc. would launch its boldest and best baseball card issue. Now heralded as a hobby classic, Gum Inc.'s smallest and last "Play Ball" offering features 72 cards measuring 2-1/2" by 3-1/8" each. The size of the set has helped make it appealing to collectors.
"I was trying to find something that wouldn't be really expensive. I didn't want a 1952 Topps set. My God, you could spend $300,000 or $400,000 putting that together," explained Steve Stein, owner of the registry's No. 7 Current Finest set, when asked why he elected to pursue the 1941 Play Ball set. "I wanted a set that might have some appreciation potential, and I wanted a set that had less than 200 cards, but I also wanted something that wasn't too common."
Stein found what he was looking for in the 1941 Play Ball set, which is the first Gum Inc. issue to present color images. Forty-six of the 72 card fronts showcase colorized versions of the same player pictures that were used on their respective 1940 Play Ball cards. But what the 1941 cards lack in originality, they compensate for with their vivid colors.
"When you lay the [1941 Play Ball] cards out side by side, the one thing that jumps out at you is that there are a lot of pastel colors, and you just don't typically see that," noted Joel Tschantz, who owns the registry's No. 13 Current Finest set. "These cards really stand out for their era. It's the first really appealing set since the 1933 Goudey. It seems like they put a lot of time into these cards and I think that's why they're a collector favorite."
Perry, too, was drawn to these cards by their design.
He has always enjoyed looking at cards from an artistic standpoint. And to him, "these [cards] are aesthetically pleasing." Furthermore, Perry also likes the fact that the set contains "a nice mix of headshots and action shots."
The player's name is indicated along the bottom of the card fronts, with the first name often in quotation marks.
"Another aspect of this set that I enjoy is the nicknames of some of these guys," said Perry. "For example, there's 'Indian Bob' Johnson, Harry 'Gunboat' Gumbert and I think the best one of all might be Luke 'Hot Potato' Hamlin."
Similar to 1940 Play Ball singles, the backs present the card number, player name, position and team, followed by their vitals (i.e., birth info, bats, throws, height and weight) and descriptive and colorful biographical write-ups. The back of Jimmie Foxx's card (#13), for example, exclaims that "the potency of Jimmie Foxx's bat is still one of the seven wonders of the American League." And the text on the back of the Ted Williams' card (#14) is prophetic given that Teddy Ballgame had only just completed his second big league season. The last sentence on his card reads, "Williams looms as one of the great hitters of modern times."
There are also a few variations of the card backs. The bottoms of cards #1 to #24, for example, can be found with the words "Sports Hall of Fame" followed by an ad for BLONY Super Bubble gum at the bottom. While cards #25 to #72 also feature the words "Sports Hall of Fame," but instead of the gum ad, they encourage collectors to "Watch for other famous sports stars, famous fighters, tennis players, football heroes, etc. in this series." But despite this notation, no new series materialized.
"They stopped at 72 cards, most likely because of the war I would guess," said Tschantz.
Disparities also exist in the copyright information on the card backs. Cards #1 to #48 can be uncovered with or without the 1941 date in the bottom left, while there's no date on cards #49 to #72. This has led some hobbyists to believe that after an initial print run of cards #1 to #48 in 1941, they were reprinted in 1942 along with cards #49 to #72.
Two 1941 Play Ball cards and a piece of gum were included in each one-cent pack. These cards were reportedly printed on six, 12-card sheets. Of the 16 major league teams at the time, the Chicago Cubs were once again the only team not represented. The Cubs were also snubbed in the 1939 Play Ball offering and there were only three retired Cubs (Johnny Evers, Frank Chance and Tony Lazzeri (pictured as a Cub)) in the 1940 series.
The Yankees dominated the American League in 1941 - winning the pennant by 17 games - so it's seems appropriate that they would have the most representatives (8) of any team in this issue. And though the cards are not sequenced strictly by team, in many cases teammates are grouped together. For example, the five Brooklyn Dodgers are found on cards #51 through #55.
By my count, there are 15 Hall of Famers in this set, including Mel Ott (#8), Foxx (#13), Hank Greenberg (#18), Charlie ("Charley" on card) Gehringer (#19), Bobby Doerr (#64), Bill Dickey (#70) and Lefty Gomez (#72). It's also interesting to note that a number of Hall of Famers are absent from this issue. You could excuse Gum Inc. for omitting cards of Stan Musial and Phil Rizzuto because 1941 was their first major league season. But it's a mystery as to why they didn't produce cards of legends like Bob Feller, Lefty Grove, Luke Appling, Lou Boudreau, Johnny Mize, Enos Slaughter, Ernie Lombardi, Lloyd Waner and Gabby Hartnett.
But Stein says the three key Cooperstowner cards in this set are Williams (#14), Pee Wee Reese (#54) and DiMaggio (#71).
Commemorating a magical season for Williams, his 1941 Play Ball single boasts a reddish background that's difficult to find without fading. Poor centering and toning also tend to plague this card. Of the 780 submitted, there have been nine PSA MINT 9s and 54 PSA NM-MT 8s. One PSA 9 sold for $20,724 a few years ago.
The 1941 Play Ball DiMaggio (#71) is also highly coveted. As with the Williams, this card frequently suffers from centering and toning woes. There has been one PSA GEM-MT 10 and five PSA 9s, one of which fetched a whopping $65,493.30 a few years ago.
The most sought-after rookie in this set is Reese (#54).
"To me, the Reese card is a little underpriced - and not just because of how good Pee Wee Reese was [as a player], but also because of the part he plays in history, being always linked to Jackie Robinson," said Tschantz. "Everybody knows Pee Wee Reese and it seems like his rookie card should be valued significantly more than it is."
Of the 397 submitted, there have been two PSA 9s, three PSA NM-MT+ 8.5s and 23 PSA 8s. One PSA 8.5 garnered $4,560 in a Greg Bussineau Sports Rarities auction in December 2012.
Among the other players featured on their first Play Ball card in this series are Vince (#61) and Dom DiMaggio (#63).
"Having the three DiMaggio brothers in [this set] is really appealing for me because I grew up a Yankees fan, and this is the only baseball set ever to have all three DiMaggio brothers in it," said Perry.
This set also houses the first Play Ball cards of Al Brancato (#43), Sid Hudson (#46), Kirby Higbe (#52), Johnny Vander Meer (#56), Harlond Clift (#66) and Walt Judnich (#67).
Stein says the Tommy Bridges card (#65) was one of the toughest cards to track down in PSA 8. Of the 146 Bridges cards submitted, there have been nine PSA 8s and one 8.5. This is the lowest number of PSA 8 or better examples of any card in the set. The Bridges card often suffers from poor left-to-right centering.
Stein, whose goal was to secure a PSA 8 or better example of every card in this set, points out that 16 of the set's 72 cards have less than 15 examples that have been deemed PSA 8 or higher.
"So for 24% of the set, I was trying to find one of less than 15 cards," noted Stein. "That's pretty tough."
Aside from centering issues, the white borders on the 1941 Play Ball cards also tend to suffer from toning.
In Tschantz's opinion, it is the white borders that help distinguish a simply "okay" card from a "really good" example. "You'll find a lot of them that are a little bit toned on the borders versus [having] the really glowing white borders. The ones that have the really white borders jump out at you because the cards look like paintings."
Reportedly due to the rationing of cardboard prior to the war, a paper version of the first 24 cards was also produced. These cards still surface in uncut sheets of 12, but due to their fragile stock they are challenging to find in high grade.
By 1941, Play Ball had wrestled control of the baseball card market from its competitors. The 1941 Play Ball cards were far superior to their 1941 Goudey and Double Play counterparts, and they continue to be very highly regarded today.
"I think that because it is a pre-war set, the 1941 Play Ball set has the potential to go up in value," said Stein. Plus, he goes on to mention, some of these cards are tough to find in high grade. "There are 16 cards with less than 15 examples in PSA 8 or higher. I think that, along with the DiMaggio and Williams cards, gives it the potential for appreciation [in value]."
Tschantz shares similar observations.
"I think this set has a lot of potential," he said. "I try to see things through the eyes of my kids and I try to imagine what they're going to think 20 or 30 years from now. If they're going to collect cards, what are they going to collect? And I just think they're going to go back to historic years and players. Plus, baseball is all about statistics; so when you say 56 and .406, it takes you right to 1941. This is a year people know. You don't have to be a baseball historian to know that DiMaggio had his streak and Williams hit over .400 that year. That's a year that people are going to be drawn to."
Registry Set Pays Tribute to Courageous Uncle Who Died in Second World War
Joel Tschantz is pursuing dozens of sets on the PSA Set Registry, but his 1941 Play Ball set is the one he cherishes the most.
The seeds of his beloved set - which he has titled "Uncle David Bricker's Set" on the registry - originated from a pile of cards he discovered in his uncle David's old room. His uncle (from his mother Dayna's side) enlisted in the army in September 1944 at the age of 20 and became a private first class in the Americal Division.
"He received basic training at Camp Blanding, Florida," noted Tschantz. "He was sent to Fort Ord, California, then across the Pacific to the Philippine Islands where in less than two weeks' time he was in action on the island of Cebu and wounded [on] April 5, 1945. After spending a month in the hospital, he was sent back to his unit where he was killed in action in Cebu the night of May 19, 1945."
Tschantz says his uncle was fighting in the Battle for Cebu City, a conflict that took place between March 26 and April 8, 1945. His uncle's heroics helped the Allies defeat the occupying Japanese army, which resulted in the liberation of Cebu City.
"Obviously I never met my uncle, but I've heard a lot of stories about him. So when my grandfather passed away in the early 1970s, one of my uncles [uncle John] and I were cleaning up the house and found that they had never touched my uncle David's bedroom," explained Tschantz. "I was 12 or 13 and we found this big pickle jar that was full of baseball cards. My uncle and I were looking at them and I didn't know anything about them; it turned out that it was all 1941 Play Ball cards."
The cards were all low numbers (#1 to #36), but there were multiples of most players, including five Ted Williams cards (#14).
"It really looked like he had opened those cards and then gone off to war," said Tschantz. "My uncle [John] and I divvied up the cards. I took mine home and stuck them in a drawer because at the time I was only collecting what was new that year. I didn't even really think of them as baseball cards because they looked like paintings."
Several years later, Tschantz took the cards out of the drawer and decided to complete the set in raw form. Unbeknownst to him, his uncle John was working towards the same goal.
"My uncle David had the start of two sets," he said.
In 2008, Tschantz elected to have his set graded by PSA.
"There were a couple of [PSA] 8s in there, but it was mostly just [PSA EX] 5s and [PSA EX-MT] 6s," said Tschantz. "I've upgraded some stuff, but I've kept the cards that were my uncle's just out of sentimental value. I didn't want a straight PSA 8 set. It wouldn't have the same meaning as a set in the condition that it was left in when my uncle went off to war."
When his uncle John passed away in 2007, Tschantz acquired his set, which includes many of the other cards that were in that pickle jar in his late uncle David's room.
"What [this set] represents to me is how unbelievable it must have been to one minute be opening baseball cards in your room and thinking about your senior prom and the next minute be dodging bullets in the Philippines with very little communication with your family," said Tschantz.
"This would have been a stark contrast from everything you had known while growing up on a farm in Galena, Ohio. I have a son who is 20 now and I can't imagine what it must have been like for my grandparents to put two of their sons [Tschantz's other uncle Howard also served in the army] on a plane to go fight a war and have only one come back. That's what I think of when I look at this set."
---
Please feel free to contact Kevin Glew at [email protected] if you have any additional information or comments. Please note that the Population Report figures quoted and Set Registry rankings reported are those as of April 2014.