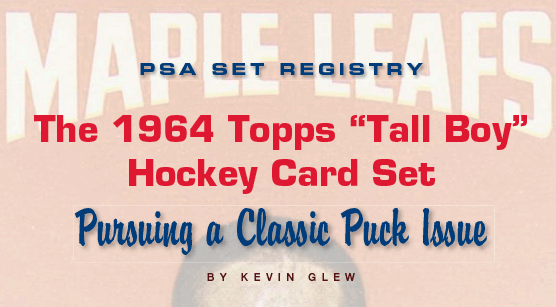 It's the tallest of tall hobby orders.
That's how a multi-sport collector might assess the 1964-65 Topps Hockey "Tall Boys" set, which is generally considered more difficult to assemble than its football (1965 Topps) and basketball (1969-70, 1970-71 Topps) tall boy contemporaries.
"It's one of the top vintage hockey sets of all-time," said Rob Dezoete, who owns the No. 1 Current Finest 1964-65 Topps Hockey set on the PSA Set Registry. "If it's not at the top, it's second to 1951-52 Parkhurst. To me, it's the best hockey set ever produced."
Nearly double the size of its Topps hockey predecessors, this revolutionary 110-card offering is the first tall boy issue in any sport. It was also the first Topps hockey set to showcase players from all six NHL teams. In the four preceding years, Parkhurst, who halted production after their 1963-64 release, manufactured cards of players from the Toronto Maple Leafs, Montreal Canadiens and Detroit Red Wings.
The tall boys set also marked the first time that Topps unveiled its hockey issue in two series (each boasting 55 pasteboards). Measuring 2-1/2" by 4-11/16" each, the white-bordered fronts showcase a large photo against a colorful background. The team name is located above the photo, while the player's name and position is emblazoned along the bottom.
"The first-series cards tend to have the majority of the full body shots of the players, whereas the second-series cards have most of the close-up, head shots," shared Bobby Burrell, author of Vintage Hockey Collector.
Exhibiting a horizontal design, the backs present the card number, a single line of stats from the previous year and biographical information in French and English. A cartoon illustrating a fact about the player can be found on the right side with its caption in both French and English.
The backs also indicate that these cards were printed in Canada. Burrell says this was the case for most Topps Hockey issues during this era. Topps had the license, but the cards were manufactured at the O-Pee-Chee plant in London, Ontario.
The Tall Boys were distributed in five-cent packs that housed four cards and a stick of gum. The wrappers trumpeted them as "GIANT SIZE N.H.L. HOCKEY PICTURE CARDS." Unopened packs are extremely rare and highly coveted. Dezoete estimates that an unopened pack would fetch more than $5,000.
Dennis Metzger, who owns the registry's No. 2 Current Finest set, grew up in Chicago and had season tickets to the Blackhawks games as a kid. He couldn't buy packs of these cards in the Windy City, so he ordered them from an ad in The Hockey News. He believes he paid about $5 for a stack of around 40 cards, but he can't recall if he purchased them from a dealer or directly from Topps.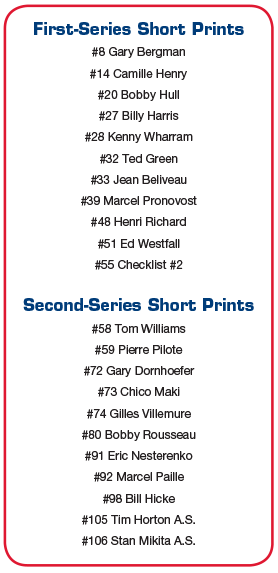 "My father and I had season tickets to the Blackhawks games that year, so I took my cards to a couple of the games and I showed them to the people around me," recalled Metzger. "They had never seen a hockey card before."
Burrell points out that each 55-card series was printed on a 99-card sheet comprised of nine rows of 11 cards each. On these sheets, the first four rows are identical to the last four rows. However, the fifth row of each series sheet features 11 short-print cards. As a result, there are 22 short prints in this set (see the lists that accompany this article).
While the short prints in the second series have long been identified, it wasn't until the Sport Card Expo in Toronto in November 2008 that Burrell and his hobby colleagues, known in the hockey collecting community as the "Pack Rats," unveiled the only known first-series sheet. With this sheet in hand, the short prints from the first series were finally discerned. This was especially big hobby news because three of the first-series short prints – Bobby Hull (#20), Jean Beliveau (#33) and Henri Richard (#48) – are high profile Hall of Famers.
Marcel Pronovost (#39), a Hall of Famer himself, is also one of the first-series short prints. Located on the left edge of the sheet, the Pronovost card was in a position that generally made it more susceptible to condition flaws. This helps explain why it has been submitted to PSA 12 fewer times than any other first-series single. Just 92 have been evaluated by PSA, with 16 grading PSA NM-MT 8 and only one PSA MINT 9. A PSA 8 Pronovost sold for $1,274.99 on eBay in April 2012.
Another key first-series short print is the second-series checklist (#55). Not only was this single frequently marked by collectors, it was also the last card on the right edge of the sheet, which made it vulnerable to condition woes.
"I think the checklist (#55) is the crown jewel of the set," said Dezoete. "It's just so hard to find in Mint condition."
Just one second-series checklist has been deemed a PSA 9. A PSA NM-MT+ 8.5 fetched $2,025 on eBay in September 2012.
Dezoete says one of the toughest second-series short prints to uncover in flawless form is Bobby Rousseau (#80). This card is located on the left edge of the fifth row of the second-series sheet.
"It's almost impossible to get in a PSA 8," he said. "It's a short-printed card and the centering is just terrible. They're all off-center."
There has yet to be a Rousseau single that has graded above PSA 8. One PSA 8 sold for $2,705 on eBay in October 2010.
Another second-series short print that's highly coveted is the Marcel Paille rookie (#92). This card is located next to Rousseau on the sheet.
"It's a short print. It's his rookie and I believe it's his only card. It's very difficult to find in high grade," said Dezoete. "He was one of the last cards I got for my set."
Of the 110 evaluated, there has been just one PSA 9. A PSA 8 sold for $1,213 on eBay in December 2009.
Due to its scarcity, the Paille rookie is likely the most coveted first-year card in this set. Other notable rookies include Pit Martin (#1), Roger Crozier (#47), Jim Pappin (#64), Lou Angotti (#66), Rod Seiling (#67) and Gary Dornhoefer (#72).
On top of the aforementioned Hull, Beliveau and Richard short prints, more than 20 other Hall of Famers are featured in this set, including Terry Sawchuk (#6), Glenn Hall (#12), Stan Mikita (#31), Johnny Bower (#40), Jacques Plante (#68) and Frank Mahovlich (#85).
But the Gordie Howe single (#89) is the most coveted. Of the 167 submitted, there has yet to be an example grade above a PSA 8. One PSA 8 fetched $1,559.56 on eBay in June 2012.
Pierre Pilote (#59) is another Hall of Famer whose card commands a significant premium. The legendary Blackhawks defenseman's pasteboard is a short print.
"The Pierre Pilote is worth a lot of money," said Metzger who remembers watching Pilote play at Chicago Stadium as a youngster. "He was a short print, and he was one of the premier defensemen back then. Pilote and Tim Horton were probably the two best." Currently, only two PSA 9 examples exist of this card.
The set's final six singles are all-star cards, two of which – Horton (#105) and Mikita (#106) – are short prints. The Horton, in particular, is very desirable. According to the PSA Population Report, there are 14 PSA 8s (with no cards grading higher). One PSA 8 sold for $1,376.99 on eBay in December 2010.
But longtime hobby dealer Harvey Goldfarb, who assembled the No. 1 All-Time Finest set on the PSA Set Registry, says the Glenn Hall all-star card (#110) – the set's last card – proved most elusive for him.
"When I was collecting this set and putting it together, the last card was very, very difficult; that was the toughest card for me to find," said Goldfarb.
Not only is the Hall hampered by the condition issues associated with being on the bottom of collector piles, it was also the first card on the edge in the first row of the second-series sheet. Just two PSA 9s exist, and a PSA 8 garnered $1,390 on eBay in January 2011.
Goldfarb says poor centering is a common problem on cards from this issue. Dezoete concurs, adding that he also sees plenty of cards with print defects.
"I think they were harder to keep in pristine condition because you didn't have toploaders or pages that fit these cards," noted Goldfarb. "They were the first tall boys. When you put them away, you put them away in a stack. You just didn't have the same means of keeping them in pristine condition as you did with other cards."
These condition woes have made competition for high-grade examples fierce.
"I'm working on getting all PSA 9s in my set, but they're hard to find and it's a war to get them," said Dezoete.
Nevertheless, this has not stopped him or his fellow PSA Set Registry enthusiasts from tenaciously pursuing these classic hockey cards.
"It's a great set to collect," said Metzger. "They're really nice cards and very unusual. I'm not going to sell my cards any time soon. I'm going to keep trying to improve my set."
"It's a very popular set," added Goldfarb. "There are a lot of collectors out there. Right after the 1954-55 Topps set, I think this is the most popular Topps Hockey set."
---
Please feel free to contact Kevin Glew at [email protected] if you have any additional information or comments. Please note that the Population Report figures and Set Registry rankings are those as of November 2012.