How many pieces of gum would you stuff in your mouth for a baseball card?
That was the challenge facing young collectors in 1959 when Bazooka unveiled baseball cards on the bottom of their boxes.
Twenty-five slabs of gum, selling for a penny each, were included in each Bazooka box, and it wasn't until the box was empty that the store clerk would part with it. That's a lot of chewing – even for the most sweet-toothed kid.
Of course, for 20 cents, a well-off collector could purchase the entire box. But in 1959, 20 cents was a princely sum for a youngster.
In hindsight, however, the 20 cents (and resulting cavities) would've been a solid investment. The 23-card, 1959 Bazooka set (catalog designation R414-15) is now one of the most elusive and coveted '50s issues.
Contrary to the ensuing Bazooka issues that included three-card panels, just one card was on each box in 1959. With only one card on the box, amassing the set was a laborious process unless you traded with others or had an "in" with a store clerk. You would have to chew the equivalent of 23 boxes of gum – and that's a best case scenario that assumes there was a different card on the bottom of each box – to finish your set.
"I think the 1959 set is by far the hardest Bazooka set," said Mason Matschke, who owns the No. 1 set on the PSA Set Registry.
Measuring 2-13/16" by 4-15/16", these colorful, unnumbered cards flaunt oversized photos of 23 well-known players. The card fronts also boast the player's name, position, team name and team logo. The backs are blank.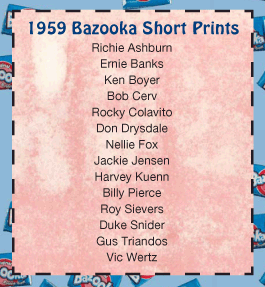 "The cards are bigger and they're more colorful than the other Bazooka issues," said Joe Mancino, who owns the registry's No. 2 set. "They just really stand out."
Originally a nine-card set that included legends like Mickey Mantle, Willie Mays and Hank Aaron, Bazooka later added 14 more short-printed cards (see accompanying list).
"With the 1959 Bazooka set, there are certain players that keep coming up over and over again and then there are other guys that you just never see," said Mancino.
Later in the year, Bazooka substituted football players for baseball players on the box bottoms. The 18-card Bazooka Football set is also difficult to assemble.
In the baseball series, two variations of the Hank Aaron single exist. One showcases The Hammer's name in white, while another rarer version flaunts his name in yellow. Collectors are not required to collect both versions for their registry sets. A PSA AUTHENTIC yellow name Aaron fetched $648.85 on eBay in May 2010.
On top of Aaron, nine other Hall of Famers – Mantle, Mays, Richie Ashburn, Orlando Cepeda, Duke Snider, Don Drysdale, Ernie Banks, Nellie Fox and Bill Mazeroski – are also featured in this set. The Mantle card is the most coveted.
"The Mantle is always extremely high-priced," said Matschke. "There are a tremendous amount of Mantle Master Sets on the set registry, so there is a lot of demand for that card."
Mancino agrees.
"Even if you're not collecting the 1959 Bazooka set, there are a lot of Mantle collectors out there looking for this card," he said.
Of the 43 Mantles evaluated, there has been just one PSA NM 7 copy (with nothing grading higher). Thirty-eight of the 43 submissions have been deemed "Authentic," the grade PSA assigns when the original dashed borders on the cards are not visible. A PSA AUTHENTIC Mantle sold for $438 on eBay in May 2011.
The Mays single is also highly sought-after. Similar to the Mantle card, there has been just one PSA NM 7 example (with nothing grading higher). That card sold for $1,679.07 in a Memory Lane auction in 2009.
With just three submissions, the short-print Drysdale card is the lowest population card in this set.
"That's such a neat card because it has a photo of Drysdale batting," pointed out Matschke.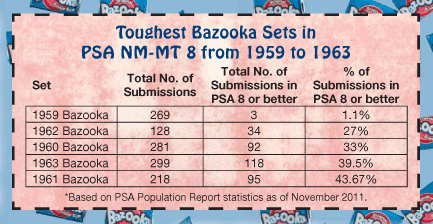 The three Drysdales evaluated by PSA have all been tabbed "Authentic." Four other cards – Richie Ashburn, Gus Triandos, Harvey Kuenn and Vic Wertz – have only been submitted to PSA four times. Matschke says that common PSA AUTHENTIC cards tend to trade in the $300 to $450 range.
Complete boxes are also graded by PSA and these generally command a premium. A box featuring the Mantle card sold for $2,843.50 in a Lelands auction in November 2005. That same year, Robert Edward Auctions also sold a rare proof sheet of the 14 short print cards for $5,220.
As with most hand-cut issues, these cards are condition sensitive.
"The box was usually laying down on the countertop, so the card would get scuffed up," said Mancino.
The size of the cards also made them difficult to preserve in top condition.
"It's an oddball size card and the corners were always dinged because you didn't have a regular place to keep them," noted Matschke.
But miscuts are the most common condition issue with these cards. The instructions on the box encourage collectors to cut on the dashed black line surrounding the photo. As a result, the original dashed border is absent on many of these cards.
PSA will not assign a number grade to the cards unless virtually all of the dashed border is visible. Cards devoid of the border (provided that they meet PSA's minimum size requirements) are labeled as "Authentic". Of the 260, 1959 Bazooka singles submitted to PSA, 218 have been deemed "Authentic."
"I would say one out of 30 or 40 cards that I see would qualify for a grade greater than an 'Authentic,'" said Matschke.
So what's the best way to cut these cards off of a box?
Matschke purchased a paper cutter to cut some of his cards.
"It's important to get a good cut," he said. "You can't really use scissors."
Mancino has taken his cards to a photo store.
"What I've done is, I go to a photo store and I used their cropping tool," explained Mancino. "It's a little harder to line them up exactly straight, but I think if you can get a nice sharp cut and stay outside the (dashed) black line, you'll get at least a (PSA NM) 7."
Competition can be fierce for high-grade cards from this set.
"There is a lot of interest in these at the right price," said Matschke. "I think as putting together these Master Sets becomes even more popular, these Bazooka cards will become even more important".
---
Please feel free to contact Kevin Glew at [email protected] if you have any additional information or comments. Mason Matschke provided pictures for this article. Please note that the Population Report figures quoted and Set Registry rankings reported are those as of November 2011.