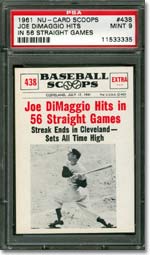 It was late Spring in 1961. A bunch of us eight-year-olds walked into Silverman's Candy Store, pockets full with coins and ready to buy a pile of Topps baseball wax packs. Only problem was, they were nowhere to be seen.
"I'm outta stock on Topps," old man Silverman bellowed, cigar clamped between his teeth. "I got these new cards, though." He pointed down the counter to an unfamiliar cardboard box with an odd-looking cartoon on its front of a baseball player gripping a bat and grinning demonically.
And that was our first exposure to Nu-Cards. Since we didn't plan to go home empty-handed, we loaded up on Nu-Card packs, tossed a pile of nickels and dimes on the counter, and went on our merry way.
Soon, we were busy ripping open those same packs to find -- newspaper headlines? What, no color player pictures? No stats? Half the headlines were about players or games we'd never heard of. Mickey Cochrane? Mickey Owen? Fred Snodgrass?
Wait a minute -- here was a familiar "Mickey," Mickey Mantle. And another Mantle card! And Babe Ruth, Joe DiMaggio, Lou Gehrig, Ty Cobb, and Cy Young. Thanks to the 1960 and 1961 Fleer sets, I knew who those guys were, at least.
Even so, I wound up with a lot of uninspiring cards that featured headlines like "Gentile Powers Birds Into First," "Runnels Makes Nine Hits In Twin Bill," "A.L. Votes To Expand To 10 Teams," featuring of all people, Gene Autry, and our favorite giggle-inciter -- "Merkle Pulls Boner." (I doubt you'd see that headline on a sports page today.)
Soon, the novelty of Nu-Cards wore off, and they were consigned to a shoebox on the top shelf of the closet, along with my 1960 and 1961 Fleer Baseball Greats. I didn't bother bringing them to school; no one in their right mind would trade or flip Topps for Nu-Cards. Nope, these cards were probably another insidious attempt to teach us kids something, which sounded too much like school.
Like the 1960 and 1961 Fleer cards -- and other oddball sets -- Nu-Cards took many years and the perspective of middle age to truly appreciate. Here, in a compact 80-card set, was a selection of all-time baseball milestones, bloopers, and memorable moments. Frankly, these cards should have been packaged with cigars and cigarettes and sold to adults, who would have better appreciated them.
Over time, 1961 Nu-Cards (and their oversized predecessors from 1960, the actual first issue) have not been a fan favorite, and that's really a shame. Considering the set is loaded with Hall of Famers (sometimes appearing on more than one card), it really is undervalued when compared with Fleer and Topps issues.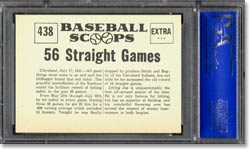 Want proof? The 1960 Fleer set, which is almost the same size at 79 cards, SMRs at $2,720 in NM-MT 8 condition, while the 1961 Nu-Card Scoops, which includes (among others) Ruth, Cobb, DiMaggio, Williams, Young, Mays, Gehrig, Johnson, Spahn, Banks, and Musial, goes for nearly half of that -- $1,413.
It might be the cards' dull appearance. The original 72-card set design from 1960 was plain vanilla, and too big for carrying around in your pocket at 3 ¼ inches by 5 3/8 inches. It mimicked the front page of a newspaper, featuring an enormous photo and a double-decker headline in bold type.
Each card was numbered in the upper left corner, and a box in the upper right corner contained the words "Extra." A dateline for each story appeared under the "Baseball Hi-Lites" banner. The reverse of the 1960 cards contained a baseball quiz.
For 1961, the cards shrunk to the Topps and Fleer standard 2 ½ x 3 ½" size, retaining the obverse design from the previous year, but changing the banner to read "Baseball Scoops." On the reverse, the banner was repeated, along with the card's number and the "Extra" box. The first few words of the headline were followed by a two- or three-paragraph story, recounting the particular incident, record, or milestone.
Colorful, these cards aren't. In fact, their appearance is best qualified as mundane, which could be why Nu-Cards weren't seen on store shelves after 1961. I didn't know anyone my friends who coveted them, even if there were two Mantle cards in the set. It just wasn't a fair fight when you compared them to the colorful '61 Topps and '61 Fleers.
As a result, you won't see too many Nu-Cards for sale at shows and on the Internet. I suspect many of them were tossed out with the trash. Nu-Card Baseball Scoops were probably the first cards to be sacrificed when Mom cleaned out your drawers and straightened up your boyhood collections. (Oddly enough, the set has also been counterfeited!)
Not surprisingly, Nu-Cards are relatively scarce in the Population report, with a total of 3,183 having been graded. In contrast, 8,287 1960 Fleers, 7,945 1961 Fleers, and 128,380 1961 Topps cards have passed through the PSA offices.
Got a PSA 8 1961 Topps Mickey Mantle? Big deal, there are 380 of them out there someplace. But Nu-Card #422, Mantle Hits Longest Homer? There are only 59 of those in an 8 holder. How about Nu-Card #450, Mantle Hits Longest Homer At Stadium? Just 53 PSA 8's are in circulation.
Card #401 in the 1961 Topps set shows Babe Ruth hitting his 60th home run, and PSA has graded 473 copies of it, resulting in 12 Mint 9s and 115 NM-MT 8s. You want scarce? Try Nu-Card #447, which also features Ruth hitting his 60th homer. PSA has handled just 62 copies in all grades, with a solitary Gem Mint 10, six Mint 9s, and 27 NM-MT 8s graded.
Like any set, 1961 Nu-Card Scoops has its scarcities, starting with card #401, "Gentile Blasts Birds Into First", the first in the set. Only 16 copies have been graded by PSA, with one Gem Mint 10, seven Mint 9s, and seven NM-MT 8s resulting.
Card #441, "Hodges Hits 4 Home Runs In Nite Game," is another scarcity with only 17 total copies graded. Ditto card #456, "New York Wins 26 Straight Games" (11 copies graded) and card #464, "Ump's Wrong Call Helps Dodgers" (11 copies graded). In fact, the highest number of grades have gone to the aforementioned card #422, which has been slabbed 110 times.
The low number of Nu-Card Scoops that have been graded leads one to speculation. Are the cards really that unpopular? Beckett's guide cites "illegal reprinting" as one reason why demand has been suppressed for the cards. But if unauthorized reprinting of the cards has taken place, why are so few in circulation?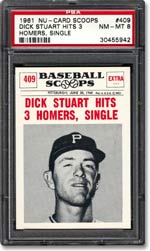 My guess is; the cards just weren't exciting enough. (The wrapper was far more colorful!) Having cards like #473, "Pickoff Ends Series" (featuring an unidentified player and a blurb about the 1942 Cardinals-Yankees World series) in the set didn't help. Nor did card #436, "Umpires Clear White Sox Bench," which just showed two players sitting in a dugout.
Card #434, "Dickey Chosen All-Star Catcher," was a real puzzler in that it featured a line drawing of Bill Dickey -- not an actual photograph. Was a photo of old #8 that hard to come by? Were there copyright issues? Did Bill Dickey, in 1961 a coach with the Yankees, refuse to let his photo be used?
Also falling into the yawner category were cards #449, "Killebrew Starts Spring Training" (this was news???), #426 "Midget Pinch-Hits for St. Louis Browns" (featuring Bill Veeck's experiment with the strike zone), and #414, "A.L. Votes to Expand to Ten Teams," which may be the only time Gene Autry appeared on a baseball card.
Fortunately, there were enough cards that captured truly significant moments in baseball history, like Joe DiMaggio's 56-game streak, Ted Williams hitting .406, Willie Mays's incredible catch during the 1954 World series, and Lou Gehrig's consecutive game streak ending at 2,130 games.
Old-timers got their due, too, with Walter Johnson's 56 scoreless innings the subject of card #440, Ty Cobb named as the greatest player of all time on card #443, Cy Young's Hall of Fame induction covered on card #448, and Christy Mathewson's three World Series shutouts the subject of card #477.
Summing up, if you are interested in scarce but affordable (how's that for an oxymoron?) baseball sets, 1961 Nu-Card Scoops are definitely worth the hunt. Baseball stats and history fanatics will appreciate these pocket trivia treasure troves, and the set contains many affordable cards of Mantle, Williams, Cobb, Ruth, Gehrig, and other Hall of Fame players.
Besides, who wouldn't want a card titled "Merkle Pulls Boner?" (Heh-heh...)