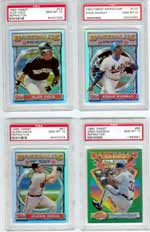 Love'm or hate'm, they're here to stay.
While hobby purists cringe at the mention of an insert or parallel set, another group of collectors has embraced these glamorous, short-print creations.
While the 1993 Topps Refractors represented a welcomed diversion from the basic sets, the card industry has saturated the market with these special cards ever since, rendering many of these types of cards virtually worthless within a year or two after their release. The 1993 Topps Refractor set was one that bucked this trend and it remains as coveted today as it was upon its unveiling.
"It's the granddaddy of parallel sets," said Joe Kent, a Colorado resident, who owns the PSA Set Registry's All-Time Finest set of '93 Finest Refractors.
San Jose-based collector Phil Gold, who owns over 3,000 cards from the set, agrees, citing the high-end issue as a hobby trailblazer. "It's the first year of Refractors … I think, eventually, it will be like '52 Topps for inserts," Gold said.
With a reported print run of just 241 of each card (an average of one per box), and a player selection that boasts a high percentage of Hall of Famers and future Cooperstowners, the 199-card issue is unquestionably one of the most appealing and toughest modern sets to complete.
Craig Magnuson, whose near complete set sits at No. 3 on the PSA Set Registry's All-Time Finest list, believes the set is more challenging to put together than many vintage sets. Along with the small number of cards produced, this determined hobbyist says that '93 Refractor collectors also have to compete against player collectors. "Since a high percentage of the set contains star players, you run into a lot of star player collectors siphoning cards out of the market for set collectors," Magnuson explains.
On top of its already low print volumes, some of the cards have also been deemed "short prints." George Calfas, a Raleigh, North Carolina resident who owns six complete sets, says the short prints are more a result of hoarding by some collectors and poor collation. This resulted in some large groups of cards, the same exact cards, ending up in one particular region.
Kent, who has been collecting the set since 1993, concurs, "I know people who opened a case and got six or seven of the same Refractor card … the collation of these cards was fair at best."
Aside from scarcity, another common hindrance to finishing this set is differentiating refractors from the regular Finest cards. Because the refractors are not distinctly marked, collectors must look at the coloring of the card to determine if it's a refractor.
"I put the card under direct light and turn it slightly. You will see colors show up – not all that much unlike a rainbow – and the non-refractors do not possess that feature," explains Magnuson.
The set is also plagued with condition issues. Some of the more common faults are scratches on the cards' film, print lines, and poor centering.
"The Juan Gonzalez, Larry Walker, and Randy Myers are all notoriously off center," says Calfas.
One of the toughest cards to find centered is the Nolan Ryan, which is also the most sought-after card in the set. Of the 68 Ryans that have been submitted to PSA, only 22 have been graded unqualified nines and only two 10s (both of the 10s are owned by Kent).
Other coveted cards in the set include Ken Griffey Jr., Barry Bonds and Sammy Sosa, but the only card that rivals the Ryan in popularity is the card featuring the Iron Man himself, Cal Ripken Jr.
"A Ripken card actually sold for more than a Ryan on eBay recently," Calfas explained.
For a variety of reasons, a number of lesser-known player cards also command premiums. The Glenn Davis, for example, has been known to fetch more than other commons because of a print defect. "There are print dots on the right side on many of the Davis cards," Kent explained.
Alex Cole and Junior Felix are two others whose cards sell for more because they have been tabbed as short prints by various hobby publications. High-grade cards of Tim Raines are also highly desirable according to Kent, adding that a PSA Mint 9 card of the long-time Expo once sold for $300 on eBay.
"The majority of Raines cards are off center left to right," Kent said. "A well centered Raines is tough to find."
Research shows that high-grade cards from this set sell for significantly more than non-graded cards. A study of eBay transactions over the past few months reveals that PSA Mint 9s can command 1.5 to four times the price of ungraded "Near Mint to Mint" issues. A PSA Mint 9 Greg Maddux card, for example, recently sold for $329, while an ungraded Maddux was auctioned for $108.06.
It's next to impossible to find PSA 10s of most cards in this set. When they do surface, however, they typically command very strong prices – sometimes as much as 10 times the PSA Mint 9 price.
"You can expect to pay around $350 to $400 for a common PSA 10 card," says Kent.
PSA 10s of star players sell for prices in another stratosphere. Kent estimates that his two PSA 10 Ryans, for example, might fetch $12,000 to $15,000 each if offered publicly because of the scarcity and demand.
Hobbyists agree that eBay has become the best source for 1993 Finest Refractors. In recent months, more and more of the cards have surfaced on the popular online auction site.
"I've almost seen the whole set on eBay over the past four months," says Gold.
Collectors admit that competition for these cards can be fierce. Over the past several years, Gold has tabulated some remarkable data about 1993 Refractor buyers. His research shows that 33 people are actively trying to build the set and 24 more are doing it "haphazardly." Despite the online bidding wars, the seasoned hobbyist plans to continue collecting. Gold believes the future is bright for this revolutionary parallel set.
"As the years go on, I see the demand remaining strong for this issue," Gold said.
Close to finishing a seventh set, even Calfas remains passionate about this inaugural Refractor set.
"I guess my goal is to keep buying until I can't buy any more," Calfas said with a smile.
While no one can predict the future, this groundbreaking issue has a strong following in the marketplace with no signs of slowing in the near future.