Greg Bussineau Sports Rarities Announces Its Summer 2012 Vintage Trading Cards and Memorabilia Auction. Ends July 26

Greg Bussineau Sports Rarities "Summer 2012 Vintage Trading Cards and Memorabilia Auction" is now open for bidding. The auction features 539 lots of important rarities, finest known examples, legendary Hall-of-Famer cards, and complete sets. The closing date is Thursday, July 26th. Click here to read more!


Sirius Sports Cards Auction #59 Is Now Open for Bidding. Ends Thursday, July 12

Sirius has 560 lots for auction that will end on Thursday July 12, 2012, at 11 PM EST using the 15 minute rule. This auction features many high grade and low pop cards for collectors to complete their sets from the 1950s through the 1960s, along with a great assortment of PCGS graded coins. Click here to read more!


1920's Ty Cobb Game Used Bat, Babe Ruth Autographs, Quality Sports Rings & Wide Array of Cards to Be Featured in SCP Auctions Monthly Internet Auction, July 11-July 25

SCP Auctions is set to offer a wide variety of sports cards and memorabilia in their upcoming mid-summer Monthly Internet Auction. Over 800 items are set to be offered in the sale that opens on Wednesday, July 11, and concludes on Wednesday, July 25, 2012. Click here to find out more!


Memory Lane to Exhibit Don Spence Collection of Babe Ruth Cards at the National

The greatest collection of Babe Ruth baseball cards ever assembled will be on display at this year's National Sports Collectors Convention in Baltimore, August 1-5. The Don Spence Babe Ruth Master Collection is ranked as the finest in existence on PSA's Set Registry. Click here for more!



---
Upcoming PSA Shows
View Full Calendar »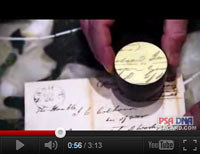 Tools of the Trade -
Presented by PSA/DNA's John Reznikoff