(Cleveland, Ohio) -- Professional Sports Authenticator (www.psacard.com) will give away specially-created 1930s Diamond Stars-style "cards that never were" of Babe Ruth, Lou Gehrig, Bob Feller and Joe DiMaggio during the National Sports Collectors Convention in Cleveland, Ohio, July 30 - August 3, 2014.
Sponsored by Historic Autograph Company (www.historicautographcompany.com), the PSA-certified fantasy cards will be given to new and renewing Gold and Platinum level PSA Collectors Club members while supplies last. PSA will also display a complete set of original 1934 - 1936 Diamond Stars cards that ranks #1 on both Current Finest and All-Time Finest lists on the PSA Set Registry®.
"After the tremendous popularity of the fantasy Babe Ruth Cracker Jack baseball card we helped design for last year's National, we've again commissioned renowned artist Arthur K. Miller to create original artwork of cards that might have been, but never were. This time, he's produced beautiful images of how Ruth, DiMaggio, Feller and Gehrig might have looked in the historic Diamond Stars set. Those colorful images are now part of a limited-edition set that will be available only at The National," said PSA President Joe Orlando.
"The full five-card set includes two Ruth images, one as a New York Yankee and the other as Boston Brave. The original Diamond Stars set has always been popular with collectors due to its attractive Art Deco design and nice selection of star players, but it didn't include a few of the most legendary players of the era, such as Ruth and Gehrig," explained Orlando.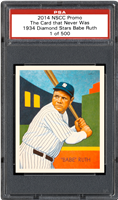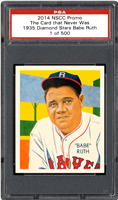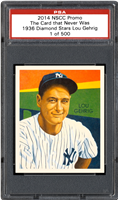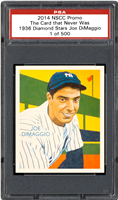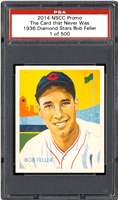 Printed by Historic Autograph Company, the new fantasy cards now are housed in PSA holders with consecutively-numbered labels, 1 to 500.
The first 500 visitors to the PSA booth (#169) who sign up for a Gold or Platinum level PSA Collectors Club membership or who renew their membership at the show will receive fantasy Diamond Stars-inspired cards. Gold Level memberships receive one randomly-selected card, and Platinum memberships receive the complete five-card set.
"We'll also be displaying the specially-commissioned paintings Miller created for these 'cards that never were,' and while supplies last we'll be giving away free copies of the National Sports Collectors Convention edition of Sports Market Report magazine," said Orlando.
The original Diamond Stars set of 108 cards that will be on display at the PSA booth is from the Charles M. Merkel collection and has an unmatched weighted grade point average of 8.70. Merkel's set, the finest of its kind, was inducted into the PSA Set Registry Hall of Fame in 2013.
Customer Service representatives will be available at the PSA booth to answer questions about special discounts for items submitted during the show. PSA will offer on-site card grading and PSA/DNA autograph experts will be available to authenticate your previously-signed autographs on-site at the PSA Booth. Additional information about the services and discounts at the National is available online at www.psacard.com.
For additional information about the 35th National Sports Collectors Convention, July 30 - August 3, 2014, at the International Exposition Center in Cleveland, Ohio, go to www.nsccshow.com.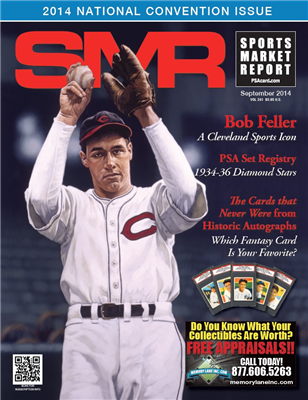 News media contact:
Joe Orlando, (949) 567-1170