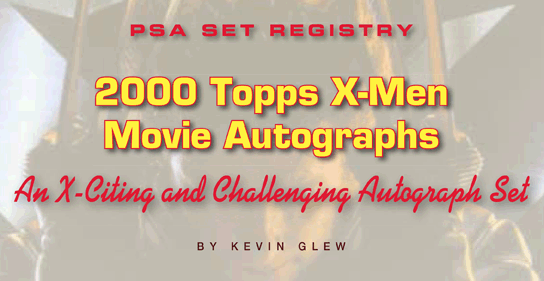 It's only a 13-card set, but given its idiosyncrasies and challenges, hobbyists must feel like they're battling Magneto and his villainous band of mutants to complete it.
"There was no rhyme or reason as to why I started collecting this set, other than I liked the movie," explained Art Sainsbury, who needs three cards to complete his No. 2 set on the PSA Set Registry. "When they first came out, I thought they were kind of unusual, but I didn't realize there were so many obstacles to putting this set together."
Showcasing photos and autographs of cast and crew members from the 2000 X-Men film, which grossed nearly $300 million worldwide, this issue was a trailblazer for future comic book films. Lyle Jobe, owner of the top registry set, points out that it was one of the first comic book movie sets to feature certified autographs of the cast.
"If you look at the PSA registry, there aren't a lot [of certified autograph sets] before this one, as far as movies are concerned," he noted. "That's the beauty of being the first installment. I'm not sure if they did autographs for the next X-Men movie or for the third, but they wouldn't be as valuable. These are kind of like rookie cards; you want to get the first one."
The fronts of these cards boast a photo of the cast or crew member, along with their character name or title, autograph, real name and the words "Authentic Autograph."
These autographed singles were found in 36-card hobby boxes at the rate of one per box. This was originally slated to be a 14-card offering, but Halle Berry, who plays "Storm" in the movie, wasn't able to sign her cards.
"She was in the hospital and she couldn't sign the cards," explained Jobe.
However, the veteran collector also points out that some unsigned Berry cards have surfaced.
"Someone told me they saw one on eBay two years ago and they were asking $1,800," said Jobe, who has heard that there are about twelve of these cards in existence.
Sainsbury has also seen the unsigned Berry card.
"The Halle Berry showed up on eBay unsigned and they wanted an insane price for it. It was around $1,000," he said. "The card itself is rare even if it's unsigned. I've seen the card, and if you look at it closely, it has the exact same design as the other cards."
Incidentally, there are three other cards that were also left out of packs.
"The Anna Paquin and the Rebecca Romijn-Stamos were actually given to retailers if they ordered a certain number of boxes," offered Jobe. "They didn't get the cards back in time in order to put them in the packs. If dealers purchased four more additional boxes after the original sales, the Paquin and Stamos cards were included with those."
As a result, both of these cards are difficult to track down. The price of Paquin's cards, in particular, has increased over the past few years. An ungraded example fetched $199.99 on eBay in March.
"That's a tough card," said Sainsbury in an April interview. "Right now, somebody wants $175 for an ungraded copy on eBay. I think what happened with her was that True Blood took that card up to another level." Plus, he adds, "she also has an Academy Award."
The Ray Park (who plays "Toad" in the movie) single, was also missing from the distributed packs.
"The Ray Park cards were included as case toppers for the [2001] Marvel Legends set," explained Jobe. "So you had to buy a whole case of the Marvel Legends to get one."
Autograph singles of Park, who also portrays Darth Maul in Star Wars Episode I: The Phantom Menace, generally sell in the $40 to $60 range.
Among the cards distributed in packs, Jobe says that the Bryan Singer (director) and Patrick Stewart pasteboards are the most elusive. The veteran collector has heard that these cards are seven times rarer than the other autographed singles included in packs.
Not coincidentally, Sainsbury needs both of these cards for his set. He points out that Stewart was the only actor to sign his cards with a gold pen.
Sainsbury has seen some of the Singer cards with an autograph and others without one.
"The Bryan Singer is very hard to get," said Sainsbury. "He didn't sign several of the cards that were sent to him for whatever reason. So from time to time, you'll see his card show up on eBay without an autograph, and the person selling it will get a premium for it."
Jobe owns the sole PSA NM-MT 8 Singer (there are no examples graded higher), and he recalls paying between $250 and $300 for it.
Though not as difficult to track down as the Singer or Stewart cards, the Hugh Jackman (Wolverine) card is the set's most sought-after single.
"That's the key card because he's so popular," said Sainsbury. "He did the first three X-Men movies, then he did the Wolverine movie. That was the key card that got me interested in the set. Today you could pick one up for about $80."
Jobe adds that the Sir Ian McKellen card is also highly coveted.
"The Jackman card is the most popular, but I would say the Ian McKellen card is pretty popular too because of his role as Gandalf in the Lord of the Rings," he said.
There are just seven PSA GEM-MT 10s from this issue in total, so it's not easy to uncover these cards in top condition.
"I think it has to do with the autographs," said Jobe, when asked why PSA 10s are so difficult to find. "They're given to [the cast or crew] to sign and then they need to send them back. There are a lot of steps there. There are a lot of things that could go wrong [in the process] which could make the card a [PSA MINT] 9 instead of a [PSA] 10."
In effect, this is why finding all 13 of these cards in high-grade has become so challenging.
"It would be very hard to put this set together today, especially if you're trading to get cards that are gradable," said Jobe. "Pretty much all of the boxes have been opened, and the Paquin and Stamos cards have left retailers."
But due to the relative scarcity of some of its cards, its star power and the pioneering role it has played in the comic book movie genre, this set should hold its value in the future.
"Years from now, as they keep making cards for these movies, I think this set will be looked at as a classic," said Sainsbury. "It's the first one [from the X-Men series], so it may gain some momentum from that."
View the set in the PSA Set Registry.
---
Please feel free to contact Kevin Glew at [email protected] if you have any additional information or comments. Art Sainsbury and Lyle Jobe provided pictures for this article. Please note that the Population Report figures quoted and Set Registry rankings reported are those as of May 2012.