Clean Sweep's upcoming auction contains all manner of fresh consignments, new material to the hobby from the original owners and a great diversity of high quality material.
The auction starts with baseball cards. You'll find a simply remarkable collection of super high grade T206s. T206s are tough to come by even graded PSA 6 or PSA 7. How about a big run of 8s? Notable T206s in this auction include two of the big four, the Magie error in a PSA 2 and the Eddie Plank in a PSA 1. Key high grade cards include an Uzit back graded PSA 8, simply an incredible card, a Mathewson White Cap graded PSA 8, Walter Johnson Pitching graded PSA 7 and Cy Young Portrait also graded PSA 7. There is a solid assortment of pre-war singles with note to an E125 McConnell in a PSA 1, an M116 Cobb Blue Background in a PSA 4, a T3 Mathewson and a 1932 U.S. Caramel Gehrig. Graded cards continue with a run of 1948 Leaf Short-Prints, simply an incredible bargain at current market levels, and a clean PSA 5 1948 Leaf Jackie Robinson, a white-hot card of late.
1950s collectors will see some high grade early Bowmans, a pair of rare 1951 Topps Current All Stars, including a high grade Lemon and a rare 1952 Topps #9 Bobby Hogue (red back) in a PSA 8 holder, the last example at public auction sold for over $10,000.
Set collectors will see our usual selection of better grade 1950s and 1960s sets, with note to a PSA 7 1954 Topps Registry Set and a 1955 Topps PSA 6 Registry Set. Other baseball card items of note include a superb full size N29 Allen & Ginter lithographic advertising poster and good partial sets of T202 Triple Folders and T206s.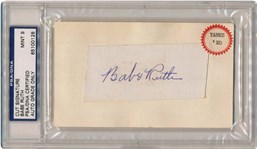 Baseball autographs come next, and this also a big component of this auction. It begins with autographed cards, with note to a 1921 Exhibit Walter Johnson, a rare 1963 Topps Jim Umbricht, 1976 Topps signed cards of Danny Frisella and Mike Miley and some terrific 1975 - 1979 signed Topps sets that are literally bursting with value. Perez Steele collectors will see three key pieces in top quality: Alston, Averill and Coveleskie. Notable autographed flats include a Lou Gehrig from 1938 with an extensive handwritten letter on the reverse, Joe DiMaggio from 1941 and a Willie Mays from 1951 signed William Mays. There is also a Mint 9 Babe Ruth autograph and a superb larger format Babe Ruth payment voucher. Another item of note is a superb 1955 Rookie Roberto Clemente signed postcard right from the original owner.
Collectors of single signed baseballs will see a Walter Johnson, Presidential singles from H.W. Bush, Clinton and Obama and there is a very affordable Ruth single. Team ball collectors will see many Yankee team balls from the 1930s, and also many Dodger team balls from 1930 - 1957.
Presidential, historical and entertainment autograph collectors will see Clean Sweep's usual eclectic mix of material. Non-sports card collectors will see a run of better grade sets from the 1950s and 1960s.
Basketball contains three recent New York Knicks gamers with perfect tagging. There are also several very good signed footballs, a run of clean football sets from the 1950s and 1960s and hockey collectors will see a 1933 Eddie Shore RC, a 1962 Parkhurst Howe in a PSA 9, a 1966 Topps Orr in a PSA 6 and two great lots of 1970s era signed autographed cards and photos.
Auction closed with baseball memorabilia, with one of the best offerings of quality memorabilia in Clean Sweep's history. You'll find a terrific 1966 Hank Aaron game used bat, a Jim Rice 1976 Bicentennial gamer and more. Jersey collectors will find a 1967 Stan Musial flannel and 1989 - 1992 Oakland A's home jerseys, mostly double-signed, of Jose Canseco, Dennis Eckersley, Rickey Henderson and Mark McGwire. There is a good run of New York Yankee press pins back to 1923 and some fine stadium seats including a fully original New York Yankee from 1923, a New York Giant figural and a double Wrigley set. And finally, you'll find a 1915 World Series Program and some superb full season unused ticket booklets from the 1903 Detroit Tigers and the 1917 Boston Braves.
Be sure to visit www.cleansweepauctions.com and bid before auction ends June 4, 2014.