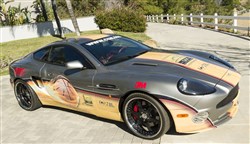 WEST BERLIN, NJ – APR. 28, 2014 - The Goldin Auctions Opening Day Auction which closed this weekend generated more than $1.6 million in sales for more than 1,400 lots of sports, entertainment, pop culture and historical memorabilia. Among the highlights were: a 2010 San Francisco Giants World Series ring selling for $42,479.78; Kobe Bryant's Olympic sneakers autographed by all of his teammates selling for $38,561.15; and a one-of-a-kind Aston Martin Vanquish sports car produced for the 50th anniversary of the Basketball Hall of Fame and autographed by 50 NBA greats, which sold for a whopping $138,532.50.
"It is clear that collectors continue to clamor for the diverse memorabilia we have offered up for auction," admits Ken Goldin Founder of Goldin Auctions. "It's exciting to see so much enthusiasm and optimism in the industry as we embark upon our biggest auction ever – the Babe Ruth Centennial Auction this July."
A complete list of sale prices for the Goldin Auctions Opening Day Auction is available at https://www.goldinauctions.com/catalog.aspx. Some of the other highlights include: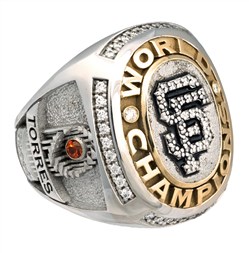 Lot #2 - Aston Martin Vanquish Basketball HOF Sports Car - $138,532.50
Lot #1 – Ted Williams 1960 Fielder's Glove - $88,157.90
Lot #33 - Andres Torres 2010 S.F. Giants World Series Ring - $42,479.78
Lot #19 - Michael Jordan Game Used Bulls Road Jersey 4/29/98 Playoff Game -- $39,546.98
Lot #863 - 2008 Kobe Bryant Olympic Game Worn Sneakers - $38,561.15
Lot #28 –Leroy Nieman Original Dwight Gooden No- Hitter Painting - $27,009.73
Lot #3 - Dizzy Dean Single Signed "Sweet Spot" Baseball -- $25,189.65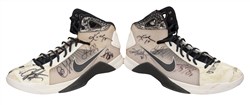 Lot #18 - 1996 Derek Jeter Game Used and Signed Rookie Season Bat - $22,886.65
Lot #6 - 1965 Sandy Koufax Game Used Cap - $19,784.65
Lot #5 - 1967 Don Drysdale Game Used Jersey - $18,895.18
Lot #29 - 1926-33 Babe Ruth Single Signed Barnard Baseball - $15,244.45
Lot #15 - 1980 George Brett MVP Season Game Worn Road Uniform - $14,863.75
Lot #45 – St. Louis Rams Super Bowl XXXVI NFC Championship Ring - $14,738.03
Lot #39 – Reggie Jackson Rolex - $13,857.95
Lot #319 – 1920's Babe Ruth Single Signed HR Special Ball - $13,512.50
Lot #320 – Honus Wagner Signed ONL Ball - $10,555.03
Lot #32 – 2013 Miguel Cabrera Historic Game Worn Heavily Inscribed Jersey - $10,077.98
Lot #719 – Mickey Mantle Don Wingfield Photo - $3608.43
The company's next event, the Goldin Auctions Babe Ruth Centennial Auction, will include both a Live Auction for up to 200 super premium items on July 12 at the Babe Ruth Birthplace & Sports Museum in Baltimore and an Online Auction of more than 1,000 items at www.GoldinAuctions.com closing on July 13. The Live Auction will be preceded by a special preview night at the museum for registered bidders on July 11. Appropriately, the Yankees will be in Baltimore to face the Orioles that weekend. Collectors have until April 30, to consign rare Ruth, Yankees and other sports memorabilia into the auction.
About Goldin Auctions
Sports memorabilia impresario Ken Goldin has sold more than $600 million in memorabilia from many of the biggest names in sports, history and pop culture and was the pioneer of using the medium of television to sell sports memorabilia. Earlier this year, Goldin Auctions sold a Honus Wagner T206 card for a public sale record $2.1 million. Goldin Auctions strives to break new ground and offer collectors the best in collectible treasures up for auction in the marketplace. All game worn or autographed items come with team, player, league or additional LOA from industry leading authenticators; and collectors can bid with confidence that their proxy/ceiling bids remain confidential. For more information, visit www.goldinauctions.com.