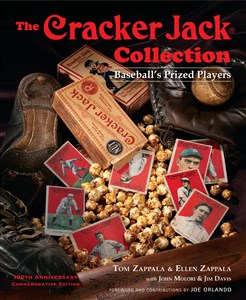 The Cracker Jack Collection: Baseball's Prized Players has been named one of only three finalists in the national IBPA 2014 Benjamin Franklin Awards competition in the Sports book category.
The Independent Book Publishers Association (IBPA) annually recognizes excellence in book editorial and design with their prestigious Benjamin Franklin awards. These awards, which include fifty-five categories, are regarded as one of the highest national honors for independent publishers.
The winner of the 2014 Benjamin Franklin Gold Award in the Sports category will be announced during a ceremony to be held Wednesday evening, May 28, 2014 at the New York University Kimmel Center's Rosenthal Pavilion in New York City.
Recently released nationally by Peter E. Randall Publisher to excellent reviews, The Cracker Jack Collection: Baseball's Prized Players focuses on the lives of the players featured on baseball cards used as prizes in Cracker Jack® boxes in 1914 and 1915. Now 100 years old, these cards have become extremely collectible and valuable. The players featured in the book range from some of the best in the game like Eddie Collins, Ty Cobb and Honus Wagner, to lesser-known players like Cuban-born Armando Marsans, a talented player who made fine cigars.
This beautiful coffee table book celebrates the 100th anniversary of the Cracker Jack Ball Player card set, and is filled with original images of the Ball Player cards, Cracker Jack prizes, and baseball memorabilia from the era. The player stories included in the book give a glimpse into the lives of the men who shaped our National Pastime.
Written by Tom and Ellen Zappala, with contributions by Joe Orlando, John Molori, and Jim Davis, The Cracker Jack Collection: Baseball's Prized Players not only details the personal and professional lives of the players that make up the historic Cracker Jack Collection, but also discusses the history of the Cracker Jack product and its close connection to baseball.
The Zappalas also authored the award-winning The T206 Collection: The Players & Their Stories as well as Nardo: Memoirs of a Boxing Champion (the autobiography of former Welterweight Champion Tony DeMarco).