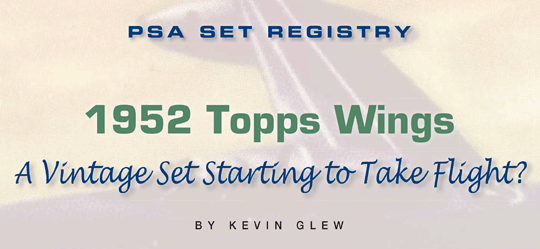 Two young brothers are roughhousing in the backyard when they hear a thunderous sound overhead. They stop and look up to the sky.
"What kind of plane is that?" one brother asks.
"I'm not sure if it's a 'friend' or 'foe,'" responds the other.
With their country fresh out of World War II and now in the grips of Cold War paranoia, many American kids were mesmerized by aircraft in the early 1950s, and Topps did their best to feed this fascination.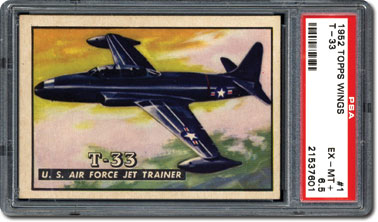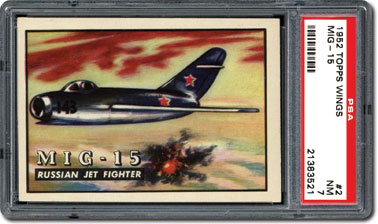 The backs of the 200 cards in Topps' 1952 Wings set presented the silhouette of an aircraft and encouraged collectors to "name" that "plane" as either a "Friend" or "Foe." The plane's identity could be found on another card in the set.
"That [Friend or Foe feature] was a little stroke of genius by Topps," said hobby authority Kurt Kuersteiner. "It made the kids feel like they should do their bit and collect all of these cards. You have this 'Friend or Foe' section which, although it never says it, carries the implication that you're supposed to check out the silhouettes of all the planes that fly overhead; and with that information [in hand], you may be the kid who saves America from the first wave of atomic attacks from the Russians. And this was just the sort of thing that kids ate up."
Dick Sprigle, whose father was in the Army Air Corps and purchased some of these cards for him when he was a kid, agrees.
"The set was released post-WWII and during the Cold War, so the fact that there were Russian planes in there was really kind of fascinating," said Sprigle, who has assembled the No. 1 Current Finest, 1952 Topps Wings set on the PSA Set Registry.
Bill Bengen, whose now-retired set made the No. 1 slot on the All-Time Finest list, also had some of these cards during his childhood.
"I remember as a kid in Brooklyn I would lay the cards out on the sidewalk on Saturday mornings," he said. "I used to go on walks with my dad who would always look up at the planes in the sky and try to identify them. I guess that was a habit people held in those days."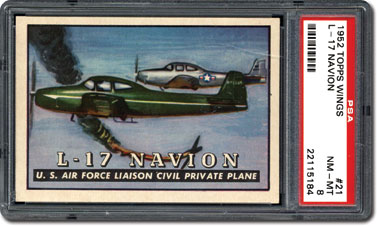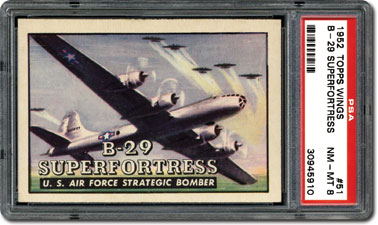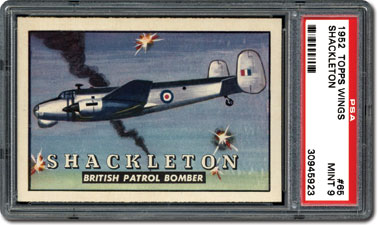 Topps's 200-card Wings offering highlighted aircraft from several different nations, including the U.S., Russia, England, Canada and Australia, but not Germany.
"One of the ironies of this set is that Topps was so generous in discussing the Soviets and they even talk about the Australians, the French and the Canadians, but there's not a peep about the Germans, who fathered the entire jet race," noted Kuersteiner.
In comparison to the 1951 Bowman Red Menace set which decries communism, this set was decidedly non-political, but some bitterness likely lingered from Nazi Germany's adversarial role in World War II.
"The 1951 Bowman Red Menace set was this virulent, flag-waving, patriotic, red-baiting set," said Kuersteiner. "You'd think they might have done the same thing with this series, but instead they're surprisingly restrained with their rhetoric towards the Soviet Union. They treat them very maturely."
The veteran hobbyist does, however, note that the back of the TU-4 Russian Strategic Bombers card (#98) indicates that the Russians "copied" the TU-4 design from three U.S. B-29s that made forced landings in Siberia during World War II.
The 1952 Topps Wings cards boast a horizontal layout and are slightly larger (2-5/8" by 3-3/4") than standard sized cards. The fronts showcase a painting of an aircraft based on a New York Herald Tribune photo.
"The cards have a nostalgic look to them," said Kuersteiner. "They're big, thick cards; they're also colorful cards and the backgrounds are majestic on many of them. There are beautiful sunsets and all sorts of amazing cloud formations. They did a very nice job on the planes as well. It was definitely an accomplished artist that worked on these cards."
One of Kuersteiner's favorite backgrounds is on the U.S. Army and Marine Corps' F7F Tigercat single (#94).
"Whenever I look at that card, the plane always disappears because the background is this beautiful Aurora Borealis," he said.
Kuersteiner also admires the set's last card Fairey "Gyrodene" (#200) which depicts a British helicopter in front of a mountain.
"It looks like a snow-capped Mount Fuji surrounded in pink morning twilight," he noted.
Sprigle also savors the artwork in this issue.
"Some of the cards are really kind of fascinating due to the colors, the various backgrounds and the angle of the plane they decided to use," he said. "They're kind of like little miniature works of art."
The white-bordered card fronts also highlight the name of the plane in large white print and a short description of the aircraft in a black rectangular block.
Along with the "Friend or Foe" feature, the backs present the card number, the name of the aircraft and a write-up that typically offered details about its origins and the type of weaponry it was armed with. A line of statistics about each plane (e.g., Wing Spread, Length, Range, Maximum Speed, etc.) was also featured.
"The backs have all sorts of cool things for kids to read about," said Kuersteiner. "Why does it really matter what the wing spread is or what the length of the plane is? Well, that's inside information and that's exactly why kids would love it."
Sprigle doesn't believe this type of data would be shared today.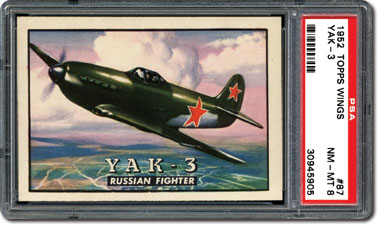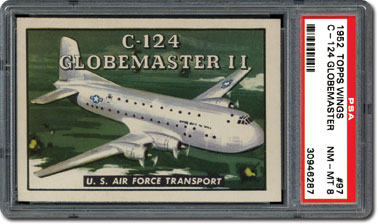 "It's kind of interesting for me to see the stats because today a lot of that information would be classified," he said.
Pete D'Luhosch, who collected Wings cards as a kid and has researched this set extensively, says cards were distributed in one- and five-cent wax packs, as well as in one- and five-cent cello packs.
There is some debate as to when these cards were released. In July 2006, D'Luhosch uncovered a box of cello packs with a 1952 date on it, but other hobbyists contend this is a 1953 or 1954 issue. D'Luhosch says it's possible the cards were distributed in all three years.
He also believes the cards were unveiled in three or four series. He's uncertain how the first 100 cards were disseminated, but he's confident that the last 100 cards were released in two separate, 50-card series.
In collecting these cards over the years, D'Luhosch noticed that cards #118 (Target Plane) and #149 (XH-26) were harder to find. When he purchased the aforementioned box of cello packs in 2006, it contained 110 cards that had been placed back into their original box. The majority of these cards were numbered from #101 to #152 (or what was likely the second or third 50-card series), but #118 and #149 were conspicuously missing.
D'Luhosch later discovered a partial uncut sheet that revealed that #149 was printed in a row with cards numbering in the 170s. It appears that Topps held #149 out of the previous series and released it with the final series (#153-200, #118 and #149). This was a fairly common practice for card companies because it got collectors to keep buying cards in a futile attempt to complete a specific series. Topps, in fact, employed the same tactic with their 1953 Baseball series.
And although D'Luhosch couldn't find #118 on a sheet with the higher numbers, he believes it, too, was printed with the final series.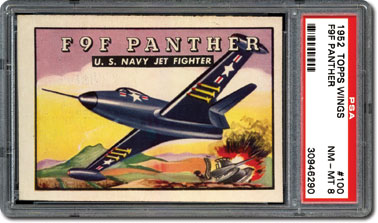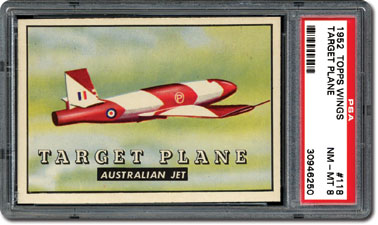 Cards from the last series (#153-200, #118 and #149) are generally more difficult to track down in top condition than the others, but D'Luhosch says the first card (T-33) is the most elusive in top grade.
"There is exactly one PSA [NM-MT] 8 according to the [PSA Population Report]; and then if you look at the Andy Pafko [1952 Topps Baseball] card [#1], there are a lot more [PSA] 8s and they're extremely expensive," he said.
A PSA 8 Pafko fetched $95,175 in a Memory Lane, Inc. auction in September 2007.
D'Luhosch notes that the first card in the Wings set is difficult to find centered and was subjected to additional wear and tear on top of collector piles. At one point, Bengen owned the sole PSA 8 and it had been his own submission. A PSA NM 7 sold for $224.52 on eBay in May 2011.
The set's last card (#200 Fairey "Gyrodene") is also elusive in flawless form. Often on the bottom of collector piles, this card suffered a similar condition fate as the first card. This is one of six 1952 Topps Wings cards that have just two PSA 8 examples (with nothing grading higher). One of the PSA 8s of #200 garnered $589 on eBay in June 2008.
Many of the 1952 Topps Wings cards are difficult to track down in top condition. Just four PSA GEM-MT 10s and 126 PSA MINT 9s have been uncovered.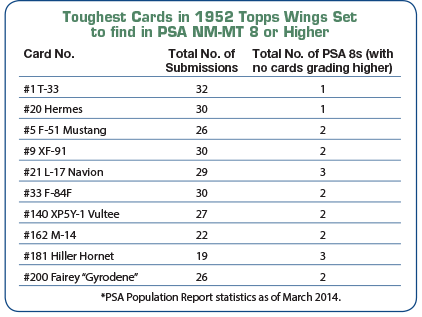 "They say that the card stock isn't the best quality," noted Joe Nossek, who owns the registry's No. 2 Current Finest set.
In his research, D'Luhosch discovered that the size of the pictures on these cards varies. On average, the pictures are larger and the borders are thinner on the last 50 cards. As a result, these cards are harder to find properly centered.
Sprigle has noticed that some of the coloring bleeds into the white borders on the fronts.
"Some of the raw cards I had were really messy," he said. "There was some bleeding on the white borders on a lot of them, and the edges weren't clean in several cases."
But while these condition issues make these cards challenging to find in top condition, there's not a large group of collectors looking for them.
"Quite frankly I don't know why up until now they haven't been more popular," said Bengen. "Maybe it's because they're just pictures of aircraft, and maybe in today's over-stimulated society that's just not enough for people."
Sprigle offers a similar explanation.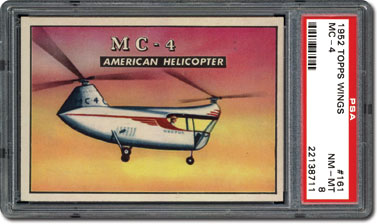 "Well, I guess they're just really old aircraft and you kind of have to be a nostalgia freak like I am to appreciate these cards," he said.
This lack of widespread demand has made these cards relatively affordable.
"I have a grandson that loves flying and planes, and I thought maybe him and I could have some fun collecting this set," said Nossek. When he first began his search for a set, Nossek said he "first started looking at that 1952 Topps Look 'N See set. I wanted something vintage, but that set seemed a little pricey and there was a lot of competition for the cards. I thought this might be a better option. I really liked the cards, and considering my age, the set struck a chord with me because I actually lived during that time."
But there are signs that the 1952 Topps Wings set is becoming more popular.
"They're starting to accelerate in value. In the last couple of auctions that I've seen, the sets have sold for some pretty good prices," said Bengen. "Last year I got into some bidding wars with people over some [PSA] 9s. I've seen some of the [PSA] 9s go for $300 or $400."
So while collectors will likely never look to the sky again and wonder if a plane is a "friend" or "foe," maybe they're starting to gain an appreciation for the artwork on these cards and the history lessons they offer. And if more hobbyists jump on board, this set may finally take flight in the hobby.
---
Please feel free to contact Kevin Glew at [email protected] if you have any additional information or comments. Thanks to Joe Nossek for providing scans to go with this article. Please note that the Population Report figures quoted and Set Registry rankings reported are those as of March 2014.