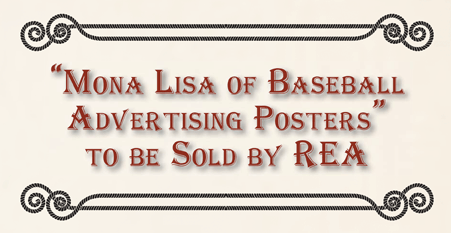 The only known surviving display poster from the dawn of American sports endorsements is about to go on the open market. It is of astounding significance as the earliest American advertising poster featuring the endorsement of a commercial product by any player or sporting figure. The poster dates from 1874 and features George Wright, the greatest star of the era, advertising for Red Stockings Cigars. Robert Edward Auctions (REA) will sell the remarkably well-preserved artifact in its upcoming spring auction.
"This piece is of monumental importance, not just for baseball memorabilia collectors but as an item relating to American culture and advertising," stated REA President Robert Lifson. "The historical significance is really impossible to measure. It would be at home on display at the Hall of Fame, but it really belongs in the Smithsonian."
The reserve is $100,000. The final date of bidding in this year's spring auction will be Saturday, April 26. Bidding begins April 7 by fax, phone or the Internet via the REA website. Copies of the full-color premium catalog are available for free. To review the catalog online, learn more about Robert Edward Auctions or receive a complimentary copy of the catalog, visit REA's website (www.robertedwardauctions.com).
Major League Baseball's official historian John Thorn provides his insight on the Red Stockings Cigar poster at MLB's Our Game blog and has graciously allowed Sports Market Report (SMR) to present his article below.

Today many athletes earn far more from their endorsement deals than from their efforts on the playing field. As the table below demonstrates, Tiger Woods is the king of active player endorsements, last year raking in $65 million compared to his $13.1 million in prize money from golf tournaments. As a retired player, Michael Jordan is not counted, yet if former athletes were in the mix, Jordan would top everyone with his $80 million in royalties from his own brand. Yet for ratio of endorsement dollars to athletic ones, the king among sport's top 100 earners is perhaps a surprise: Usain Bolt, who garnered only $200,000 on the track but $24 million off it. (Endorsement income is an estimate of product/service sponsorship deals, appearance fees and licensing fees for the twelve months through June 2013, as tabulated by Forbes in its annual survey of the 100 highest-paid athletes.)
Many high-salaried athletes had negligible endorsement income (Floyd Mayweather, for example, earned $34 million in the ring and not a penny outside it). Among the 27 baseball players on the list, of prime interest to the readership here, no one gained more off the field than on it, and the highest earners via endorsements were Derek Jeter with $9 million and Ichiro Suzuki with $6 million.
You would not be wrong to think that athlete endorsements were few and far between until the pioneering efforts of Babe Ruth and his agent, Christy Walsh. But who was the first ballplayer to endorse a product and, presumably, be paid for the persuasive power of his celebrity? Authors Bernard Mullin, Stephen Hardy and William Sutton suggest, in their 2007 book Sport Marketing: "According to Bert Sugar, the first recorded instance of a modern athlete's leasing his name (to endorse a sports product) occurred on September 1, 1905, when Honus Wagner ... of the Pittsburgh Pirates gave the J.F. Hillerich & Son Company permission to use his name on its Louisville Slugger bats for a consideration of $75."
This is surely incorrect. A poster from 1874, featuring Hall of Famer George Wright of Boston promoting the Red Stockings Cigar, tops Honus with three decades to spare. A splendid lithograph from the firm of J.H. Bufford & Sons, the only example known to survive, has now emerged from a private collection to be placed at auction in the spring. That it is handsome you may judge; that it is important in the history of baseball and sport altogether-as the earliest tangible evidence in any sport of an athlete endorsing a commercial product-permit me to describe. There are three stories to tell here: that of the ballplayer, another of the lithographer, and the last about the cigar and its makers.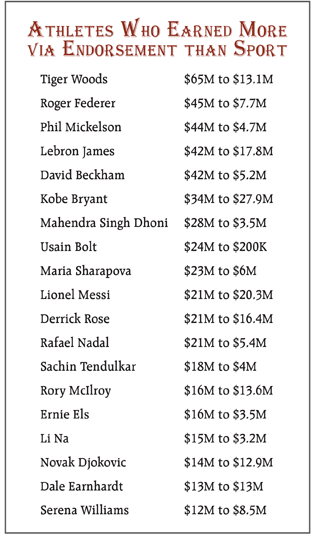 Before Babe Ruth rolled his own cigars or endorsed candy and tobacco products, before he became the baseball hero of the nation with 54 home runs in 1920, his first season with New York, there was another titan whose name was synonymous with the emerging national game: George Wright. Although he was elected to the Baseball Hall of Fame two years before that institution opened its doors to the public, George Wright is not a name that, like Ruth's, shines as brightly as ever.
His stats are readily available for the years since the debut of the game's first professional league in 1871, but he was already a legend by then. In the undefeated 1869 campaign of the Cincinnati Reds, in the 57 contests that came against National Association clubs, George Wright's bat produced an average of five hits and ten total bases per game; he collected 49 home runs among his 304 hits and batted .629. To the argument that the opposition was frequently soft: In the club's 19 games against fellow professionals (the Reds won all, of course), he hit 13 home runs and batted .587.
Selling his services to the highest bidder each year, he had played for the top club in the country in nearly every year since the end of the Civil War: the Unions of Morrisania; the Nationals of Washington, D.C.; the Cincinnati Red Stockings; the Boston Red Stockings; and the Providence Greys. Indeed, from 1866 through 1879 only three times was his club not the champion, and one of these years was 1871, when despite an outfield collision that limited him to half of his club's scheduled games, he hit a resounding .413.
In the New York Evening Journal of 1911, four decades after Wright played his last game, Sam Crane declared, "There have been many great shortstops, but for all-round ability there has been none who ever played the position who has been able to force George Wright from the top-notch rung of the ladder of fame." Crane, a second baseman who began his career in the National League as George was winding down his, wrote this at a time when Honus Wagner was at the height of his powers: "I have known them all and have seen them all play, but to George Wright I give the credit of being the best ever."
He was so popular a figure in his Boston years that he became the first player to author (or, more probably, affix his name to) a book: Record of the Boston Base Ball Club, Since its Organization, With a Sketch of All its Players for 1871, '72, '73, and '74, and Other Items of Interest. Rockwell and Churchill of Boston published the 52-page book in 1874, surely recognizing the value of attaching George Wright's name. This was also the year in which George and his teammates, along with the Philadelphia Athletics, crossed the Atlantic to introduce America's new game to England.
And 1874 was also the year when the fledgling firm of Nichols & Macdonald, Boston cigar makers, secured an image of George Wright for a 14- by 10-inch advertising poster. Produced for them by the venerable lithographer and job printer J.H. Bufford's Sons of 490 Washington Street, it is a graphic and historic landmark. Wright's image within the poster dates to 1871 or 1872, when Warren's Photographic Studios of Boston issued it as a cabinet card. The address listed for Bufford in the city directory for 1875 is 666 Washington, so we may deduce the date of the poster as no later than 1874. The young cigar makers are not listed before 1874, so there we have the date of issuance with certainty.
The lithographic house of John Henry Bufford (1810-1870), and its successor entities run by his sons, went back to 1829, when he began as an apprentice of William S. Pendleton in Boston. He labored alongside Nathaniel Currier, who had started with Pendleton one year earlier. Bufford worked under his own name in New York from 1835 to about 1840, sometimes working under commission for George Endicott and for Currier (Currier and Ives would not form until 1852). He then returned to Boston where, from 1845, J.H. Bufford & Co. became a major lithographic establishment of the period. If Bufford is less highly regarded today than his contemporaries, it may be because where Currier early on tilted toward "framing prints," Bufford continued as a multipurpose job printer who sometimes co-published works with other companies. Bufford ran the firm until his death in 1870, after which his sons-Frank Gale Bufford and John Henry Bufford, Jr.-took over operations, continuing until about 1910.
Starting as an apprentice, Bufford appreciated not only the practice of lithography but also the need to employ apprentices with artistic talents. Of these, none went on to greater fame than Winslow Homer, who trained with Bufford from 1855 to 1857. While with Bufford, he produced a group of undistinguished sheet music covers. In 1862, working on a commission for Thomas & Eno, he produced his only image with baseball associations-a spectacular lithograph of Union Pond, Williamsburgh, L.I. This site became the Union Base Ball Grounds of Brooklyn, to which patrons were charged ten cents for their admission.
Testifying to the senior Bufford's interest in sports are four magnificent lithographs produced under his aegis. The earliest is "The Eleven of New England: Cricket Match at Boston, September 18th, 1850." Another is a beautifully detailed litho, with 250 recognizable portraits, of "The International Contest Between Heenan and Sayers at Farnborough, on the 17th, of April 1860."
A third is "Camp of the 37th Mass. Vol's. near Brandy Station, Va." with a detail showing soldiers playing wicket. And the last is well known to advanced baseball collectors: "The Base Ball Quadrille" of 1867, dedicated to the Tri-Mountain Base Ball Club of Boston-pioneers of the New York Game-and depicting its top player, Frank Prescott. After John H. Bufford's death in 1870, his sons gave even more attention to sport-particularly baseball-by publishing trade cards, handheld-fan illustrations and, of course, this momentous poster from 1874.
Messrs. Nichols and Macdonald were not the first to name a product for a baseball club-that distinction goes to Ohioan Fred Burrell, who manufactured a Red Stocking cigar in 1869 or 1870 to honor the unbeaten Cincinnati nine. A generic baseball player adorns the cigar-box label; its model may have been either Harry Wright or Charlie Gould, as they were the only two Red Stockings to sport a goatee. But the image is sufficiently indistinct to presume that neither was paid for the use of his likeness.
When the Cincinnati Red Stockings disbanded after the 1870 season, manager Harry Wright took the name and several key players-brother George, the aforementioned Gould, Dave Birdsall and Cal McVey-and formed a club in Boston to compete in the new National Association of Professional Base Ball Players. Harry also brought the discarded nickname to Boston; the Red Stockings are today, in an unbroken line of descent, the Atlanta Braves.
David L. Nichols, as a career salesman and the older partner in the firm of Nichols and Macdonald, is probably the one who came up with the idea to create a Boston version of Burrell's "Red Stockings Cigar" and to promote its sale through a highly recognizable George Wright. As Crane would recall in 1911, "he had a thick crop of dark curly hair, a small mustache and a dab on either cheek for a bluff at 'siders' ... his prominent teeth would gleam and glisten in an array of white molars that would put our own Teddy Roosevelt and his famed dentistry establishment far in the shadow."
Born in West Newbury, MA, in 1836, Nichols fought in the Civil War with Company F of the 18th Massachusetts Infantry and with Company D & M of the 2nd Massachusetts Heavy Artillery. He was mustered out on September 3, 1865. Little more than two years later, on January 14, 1868, he married Mary M. Carter, daughter of Isaac Carter and Maria Manson Carter. Upon her husband's death, Maria married again, in 1843, to Hugh Macdonald (also spelled as McDonald); in 1850 they produced Frederick William Macdonald. In short: David L. Nichols would join in cigar-making partnership with his brother-in-law, Frederick. So close were the two that they shared the same household in Cambridge, with Maria Macdonald, who had been widowed once more.
Nichols and Macdonald sold their Red Stocking cigar at 114 Broad Street in Boston in 1874 and 1875, but at some point in 1876 the firm failed. Nichols was reduced to becoming a seller of butter and cheese at Faneuil Hall Market. At 2 PM on October 9, 1878, wrote the Boston Journal of the following day, he took a room at the Carlton House, No. 5 Hanover Street:
stating that he wanted to sleep a couple of hours, and leaving orders to be called at 4 o'clock. An hour or so after he entered the room the report of a pistol shot was heard... .At 4 o'clock the occupant was found dead on the bed, with a bullet hole in his head. A new pistol was lying by his side on the bed, also a box of cartridges, one of the cartridges only having been removed. There were two or three letters in the room, left by deceased... .
David L. Nichols' widow continued to live in the Macdonald household until her death at age 78, in 1916. She was buried alongside her husband in West Newbury.
In 1884 Fred Macdonald, now married to Theresa A. Brown of Cambridge, reappears in the Boston city directory as a cigar manufacturer or seller at 15 Oliver. In that year a design patent taken out by Nichols and Macdonald in 1874 was transferred to Macdonald alone, though the Red Stocking (no longer plural) Cigar may actually have been revived in the previous year. (The Cambridge Chronicle reported September 15, 1883, that "Bailey's Key West and Red Stocking Cigars are the best 10 cents cigar in town.")
The Red Stocking brand's identification with the national pastime was reinforced in 1886 by the issuance of sample cards that are among the greatest rarities in the hobby. Only three Red Stocking Cigar cards are known: Charlie Buffinton, John Morrill and Hoss Radbourn.Â
For the rest of his life, Fred Macdonald was a success in the cigar-making line and so was his Red Stocking brand, by now a somewhat wistfully obsolete reference, as Boston's National League ball club was no longer called by that name. A notice by Ren Mulford in the Cincinnati Post of May 18, 1905, testified that the brand was a nostalgic one: "The Red Stocking cigar is a Boston weed named for the Beaneaters." The twentieth century label for the Red Stocking Cigar features not George Wright but an unidentified Boston NL player of the 1901-1905 period, given the lace front of the jersey; I think it's Fred Tenney.
In 1889 another instance of player endorsement predating Honus Wagner was memorialized in a fine lithographic advertisement for E. and J. Burke's ale and stout. According to Charles Zuber of the Cincinnati Times-Star:
There is only one case of record where ball players received a large remuneration for acting as models for an advertisement. Those players were Capt. Ewing and 'Old Man' Anson. It was before the Brotherhood War, when Ewing was in the very zenith of his glory. A certain ale manufacturing concern wanted a taking ad. for its goods and decided that a base ball picture was the best thing. So when the Chicagos came to New York this firm arranged for Ewing and Anson to sit in front of a tent on which the ad of the company was emblazoned. Barrels and cases of the product were placed in close proximity and Ewing and Anson, in their uniforms and each with a glass of ale poised graceful in his hands, were in the foreground. The ad made a big hit and Ewing and Anson received $300 and a case of ale each. It was quick and easy for them.
In 2008 this baseball advertising piece sold at auction for $188,000. What will the Red Stockings Cigar poster bring?