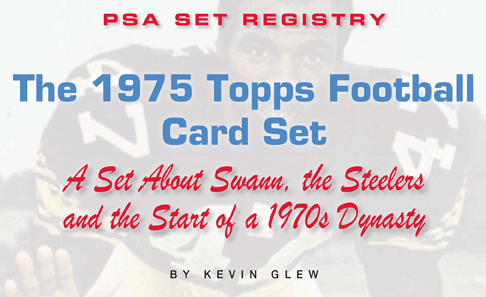 When collectors are bidding on Pittsburgh Steelers cards from the 1975 Topps Football set, they must feel like they have to form their own "Steel Curtain" defense to ward off competitors.
Fresh off their first of four, 1970s Super Bowl titles, the Steelers were becoming one of the nation's most popular teams in 1975 and Topps capitalized on this by celebrating the franchise's first triumph on the final card (#528). In all, the 1975 Topps set features regular pasteboards of 20 Steelers, including rookies of Mel Blount (#12), Rocky Bleier (#39) and Lynn Swann (#282).
"This was the era of the Steel Curtain defense and any of the Steelers from around this time are going to command a premium," said Kevin Roberson, who has assembled the No. 1, 1975 Topps Football set on the PSA Set Registry.
Jason Levering, who owns the registry's No. 7 Current Finest set, shares similar observations.
"If you find any of the Steelers cards in [PSA MINT] 9s, they're very expensive," he added. "Even with a player like the Jack Ham (#125), who's a Hall of Famer but has more than 40 [PSA 9s] graded, you're still going to pay $80 for it."
Legendary Steelers like Franco Harris (#300), Joe Greene (#425) and Terry Bradshaw (#461) are also showcased on key cards in this 528-card set.
The regular player singles in this issue showcase a flashier design than their 1974 predecessors. The white-bordered card fronts present a large photo with the team name and conference indicated in a wavy banner below it. The player's position is highlighted in a helmet to the right of the banner, while the player's name is emblazoned across the bottom. Like previous 1970s Topps pigskin sets, team logos are not featured on these cards.
"I kind of like the design," said Mike Thomas, owner of www.footballcardgallery.com. "It's a pretty clean design, and it looks like they took enough recent photos to avoid a lot of that silly airbrushing [a technique which Topps utilized during the previous years to eliminate the team logos]."
Dan Edaburn, who owns the No. 4 Current Finest, 1975 Topps Football set, also likes the layout of these cards.
"I think it's a gorgeous design," he said. "To me, it just screams 1970s football when you look at the cards. I think it's definitely the most beautiful football set that Topps issued in the 1970s."
The backs boast a vertical orientation with black print on a predominantly green background. The majority of the back presents a green football field design, while the top flaunts a set of goalposts and a rectangular box that some believe represents a scoreboard. The card number, player name, team, position and vitals (i.e., Height, Weight, School, etc.) are displayed at the top, while biographical and statistical information is shown on the field design. Copyright data is indicated along the bottom.
This offering also boasts five subsets: Leaders (#1 to #6), All-Pro cards (#201 to #225), Record Breakers (#351 to #356), Highlights (#452 to #460) and playoff cards (#526 to #528). There are also two George Blanda tribute cards: one showcases the storied quarterback in a black jersey (#7) and offers a list of his accomplishments on the back, while the other pictures him in a black jersey (#8) with his scoring record on the back. Levering says neither card commands a premium.
Like the 1974 Topps Football set, these cards were issued in 10-card, 15-cent wax packs. A scratch-off football game card and a piece of gum were also squeezed into each pack. These cards were also distributed in 18-card, 25-cent cellos and 42-card, 49-cent rack packs. They were also available in wax trays and 500-card vending boxes.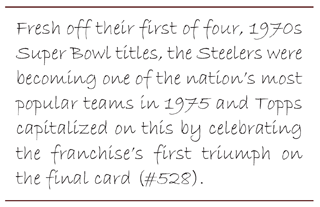 Three Hall of Famer rookies - including Blount (#12) and Swann (#282) - are part of this issue. The Blount card is relatively plentiful in top condition. There are 17 PSA GEM-MT 10s, one of which sold for $1,250 on eBay in December 2012.
On the other hand, Roberson says the Swann single is relatively difficult to uncover in pristine condition.
"I've opened a lot of 1975 packs, but I've never found a Swann that I would consider sending in [for grading]," noted Edaburn. "It's a little off-center, and a lot of times, the left-hand side of it has a smudge [specifically on the bottom-left corner]."
Eagle-eyed hobbyists will also notice that the word "Receiver" is spelled wrong on the front of the Swann single. Of the 1,117 submitted, there have been just six PSA 10s, one of which sold for $1,767.20 in a Mile High Card Company auction in October 2009.
This set also houses the Dan Fouts rookie (#367), but like the Blount single, his cardboard debut is not particularly elusive in high grade. Of the 1,363 graded, there have been 17 PSA 10s and 157 PSA 9s. One PSA 10 garnered $1,525 on eBay in November 2013.
Levering, Thomas and Roberson note that there are a number of other players with rookies in this set that could eventually have busts in Canton. Charlie Waters (#59), Drew Pearson (#65), Cliff Harris (#490) and Cliff Branch (#524) are all possible future electees.
This set also harbors the first NFL card of Joe Theismann (#416). Though Theismann is not in the Hall of Fame, his card is one of the most valuable in this offering.
"I think the biggest reason is that you don't see them [in the market as frequently]," said Edaburn. "You see the Swann. You see Dan Fouts PSA 10s, but very rarely do you see a Theismann and that's going to dictate the price."
Scans of two uncut 1975 Topps Football sheets were uncovered during the research for this article. Unfortunately neither of them showcased the Theismann card. So it couldn't be confirmed if the former Redskin's pasteboard was located on the edge of a sheet, a position that generally makes cards more vulnerable to condition woes.
Of the 747 Theismann cards graded, there has been just one PSA 10 and it commanded $2,950 on eBay in August 2012.
For the second year in a row, Joe Namath was absent from a Topps pigskin issue. It's believed that this was the result of some sort of contractual dispute between the superstar and Topps. This set does, however, house cards of a number of other Hall of Famers, including Roger Staubach (#145), Fran Tarkenton (#400) and O.J. Simpson (#500).
"This set has some pretty good star power," said Roberson.
A few common cards, however, have proven to be the most elusive in flawless form. The Paul Naumoff single (#74) is the only card in this offering not to have a PSA 9 or PSA 10 example.
"I have a [PSA NM] 7 which I pulled from a pack," said Edaburn, "but I just don't have that many other options. The other ones I've seen have centering issues."
The Naumoff card is located on the edge of a print sheet (second row, last card on the right), a position that generally makes cards susceptible to flaws during the production process. The Naumoff card is frequently found with poor left-to-right centering.
Julius Adams (#73), the pasteboard just before Naumoff in the set, is also evasive in mint condition. Just one PSA 9 (with no examples grading higher) exists. This card is situated on the top-left edge of a print sheet. Edaburn says poor top-to-bottom centering often plagues this card. The sole PSA 9 fetched $167.50 on eBay in June 2012.
Like the Adams card, the Willie Alexander single (#139) has only one PSA 9. This card is located directly above the Naumoff on the sheet (first row, last card on the right). There's also just one PSA 9 Bill Van Heusen (#267), and not surprisingly, this card is also situated in a vulnerable edge-sheet position (first row, first card on the left on a second print sheet).
Miscuts and poor centering are the most common condition flaws found on cards from this issue.
"There were some print defects and the left-to-right centering kind of hampers the set, but the card stock is pretty good," said Levering.
Aside from the misspelling on the Swann, there are several other uncorrected errors in this issue. For example, Isaac Curtis's first name is misspelled "Issac" on his card (#25), Dan Pastorini's card offers the wrong birth date on the back (#50) and Ken Burrough's last name is incorrectly highlighted as "Burrow" on his card (#413).
There was also an uncut sheet of 26 team checklists - one for each of the NFL teams - that was available through an exclusive mail-in offer. The checklists have each team's 1975 schedule on their fronts and a list of their players featured in the 1975 set on the backs.
Edaburn says competition for high grade cards - especially the Steelers singles - from the 1975 Topps set is already "pretty cut-throat." But with the likelihood that more players featured on their first-year cards in this issue will be inducted into the Hall of Fame in the future, the 1975 set could become more popular.
"I think this set has enough star power that it will be one of the key sets of the 1970s," said Roberson. "I think there's a lot of potential still in this set. I think it still has some room to grow from a financial perspective."
Levering expresses similar sentiments.
"I think it's one of the best 1970s football sets out there," he said.
View the set in the PSA Set Registry.
---
Please feel free to contact Kevin Glew at [email protected] if you have any additional information or comments. Thanks Kevin Roberson for providing images for this article. Please note that the Population Report figures quoted and Set Registry rankings reported are those as of February 2014.