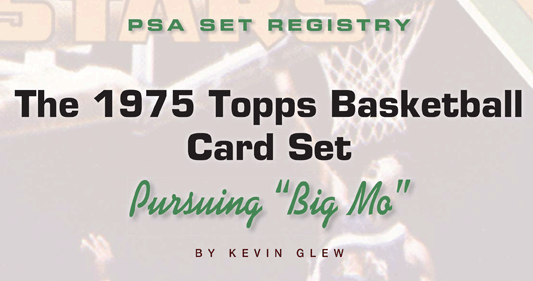 You could call it the "Big Mo" of 1970s basketball sets.
Yes, when you stop and think about it, the 1975 Topps hoops offering shares a number of similarities with Moses Malone (a.k.a. "Big Mo"), the 6-foot-10 power forward whose rookie card is also the centerpiece of the set.
Malone, for example, was the last ex-ABA player still competing in the NBA, while the 1975 Topps set is the final issue to showcase ABA cards before the renegade circuit merged with the NBA.
Also, both Malone and this mid-1970s set can lay claim to significant quantitative accomplishments. "The Chairman of the Boards" toiled in more combined seasons in the ABA and NBA (21) than any other player in basketball history, while this Topps issue harbors more cards (330) than any other 1970s hoops issue.
And finally, both Malone and this basketball offering have been overshadowed by their contemporaries. Despite a resume that boasts three NBA MVP awards, Malone is rarely mentioned as one of the best players of the last 40 years. Similarly, the 1975 Topps Basketball set is one of the least talked-about hardcourt issues of the 1970s.
As noted, the "Big Mo" of basketball sets features 330 standard-size cards. Its first 220 pasteboards focus on the NBA, while cards #221 to #330 are devoted to the ABA.
"For me, one of the appealing [features] of this set is that it has cards from the opposing leagues before the merger," said D'Orsay Bryant, who owns the No. 1, 1975 Topps Basketball Set on the PSA Set Registry. "Both leagues had their own unique styles of play and that was captured in this set."
David Robinson, who has assembled the registry's No. 5 Current Finest set, has found that the ABA cards are generally easier to track down than the NBA cards.
The 1975 Topps Basketball cards boast a clean and colorful design that reflects the era. Each player card flaunts a large action or posed photo on the front. The team name is emblazoned in capital letters at the top, while the player name runs across the lower portion of the photo. Two different colored diagonal stripes run over the photo's top-right corner. The color of the top stripe corresponds with the color of the team name.
"I really like the design," said Bryant. "This was when we had a revolution going on nationwide; you can see the Afros and people were wearing bell-bottom pants and [sporting] sideburns. And we even see 'Pistol' Pete Maravich with his goatee. So the pictures are very interesting, and there are a number of action photos and some great poses of the players."
Robinson also appreciates the layout of the cards.
"It's a simple design," he said. "The plethora of action shots are what I think makes it nice."
Card backs feature blue and green print on gray stock. The card numbers are difficult to read because they're printed in blue over a dark green background. The backs are dominated by a large circle that features the player's name, team, position and vitals (i.e., Height, Weight, Birthdate, etc.) on the top half and point-form, biographical information in the lower portion. Cartoon basketball players surround the outside of the circle and statistics are included near the bottom, along with detailed copyright information.
These cards were primarily distributed in 10-card, 15-cent wax packs with gum. They were also available in 500-card vending boxes.
The cards were printed on three, 110-card sheets. Twenty-two cards appear on the second sheet twice (see included list for a full record of these 22 cards). The most notable double-prints are Maravich (#75), Dave Bing (#160) and Connie Hawkins (#195).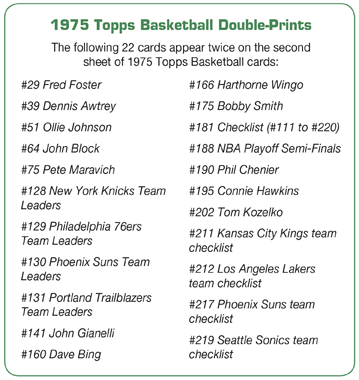 Six subsets are also part of this issue: NBA Leaders (#1 to #6), NBA Team Leaders (#116 to #133), NBA team checklists (#203 to #220), ABA Leaders (#221 to #226), ABA Team Leaders (#278 to #287) and ABA team checklists (#321 to #330). The team checklist cards were new for this issue and, for the most part, feature standard team photos. One exception is the Lakers pasteboard which showcases floating heads of the players. The backs list the player's card number, name, uniform number and position.
"I've found that the ABA team checklist cards are easier to find in higher grade than the NBA cards," noted Robinson.
For the second consecutive year, separate All-Star cards were not issued, but rather an All-Star designation was included on the honored players' regular cards. These cards showcase a slightly different design than the non-All-Star cards. The stripe on the top-right corner of the All-Star cards showcases a row of stars, and the player's name is presented across the top of a pedestal-like design that is situated at the bottom of the card, right above the All-Star designation.
As noted earlier, this was the final set to feature both NBA and ABA cards. The two leagues officially merged in 1976 and the NBA absorbed four ABA franchises: the San Antonio Spurs, Denver Nuggets, New York Nets and Indiana Pacers. However, three ABA teams - the Spirits of St. Louis, Kentucky Colonels and Virginia Squires - folded and were never heard from again.
The Malone rookie (#254) is this set's key card, but it's not difficult to obtain in top condition, nor is it regularly ranked as a must-have hoops rookie.
"Moses Malone was like the Tim Duncan of today," said Bryant, in attempting to explain why Malone remains relatively underrated. "He was one of the greatest centers/power forwards ever, but he did nothing to market himself. He wasn't very photogenic. He didn't like to give interviews. He just wanted to perform on the basketball court and go home."
There have been 15 PSA GEM-MT 10 Malone rookies and one of them sold for $1,100 on eBay in April 2013.
The only other Hall of Famer rookie is Keith (Jamaal) Wilkes (#50). There are three PSA 10 Wilkes cards and 11 PSA MINT 9s. A PSA 9 commanded $100 on eBay in September 2011.
Scott Wedman (#89), Leonard "Truck" Robinson (#151), Marvin Barnes (#252), Bobby Jones (#298) and Maurice Lucas (#302) are among the other notable hoopsters who made their cardboard debuts in this issue. This set also boasts the second-year cards of Bill Walton (#77) and George Gervin (#233) and, because of their appearances on League Leaders and Team Leaders cards, multiple singles of Maravich, Kareem Abdul-Jabbar and Julius "Dr. J" Erving.
Abdul-Jabbar's regular issue card (#90) is one of the set's most coveted singles. There have been five PSA 10s, one of which garnered $800 on eBay in June 2013. The regular issue "Dr. J" single (#300) is also very desirable, although with nine PSA 10s and 94 PSA 9s, it's plentiful in high grade. One PSA 10 fetched $495 on eBay in June 2013.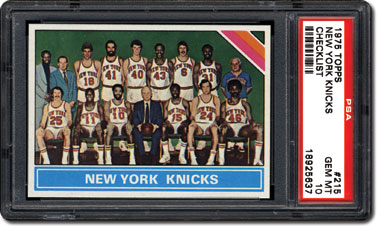 With just eight and 10 submissions each respectively, the Bob Kauffman (#98) and Ron Behagen (#106) singles have the fewest number of PSA submissions, and two cards - Mickey Davis (#53) and LeRoy Ellis (#104) - have yet to record an unqualified example that has graded higher than a PSA NM-MT 8.
"I do have the LeRoy Ellis in PSA 8, but that's only a Pop 2 [just two PSA 8 examples], with none graded higher," pointed out Bryant. "Every one that I've seen has been tremendously off-center."
Tracking down high-grade examples of tough commons like Ellis has been one of the biggest challenges for Bryant and Robinson in assembling their sets. To complete his set, Bryant submitted a number of cards himself and searched tenaciously for the rest at shows and online. Robinson has had a similar experience.
"It has been tough going lately [in regards to building this set], because I haven't found much to add to it," he said. "I just wish I could find some inventory to finish my set. It's been a long road to find the last 10%."
Bryant, who has more than 200 PSA 10s in his set, says the biggest condition flaw on the 1975 Topps Basketball cards is poor centering.
But despite boasting a decent selection of Hall of Famers - headlined by the "Big Mo" rookie - this set remains less popular than many of its contemporaries.
"This is a middle-of-the-pack 1970s basketball set," said Bryant. "It's not one of the most prestigious, nor is it one of the lowest. It's ranked dead set in the middle of the road."
Robinson offers similar observations.
"I think it has been overshadowed by the [Tall Boy-like] 1976 Topps set, and I think the size of the set is also a factor," added Robinson. "It's just a lot more daunting [to complete]. This set is a lot larger than any other basketball set [released in the 1970s]."
Its size, however, is also one of the characteristics that makes it the "Big Mo" of basketball sets. And while it might not enjoy a huge hobby following today, maybe it can rebound and engage more collectors in the future. After all, its most prized rookie - whom the set shares several similarities with - also led the NBA in rebounding six times.
View the set in the PSA Set Registry.
---
Please feel free to contact Kevin Glew at [email protected] if you have any additional information or comments. Thanks to D'Orsay Bryant for providing images for this article. Please note that the Population Report figures quoted and Set Registry rankings reported are those as of February 2014.