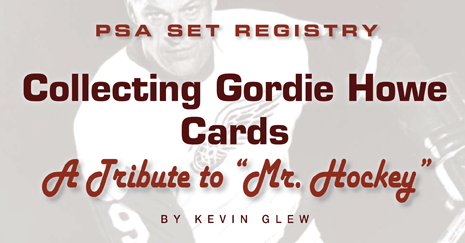 He is hockey's greatest ambassador.
As charismatic and congenial off the ice as he was tough and talented on it, Gordie Howe has become the most universally beloved player ever to lace up skates.
"It's unusual to see someone who's the best player in the league who's also the toughest guy in the league," said Howard Sher, who owns the top Howe Basic, Basic & Collector Issues and Master sets on the PSA Set Registry. "He was like a protector on the ice, but off the ice, he's this wonderfully, nice guy."
Howe's nickname is, perhaps, the best testament to his impact on hockey.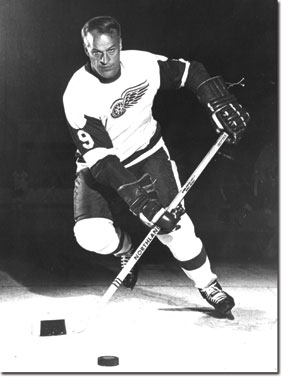 "He's 'Mr. Hockey,'" said Sher. "He has become synonymous with hockey. If you think about it, there's no Mr. Baseball or Mr. Basketball, and nobody is Mr. Football."
And it's a tribute to Howe's character that his fans are just as likely to talk about the way the hockey legend - who still owns several NHL records - conducts himself off the ice, as they are about his scoring prowess.
"He has always been great to the public and to the fans, and he's a very good natured guy," said Joe Henninger, who owns the registry's No. 2 Current Finest Howe Basic and Master sets. "He was a hardworker, but he wasn't a self-centered type of guy. I think he gave a lot to his sport and the fans. Overall, he was just a great athlete that was really popular and kept his nose pretty clean."
But you can't write an article about Howe without mentioning his accomplishments on the ice. Before Wayne Gretzky - whose idol was Howe - Mr. Hockey owned virtually every all-time scoring record. He now ranks third all-time in points (1,850) and first among right wingers.
Born in Floral, Saskatchewan, in 1928, Howe played a record 26 seasons over parts of five decades in the NHL. During his lengthy NHL career, he won six Art Ross trophies (as the league leader in points), six Hart trophies (as the league MVP) and was selected to 23 all-star games. He spent 25 of his 26 NHL campaigns with the Detroit Red Wings and led the club to four Stanley Cup championships.
"We're talking about hockey which is a brutal, brutal sport, and he played in five decades," noted Sher. "People talk about Cal Ripken's iron man streak. Think about a guy playing hockey in five different decades. You want to talk about longevity? You want to talk about an iron man? Gordie Howe was an iron man."
Mr. Hockey's durability and consistency also made an impression on Glen Chaytor, who owns the registry's No. 7 Current Finest Howe Master Set.
"I was looking in a sports magazine not too long ago and they listed the league leaders in points for each year. And I think in 1950-51, Gordie won his first scoring championship, and then in 1967-68 - 18 seasons later - he finished third. He was always right near the top, year after year. I think he ranks as one of the greatest sports figures of all-time."
Howe was also known for his strength and toughness. Today, when a player registers a goal, an assist and gets into a fight in the same game, they refer to it as a "Gordie Howe Hat Trick."
"He was the strongest guy on the ice and nobody could really move him around. He was just all muscle, and I think that played a lot into how he could dominate [on the ice] back then," said Henninger.
After a chronic wrist injury forced him to retire after the 1970-71 season, Howe accepted a front office position with the Red Wings, before making a comeback at the age of 45 to play with his sons Marty and Mark with the WHA's Houston Aeros in 1973-74. And it wasn't just a publicity stunt; Howe registered 100 points in his first season in the WHA and would lead the Aeros to two consecutive league titles.
In all, he suited up for six seasons in the WHA with the Aeros and New England Whalers before returning to play one final season in the NHL with the Hartford Whalers in 1979-80 at the age of 51.
It has been a combination of Howe's on-ice greatness and off-ice charisma that has inspired collectors to pursue his Basic, Basic & Collector Issues and Master sets on the PSA Set Registry.
Basic Set Cards
Although Howe began his NHL career as an 18-year-old in 1946, no mainstream card was produced of him until five years later. His 1-3/4" by 2-1/2", 1951 Parkhurst rookie (#66) was printed on fragile stock and is often found with poor centering and discoloration on its borders. At this time, the highest grade is a PSA MINT 9.
"Although I have the No. 1 set, I only have a [PSA NM] 7 of that card," said Sher. "I can tell you that the price of [PSA NM-MT] 8s has more than doubled in the past four or five years. And I have no idea who has the [PSA] 9. I've never seen it. It's not in a set that's registered, and I've watched out for Howe cards every day for years and years."
A PSA NM-MT+ 8.5 Howe rookie sold for $26,300 on eBay in March 2013.
Henninger notes that all of Howe's early Parkhurst issues are elusive in top grade. Sher owns the sole PSA 9 of the 1952 Parkhurst card (#88). This card sold for $17,977.50 in a Mile High Card Company auction in June 2010. And if you compare how difficult it is to obtain Howe's early Parkhurst issues in PSA 8 or better (see chart below), the 1953 Parkhurst card (#50) is actually the most elusive.
Another desirable Howe card is his 1954 Topps single (#8). Mr. Hockey's first Topps card showcases a dazzling picture of him in his Red Wings uniform against a white background. The team name is located in a blue panel along the bottom.
"A lot of people love the 1954 Topps card, which I think is one of the most attractive cards in one of the most beautiful sets of all-time," said Chaytor.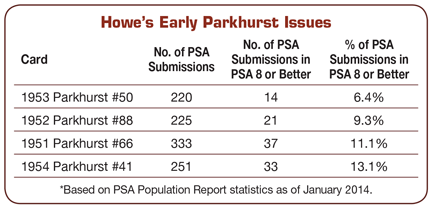 The blue border on the bottom of the front is prone to chipping. Of the 447 submitted, there have been just three PSA 9s. A PSA 8 sold for $3,900 in a Greg Bussineau Sports Rarities auction in April 2013.
Henninger says poor paper stock makes Howe's 1958 Topps card (#8) difficult to track down. The front of this card spells Howe's first name as "Gordy." There's just one PSA 9. A PSA 8 garnered $2,112.55 in a Memory Lane auction in May 2011.
Howe's 1964 Topps tall boy single (#89) is also highly coveted. Cards from this trailblazing, oversized issue were often damaged because they weren't easy to store. There has yet to be either a PSA 10 or PSA 9 Howe, but one PSA 8 fetched $1,559.56 on eBay in June 2012.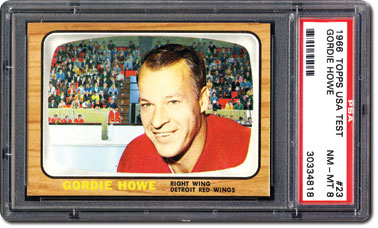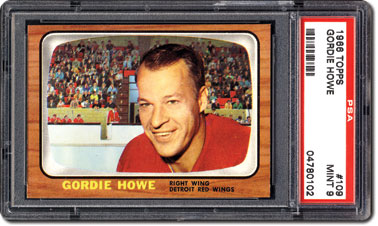 A more recent Howe Basic Set card that's evasive in flawless form is his 1977 WHA O-Pee-Chee card (#1). Not only is this card the first card in the set, it's notoriously difficult to find centered.
"A huge proportion of those cards are miscut, and when they were sent in to be graded, they got qualifiers," said Henninger.
Ninety-six of the 137 cards submitted to PSA have been deemed PSA 8s or PSA 9s but have been given a qualifier. There are just six unqualified PSA 9s, one PSA 8.5 and 15 PSA 8s. One PSA 8 sold for $157.50 on eBay in April 2013.
Master Set Cards
Both Henninger and Sher cite the 1964 Chex Cereal Photos Series single as one of the toughest Howe items to obtain for the Master Set. This 6-1/4" by 4-7/16" photo was found on the back of different types of Chex cereal boxes. Just eight have been evaluated by PSA and a PSA EX 5 is the highest grade that any copy has received.
Another cereal issue that's tough to find in pristine condition is Howe's 1967 General Mills photo. Measuring 6-1/8" by 7-1/8", this Howe photo was originally unveiled on the back of cereal boxes.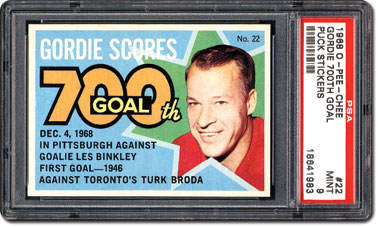 "That's really scarce," said Sher of the General Mills photo. "There are only six of them graded, and three of them didn't even get a number grade."
Howe (#23) is also included in the rare 66-card, U.S. test version of the 1966 Topps set. Reports indicate that only 100 of these sets were produced and that they were introduced in California. The design mirrors that of the regular 1966 Topps set, but they can be distinguished by their lighter shaded borders and the fact that they showcase only English information on their backs. The wood-grain borders on these are easily chipped. There has yet to be an example grade above a PSA 8. One of the five PSA 8s sold for $3,115.42 in a Mile High Card Company auction in November 2010.
Pricing Trends
Hobbyists say prices of early and rare high-grade Howe cards have climbed in recent years.
"I'm really glad that I got my cards back in the day because the prices of the cards have gone way up since I started collecting them more than 10 years ago," said Henninger. "It seems like it's getting harder and harder to find any new high-grade cards. I think the market for Howe cards is really strong."
Sher has had a similar experience.
"There seems to be a lot more people paying more money for the high-grade cards," said Sher. "I collect a lot of Howe and Orr cards and prices for both of those guys have gone way up."
Chaytor has noticed a similar trend.
"There's a huge following across generations for Gordie Howe cards and I think the momentum will just continue to grow," he said.
But that's to be expected for cards of a man who's usually mentioned in conversations about the greatest hockey player of all-time. In 1997, The Hockey News ranked Howe as third best behind Gretzky and Bobby Orr.
"He's called Mr. Hockey for a reason," said Henninger. "When he was playing he was way up there. Was he the best that ever played? It's hard for me to really say. I watched him as a 10-, 11- and 12-year-old. But he's got to be up in the top three."
Chaytor agrees
"I would rank him right up there with the greats of all-time," he said. "I consider Gretzky the greatest and Bobby Orr maybe 1A, but I'd have to put Gordie Howe right there with them."
Sadly, Howe's son Mark revealed recently that his father is suffering from dementia. The hearts of his fans go out to Mr. Hockey, who not only provided them with great on-ice memories, but in many cases, moments they will never forget off the ice.
"I had lunch with him at The Capital Grille across the street from my office a few years back, and when we left, the whole place stood up and started clapping," recalled Sher.
"He just seemed like a family guy. When I sat with him at the restaurant, I wish I had brought a tape recorder with me. He was just telling all kinds of hockey stories."
Chaytor has met Howe several times at the Sport Card Expo in Toronto.
"I was truly blown away by how great of an individual he is," he said. "To me, it was like meeting one of the gods. One year after he finished signing autographs, a bunch of us waited and we ended up talking to him out back for a half-hour to 45 minutes. We asked him questions about his career. And to me, that was stuff that I can tell my grandkids. He was a super nice guy. He was just a prince."
These sound like the types of experiences that Howe has always tried to give his fans. One of the greatest players hockey has ever seen has also been his sport's greatest ambassador. And what greater legacy could there be for Mr. Hockey?
View the Basic set in the PSA Set Registry.
View the Basic & Collector Issues set in the PSA Set Registry.
View the Master set in the PSA Set Registry.
---
Please feel free to contact Kevin Glew at [email protected] if you have any additional information or comments. A special thanks to Howard Sher for providing scans to go with this article. Please note that the Population Report figures quoted and Set Registry rankings reported are those as of January 2014.