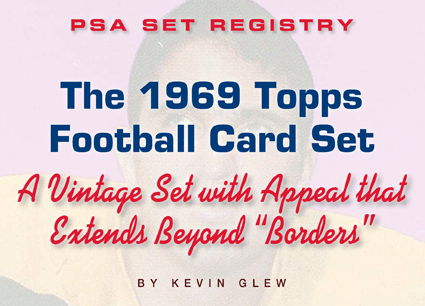 To be borderless, or not to be borderless...
That's the question that Topps appears to have been grappling with when they designed their 1969 football cards.
First-series singles (#1 to #132) flaunt full bleed backgrounds behind the player photos, while second-series cards (#133 to #263) boast white borders surrounding their photos and accompanying backgrounds. To add to the confusion, the second-series checklist (#132) is available in both layouts.
"It was always my conjecture that they didn't put the borders on the first-series cards because they had some issues with the printing," said Doug Steinsiek, who owns the No. 4 Current Finest, 1969 Topps Football Set on the PSA Set Registry. "I just reconciled in my mind that all of the cards were meant to have borders, but they just couldn't get it figured out by the time the first set of cards came out. But [the differing borders] just adds to the mystique of the set."
Whether these cards have borders or not, the 1969 Topps Football set is one of the most popular gridiron offerings of the 1960s. Topps' final set before the AFL/NFL merger, this 263-card issue offers player pasteboards from the 10 AFL and 16 NFL franchises.
Card fronts present a photo against a colorful background, as well as a team logo in the bottom right corner.
"I like the first-series cards that have the full bleed as opposed to the white bordered [second-series] cards," said Frank Massaro, who has assembled the registry's No. 6 Current Finest set. "And I like the colors on some of the cards. If you look at the Larry Csonka rookie, for example, it has a bright red background. If you get a nice, fresh card in PSA MINT 9, the colors really stand out."
Mike Thomas, owner of footballcardgallery.com, offers similar observations.
"I like the design of these cards a lot," he added. "I like the colors, and I like the logos. [At this point], they hadn't started the airbrushing yet, so I like seeing the logos on the helmets."
This was the last time collectors could view team logos on Topps' pigskin cards until 1982. After their 1969 issue, Topps reportedly opted not to pay the licensing fees that the NFL required for use of the logos.
The card fronts also highlight the player name - with their first and last initials in red and the rest of the letters in black - as well as the player's team and position along the bottom. The black, horizontal backs exhibit the card numbers inside a green football design in the upper left. The player's name, team, position and vitals (e.g., height, weight, age, years pro, college, etc.) are displayed across the top, while biographical information and statistics grace the left side. A cartoon illustrating trivia about the player and copyright information are located on the right.
It should be noted that ten second-series cards (#s 137, 145, 168, 174, 177, 194, 211, 219, 224 and 256) form a Fran Tarkenton puzzle.
With this issue, Topps upped the price of wax packs from five cents to 10 cents, but these packs housed 12 cards, a mini team album and a stick of gum. The cards were also available in rack packs and cellos. Second-series cards are believed to have been printed in slightly smaller quantities than first-series singles.
Of the 12 cards in packs, as many as three were reportedly mini cards - also known as four-in-one inserts - that showcased four mini-player stamps (measuring 1" by 1-1/2" each). Curiously, 19 of the players in the 66-card, four-in-one set are not featured on cards in the regular 1969 Topps Football set.
"The 1969 Topps Football packs were actually the first packs that I ever opened, and if I remember correctly, there were two or three of those four-in-one cards in each pack," said Thomas.
A flap on the wax packs encouraged hobbyists to "collect all 26 Pro Football Team albums," as well as the mini-cards. Collectors were then urged to separate the stamps on the mini cards and "wet the backs" to paste them into the appropriate albums.
Thomas has recreated the two, 132-card sheets (12 rows with 11 cards in each row) from this series on his website (http://www.footballcardgallery.com/uncut_sheet/1969+Topps/). He points out that all of the cards with the same colored backgrounds are grouped together in rows and that cards in every other row are inverted.
"These were the first sheets I've seen where half of the cards are printed upside down," said Thomas.
The sole Hall of Famer rookie in this set is Larry Csonka (#120). Of the 1,306 Csonka cards submitted, there has been just one PSA GEM-MT 10 and 26 PSA 9s. One PSA 9 fetched $1,500 on eBay in September 2013.
The Brian Piccolo rookie (#26) is also highly coveted. This represents the late Bears running back's only regular Topps card. Piccolo, who died of cancer when he was 26, was the subject of the popular 1971 TV movie Brian's Song. Unfortunately, Topps misspelled his first name (Bryon) on his card. One of the 17 PSA 9 Piccolo cards sold for $600 on eBay in September 2013.
"The appeal of this set for me stems from two names: Larry Csonka and Brian Piccolo," noted Massaro. "I like the Larry Csonka because he was part of the All-Time NFL Rushers set and because he had this bruising style of running that appealed to me as a kid. And Brian's Song is one of my top five sports movies. You can't watch it without getting choked up."
Bears' teammate Gale Sayers, a former positional rival who evolved into one of Piccolo's closest friends, is also featured in this set (card #51). One of the 10 PSA 9 Sayers singles commanded $1,680 on eBay in September 2013.
But fresh off of leading the New York Jets to their upset win in Super Bowl III, Joe Namath is the most high profile Hall of Famer in this set. His card (#100) isn't particularly difficult to track down in high grade (two PSA 10s and 39 PSA 9s), but it's still one of the most sought-after.
"He still commands a large premium, even though there are a lot of them," said Steinsiek.
One PSA 9 Namath sold for $424 on eBay in July 2012.
Other Hall of Famers in this series include Len Dawson (#20), Johnny Unitas (#25), Bob Lilly (#53), Don Maynard (#60), Lance Alworth (#69), Dick Butkus (#139), Fran Tarkenton (#150), Bob Griese (#161), Jim Otto (#163), Fred Biletnikoff (#201) and George Blanda (#232).
But Hall of Famer Ray Nitschke's card (#55) is arguably the most elusive in top condition. Just four PSA 9s of this legendary Packers' pasteboard exist. The Nitschke is the last card on the right in the fifth row of one of the 1969 Topps Football sheets. Cards located on the edge of sheets are generally more vulnerable to condition flaws (e.g., miscuts). One PSA 9 Nitschke sold for $628.88 on eBay in November 2012.
The first (LeRoy Kelly) and last (Daryle Lamonica) cards in this set are also relatively tough to uncover in flawless form. Just 11 and six PSA 9s have been uncovered of each respectively, with only one PSA 10 being graded of the Lamonica card as of early 2014. A PSA 9 Kelly garnered $481 on eBay in August 2010, while a similarly graded Lamonica garnered $370 on eBay in April 2012.
With just two PSA 9s, the Jim Cadile single (#3) has the lowest number of mint graded copies in this set. Like the Nitschke, this card is situated in an edge-sheet position (first card on the left in the seventh row) - a position that tends to make cards susceptible to condition woes.
There are also a trio of cards that only have three PSA 9 examples each: Sherrill Headrick (#9), Jim Lindsey (#13) and Ed O'Bradovich (#95). Not surprisingly, two of these - Lindsey (last card on the right in the sixth row) and O'Bradovich (last card on the right in the 10th row) - are positioned on the edge of a sheet.
Aside from the misspelling on the Piccolo card, there are several other uncorrected errors in this issue. One of the most notable is that esteemed Washington Redskins' quarterback Sonny Jurgenson's card (#227) showcases a Kansas City Chiefs' logo on the front.
Thomas also points out that there are two versions of the Jim Turner single (#29): one with a red dot between the team and his position on the bottom of his card and another version that showcases a yellow dot. Each version appears to have been produced in equal quantities and neither commands a premium.
Compared to other gridiron issues from the era, the 1969 Topps Football set can be difficult to assemble in top condition. With their full-bleed backgrounds, the first-series cards are susceptible to chipping on their edges. But Thomas says poor centering on the white-bordered, second-series cards represents a larger condition obstacle than the chipping.
Steinsiek agrees.
"From [card] #240 to the end, those cards are hard to get [in high grade]," he said.
Thomas has also noticed a green imprint of the football with the card number in it on the fronts of some second-series cards.
"I think that's probably from the sheets being stacked on top of each other," said Thomas. "And if the ink wasn't dry on the back, it could come off on the front of the card underneath it. I've seen it mostly in the second series."
The black borders on the card backs in both series are also prone to chipping.
Steinsiek says there's significant demand for high-grade cards from this series.
"The prices for the [PSA] 10s go through the roof," he said. "In the last two or three years, there seems to be a whole lot more movement and availability of the [1969] cards. And when I do sell my [PSA NM-MT] 8s, I always get my money back and more. So I do think that the popularity is strong."
Massaro has also seen a "healthy following" for these cards and he believes this offering is a good vintage set to start with on the football registry.
"If you're happy with PSA [NM] 7s and 8s, there are plenty of samples out there at reasonable price points," said Massaro. "It's a doable set that you're not going to get too frustrated with. I wholeheartedly recommend it to anyone who is just starting out."
---
Please feel free to contact Kevin Glew at [email protected] if you have any additional information or comments. Thanks to Mike Thomas for providing scans to go with this article. Please note that the Population Report figures quoted and Set Registry rankings reported are those as of January 2014.