WEST BERLIN, NJ – DEC. 18, 2013 – On July 11, 1914 the greatest player in baseball history, Babe Ruth, played his first MLB game and baseball was forever changed. Exactly 100 years later, Goldin Auctions, the Babe Ruth Birthplace Museum and Steiner Sports will also make history when they hold the largest auction of Babe Ruth memorabilia in the Goldin Auctions Babe Ruth Centennial Auction.
Just like the Babe, who was a dual threat as both a pitcher and hitter, the Goldin Auctions Babe Ruth Centennial Auction will be open to bidders in an Online Auction at www.GoldinAuctions.com culminating with a Live Auction format on Saturday, July 12th at the Babe Ruth Birthplace Museum & Sports Legends Museum at Camden Yards in Baltimore. The Live Auction, which will also be webcast at GoldinAuctions.com for bidders unable to attend the live auction, will be preceded by a special preview night at the museum for registered bidders on July 11th. Appropriately, the Yankees will be in Baltimore to face the Orioles that weekend.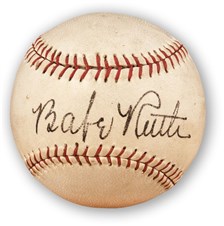 "As a player, Babe Ruth was in a class by himself and appropriately his influence on the sports collectibles industry is unmatched," explains Ken Goldin, Founder of Goldin Auctions. "The Babe did everything big, so it's appropriate to celebrate him with the biggest sports memorabilia auction ever. We're excited to partner with the Babe Ruth Birthplace Museum and Sports Legends Museum at Camden Yards and Steiner Sports to bring these great Babe Ruth treasures to auction."
The New York Yankees memorabilia partner, Steiner Sports will aid in the marketing and promotion of the event and provide a wide selection of unique items including collectibles from Yankee Stadium, game-used Yankee memorabilia, plus high-end collectibles and unique fan experiences.
"Babe Ruth was a larger than life icon and had countless magical moments which took place on Yankee Stadium soil. We are pleased to be a part of this historic event with Goldin Auctions and the Babe Ruth Birthplace Museum" stated Brandon Steiner, President of Steiner Sports.
Collectors with Ruth, Yankees or other rare sports artifacts are encouraged to contact Goldin Auctions via email at [email protected] to have their items appraised for consignment into the auction. Collectors interested in registering to bid in the auction and attend the Live Auction and/or preview night can do so at www.GoldinAuctions.com.
The Goldin Auctions Babe Ruth Centennial Auction will include up to 200 super–premium items in a Live Auction plus more than 1,500 items for sale exclusively online. Many of the key items in the auction, including many of Ruth's personal effects will be available for viewing at both the Babe Ruth Birthplace Museum and the Sports Legends Museum at Camden Yards leading up to the auction. Some of the high-value Live Auction items already consigned include:
1916 Babe Ruth rookie era game used bat (PSA GU-9). This recently discovered bat, which has been in the possession of the original owner's family in Massachusetts for 97 years, is one of the three earliest known Ruth bats to be graded and authenticated, and the highest graded of the three.

1914 Baltimore News Babe Ruth rookie card. Although not as famous as The T206 Wagner, this card may be just as rare and valuable. In fact, a recent version graded PSA1 sold for more than a comparably graded Wagner. It is clearly the most valuable Ruth card in existence.

1932 Babe Ruth game used bat (PSA GU-10) with New York Yankees provenance and letter from the Yankees.

1920's Babe Ruth game used and autographed bat
"We are pleased to be working with Goldin Auctions on this historic occasion. We are excited that all the patrons of our museum will be able to celebrate the 100th anniversary of Babe Ruth's major league debut with us throughout 2014 with new additions of historic memorabilia on display," added John Hein, Director of Business Development Babe Ruth Birthplace Museum and the Sports Legends Museum at Camden Yards.
The Goldin Auctions Babe Ruth Roadshow will begin in January as memorabilia experts from Goldin Auctions, accompanied by a television production crew, will canvass the country to find vintage Ruth artifacts. Highlights from the Roadshow will be featured in a television special in advance of the auction, and potentially a documentary series. The Roadshow will make stops in New York, Boston, California and Baltimore plus multiple Midwest cities. The Roadshow schedule will be available in January at GoldinAuctions.com plus their social sites on Facebook and Twitter. The production will be handled by Silent Crow Arts.
Although the Ruth items are the centerpieces of the historic auction, collectors will also have the opportunity to bid upon items from other legendary Yankees players such as Joe DiMaggio, Lou Gehrig Mickey Mantle and Yogi Berra. Several spectacular items from these legendary Yankees have already been consigned including: a DiMaggio 1941 game used bat from the season of his 56-game hitting streak, MVP and World Series championship; a Mantle 1966 game used and signed fielder's glove which is the last glove he wore as a centerfielder; Mantle's 1960 player's contract; a 1951 Mantle rookie game used and signed bat; plus a matched pair of Yogi Berra game used catcher's mitt and mask.
About Goldin Auctions: Sports memorabilia impresario Ken Goldin has sold more than $600 million in memorabilia from many of the biggest names in sports, history and pop culture and was the pioneer of using the medium of television to sell sports memorabilia. Earlier this year, Goldin Auctions sold a Honus Wagner T206 card for a public sale record $2.1 million. Goldin Auctions strives to break new ground and offer collectors the best in collectible treasures up for auction in the marketplace. All game worn or autographed items come with team, player, league or additional LOA from industry leading authenticators; and collectors can bid with confidence that their proxy/ceiling bids remain confidential. For more information, visit www.goldinauctions.com.
About Steiner Sports: Steiner Sports is the leading producer of authentic hand-signed collectibles and the best source for all your sports gift needs. Autographed memorabilia by athletes like Hank Aaron, Joe Namath, Magic Johnson and Muhammad Ali is the hottest new solution for personal and client gifts, as well as sales incentives, employee recognition and charity fundraising auctions. Steiner Sports has exclusive autograph deals with Derek Jeter, Mariano Rivera, Ray Rice, Eli Manning, Mark Teixeira, Henrik Lundqvist and Lou Holtz among others. Steiner Sports is the official memorabilia company of the New York Yankees, New York Mets, Syracuse University and the University of Notre Dame. For more information visit www.steinersports.com.
About the Babe Ruth Birthplace Foundation, Inc.: The Babe Ruth Birthplace Foundation, Inc. is an independent, not-for-profit educational institution dedicated to perpetuating the historic legacy of Babe Ruth, Baltimore's Orioles and Colts, and local and regional sports at the amateur, collegiate and professional levels, by preserving, exhibiting, interpreting and augmenting its collection for a diverse audience. It operates both the Babe Ruth Birthplace & Museum and the Sports Legends Museum at Camden Yards in Baltimore and online at www.baberuthmuseum.org.
About Silent Crow Arts: Silent Crow Arts is a boutique television and film production company that has successfully managed to create highly viewed (and highly regarded) television shows in completely varied formats. For more information visit www.silentcrow.com.