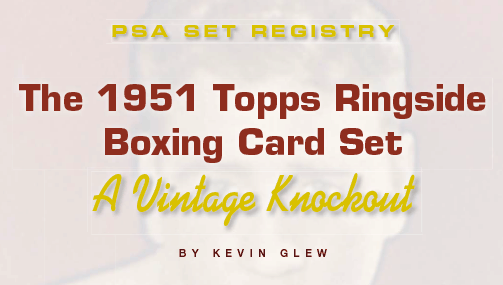 It's the "quintessential" boxing issue.
That's how veteran hobbyist Tom Hickey describes the 1951 Topps Ringside set.
"Within the boxing collecting world, it's probably the most prestigious set to own of all of the boxing sets," said Hickey, who possesses the No. 2 Current Finest, 1951 Topps Ringside set on the PSA Set Registry.
And it's hard to argue with his assessment.
This comprehensive 96-card set - which also includes pasteboards of five wrestlers - highlights boxing greats from several decades on colorfully designed cards.
"Topps did a good job of including [boxing] stars from the late 1800s all the way up to 1951," noted Hickey.
One of Topps' first sports issues and its only extensive boxing offering, this set was released in two, 48-card series. The white-bordered card fronts showcase a drawing of the subject against a color background. The boxer's name, weight class and, if applicable, a belt-like design highlighting any held titles is located along the bottom.
The vertical backs flaunt the card number, name, weight class and vitals (e.g., born, height, weight, etc.) at the top, followed by statistics (e.g., bouts, won/loss record, knockouts, etc.) and a bio. The bios offer interesting trivia about these legendary pugilists. For example, Henry Armstrong's single (#2) notes that he "is now a gospel preacher," and Rocky Marciano's pasteboard (#32) shares that he had a tryout with the Chicago Cubs in 1946. The word "Ringside" is highlighted in all-caps across the bottom back of the card, above the copyright information.
These cards were distributed in one-card penny packs and in five-cent packs that housed pasteboards in a two-card panel configuration. This explains why some of the cards can be found with perforations along the borders. Two-card panels that remain intact command a premium.
"Both types of packs are tough to find, but the five-cent packs appear to be tougher than the one-cent packs," said Brent Butcher, who owns the registry's No. 3 Current Finest, 1951 Topps Ringside set. "And the five-cent packs do command a premium over the one-cent packs - one, they have more cards in them, and two, they come in panels and it's tough to find these cards still in panels."
Butcher adds that second-series cards (#49 to #96) are a little more difficult to track down than their first-series counterparts (#1 to #48).
You can discern approximately when each series was distributed by reading the card backs. For example, the back of the Ray Robinson card (#43) describes how he defeated Jake LaMotta to capture the middleweight crown in February 1951. From this, we can deduce that the first-series cards were not released until after February 1951. Similarly, the back of the Bob Murphy card (#49) discusses his fight with Joey Maxim for the lightweight title on August 22, 1951, so the second-series cards were not released until after that date.
Four cards - Ray Robinson vs. Marty Servo (#34), Tony Zale vs. Marcel Cerdan (#44), Kid Gavilan vs. Paddy Young (#75) and Joe Walcott vs. Ezzard Charles (#85) - feature two boxers duelling. These cards generally don't command a premium. It's interesting to note, however, that counting his appearance on the dual card, Walcott is featured on three cards (#6, #31, #85) in this issue.
The only set to rival the 1951 Ringside offering from that era is the 1948 Leaf set. But that 50-card, skip-numbered issue features a drab design and is just over half the size of the Topps issue.
"Compared to the 1948 Leaf set, I like the look of the Ringside set much better," said Butcher.
One glaring omission from the 1951 Topps Ringside set is Jack Johnson, who became the first African-American boxing champ in 1908. Legal woes, however, later forced him to live in exile outside of the U.S. for seven years.
"I don't know why they don't have Jack Johnson in there," added Butcher. "But he was a pretty controversial figure, so maybe Topps didn't want to touch that."
One of the most popular boxers in the Ringside series is Rocky Marciano (#32). This is one of the only cards produced of Marciano during his boxing career.
"The Marciano is available in high grade. You just have to be willing to pay for it," said Butcher.
Of the 369 evaluated, there have been two PSA MINT 9s, one PSA NM-MT+ 8.5 and 28 PSA NM-MT 8s. One PSA 8 sold for $3,000 on eBay in April 2013.
Butcher says the Joe Louis single (#88) is more elusive than the Marciano in flawless form. There has yet to be a PSA 9 of the Louis card and there is just one PSA 8.5 and 18 PSA 8s. One PSA 8 fetched $710 on eBay in July 2013.
There are also four short prints - Bob Murphy (#49), Bob Fitzsimmons (#55), Pete Mead (#61) and Carlos Chavez (#89) - in the second series that tend to garner lofty sums.
"There's a controversy over what the toughest card is. A lot of people say it's Bob Murphy (#49). But in my experience, the Murphy is almost as available as the other short prints," said Butcher.
The seven PSA 8s of the Murphy card represent its highest graded examples. One PSA 8 sold for $4,054.93 in a Memory Lane, Inc. auction in December 2006.
Butcher and Hickey say the short-printed Fitzsimmons single (#55) is also evasive in top condition.
"The Fitzsimmons is usually off-center," noted Butcher. "And in fact, if you find a centered one, the sheet was probably cut off-center. That's definitely the toughest card to find. You find it off-center both top-to-bottom and left-to-right."
There is just one PSA 9 and two PSA 8s of the Fitzsimmons card.
According to the PSA Population Report, the cards at the beginning and the end of this set are also difficult to uncover in pristine condition. Just five and three PSA 8s exist of the first (GusLesnevich) and second (Henry Armstrong) cards respectively, while just four and seven PSA 8s have been graded of the second-last (Gene Tunney) and last cards (Ezzard Charles).
As noted earlier, there are also five wrestling cards - Rudy & Emil Dusek (#9), Gene Stanlee (#17), Antonio Rocca (#53), Ilio DiPaolo (#77) and Don Eagle (#86) - in this issue. Just 12 - by far the lowest number of submissions of any card from this series - of the Duseks card have been submitted for grading. This card is frequently found off-center left-to-right. But despite its low number of submissions, one of the three PSA 8 examples (with no cards grading higher) sold for a modest $307.60 on eBay in August 2013.
Butcher says putting together a high-grade set of these cards has been a challenge.
"It seems like the second-series cards are a little tougher to find in high grade and that may be because of lower production numbers," he said.
Centering woes and toning on the borders are two of the condition issues associated with these cards.
"The qualifiers on these cards can vary," explained Hickey. "I've also seen them with gum stains. I think overall the production [of these cards] was low to begin with."
Both Hickey and Butcher have seen a rise in interest in this set in recent years.
"I don't know if the collectability has grown or if it's just an increase in the number of collectors wanting to register their sets on the registry," said Butcher. "But it's a key set of the second-half of the [20th] century."
Hickey has also seen a spike in interest.
"I think people are realizing that collecting boxing cards is a very fun, extensive hobby because it's international as opposed to baseball and football [which primarily attracts North American collectors]," Hickey said. Plus, it's an economical set as well, he added.
These hobbyists also expect to see the demand for this set grow in the future.
"I don't see the market for this set going down," said Butcher. "It's basically the only [boxing] set out there in the last half of the century and it covered, at that time, boxing figures from the last 65 to 70 years."
Hickey expresses similar thoughts.
"I think interest is only going to expand because it's the most wide-ranging Topps boxing set," he said. "I find that a lot of the collectors really go after the Topps cards in all sports. If you're a Topps collector and a history buff of the Topps company, then this is definitely a must-have set, and it's going to prove to be one of the rarest sets overall."
View the set in the PSA Set Registry.
---
Please feel free to contact Kevin Glew at [email protected] if you have any additional information or comments. Thanks to Robert Edward Auctions for providing images to go with this article. The cards in these images are part of a set that will be available in their April 2014 auction. Please note that the Population Report figures quoted and Set Registry rankings reported are those as of November 2013.