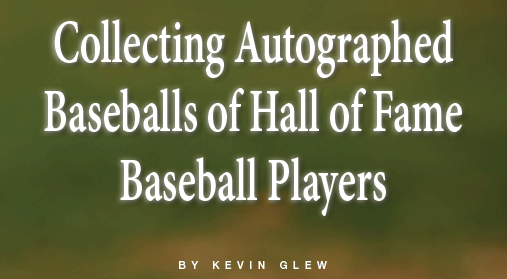 It's the Holy Grail of Hall of Fame sets.
Sure, the idea of completing it is daunting, a monumental challenge that requires hobbyists to obtain autographs of baseball's biggest legends on the sport's most symbolic object. But this hasn't stopped more than two dozen Set Registry enthusiasts from pursuing the Hall of Fame Players Autographed Baseballs set.
"When a player is inducted into the Hall of Fame, it takes the value of their autograph to a whole different level," noted Arthur Lobbe, who collects autographs of Cooperstowners. "Joe Gordon's autographs became much more popular after he was inducted into the Hall of Fame this past year."
Hobbyists are currently required to track down 192 signed balls to complete the set. The balls must be authenticated and graded by PSA/DNA to qualify for the registry. The grading process is spelled out on the website, but PSA/DNA experts evaluate the signature and the ball. For set registry purposes, a bonus point is awarded if the ball is signed on the sweet spot.
"I look at the Hall of Fame as a living organism. My grandchildren will know Hall of Famers during their lifetime. They will see players who will one day get into the Hall of Fame play," said Lobbe, when asked about the appeal of collecting Cooperstowners. "It's just like me watching Joe DiMaggio and then Mickey Mantle play. They're all part of this club, and it's easy to reminisce about this exclusive club of great players. It's never going to die."
Eric Sanders, who owns the registry's No. 2 Current Finest, Hall of Fame Players Autographed Baseballs set, also appreciates the historic value of his collection.
"It's a way to connect the past and the present -- and to connect to the history of baseball. To me, my collection is really special," he said.
Sanders also treasures the fact that Cooperstowners have touched these collectibles.
"You can sit and look at the ball and say, 'This ball was in Ted Williams' hands,'" he enthused.
But uncovering a ball that some Hall of Famers have touched can be arduous. In fact, the signatures of 33 players (for a list, click this link) have been identified as "super rarities" on the registry. A bonus point is awarded for each of these elusive autographs.
"There are not a lot of single-signed items of the more obscure Hall of Famers," said Josh Ferguson, who owns the registry's No. 11 Current Finest, Hall of Fame Autographed Baseballs set.
Single-signed balls from legends like Lou Gehrig, Christy Mathewson and Mel Ott are rare, but examples have surfaced. The same cannot be said for many of the Negro League legends inducted into Cooperstown. Negro Leaguers were rarely asked for their autographs and when they were, they would generally sign scraps of paper or scorecards that have been lost over time.
"I think that after collecting all of the living Hall of Famers, the challenge is to start working backwards and begin collecting the deceased players; and they're hard to find," noted Ferguson.
The signatures of some Cooperstowners who toiled in the late 19th century are extremely elusive. Hard-throwing right-hander Amos Rusie, who won 245 games in nine National League seasons, is one such Hall of Famer. His dominance inspired the rule change that moved the pitcher's mound from 50 feet to 60 feet, six inches from home plate.
"Rusie was a tough autograph to obtain because he played during a period when autographs were not collected, so he's very difficult to find on anything," said the principal authenticator at PSA/DNA. "Is he impossible? No. There are a handful of valid examples that exist, maybe 10 in total. The last one I saw was in an autograph book from around 1924 or 1925. He signed on a single page. Ruth and Gehrig and other Yankees had also signed the book. He was probably just at a game and signed it for a fan that recognized him or was told to get his signature."
Authenticated by PSA/DNA, a page autographed by Rusie and other legends similar to the one described above sold for $19,120 in a Heritage Auctions sale in October 2007.
Another 19th century star whose autograph is evasive is Mickey Welch. Like Rusie, Welch was a dominant right-hander with the New York Giants. He was the third big leaguer to rack up 300 career wins.
"Mickey Welch's signature barely exists in any form," explained the lead PSA/DNA authenticator. "Much of what applies to him applies to Rusie, but he also wasn't as famous as Rusie. There are a few authentic examples of his signature, maybe six or so that I've seen."
A Babe Ruth ball is, of course, also a key to this set.
"There are so many Babe Ruth balls out there. You can go to any auction and it will have a single-signed Babe Ruth ball. So if you have a certain amount of money set aside, you can get a Babe Ruth ball. The Babe Ruth ball is wonderful because it's Babe Ruth, but it's not scarce," noted Sanders.
It's the cost of the Bambino balls and those inked by other high-profile Hall of Famers that often presents a challenge.
"For my budget and my reality, I will never own a Grover Cleveland Alexander ball. I will never own a Cap Anson ball," said Sanders, who's focused his collection on post World War II Hall of Famers.
But even if you have deep pockets, it's still very difficult to track down some of the balls.
"For some of the registry sets, it's just a matter of money. If you have the money, you could basically get a complete set in a year. Now when you get into autographed balls, it doesn't matter how much you have," said Ken Harrington, owner of the registry's No. 3 Current Finest, Hall of Fame Players Autographed Baseballs Set.
Collectors must also be wary of counterfeits. At PSA/DNA, it is not uncommon for more than half of the Babe Ruth, Lou Gehrig, Jackie Robinson, Roberto Clemente and Mel Ott submissions to be rejected.
The prevalence of such forgeries is the most important reason to have your items authenticated by PSA/DNA. In addition, having them graded will prevent potential gray areas in transactions.
"The value in having a ball graded by PSA/DNA is that you have the same understanding as the other person," explained Harrington. "So if you were buying it, you know what you are getting."
Another benefit to using PSA/DNA's grading services is that it tends to dramatically increase the value of the ball. An ungraded Ty Cobb signed baseball, for example, typically fetches around $5,000, but a PSA GEM MT 10 example fetched $51,518. Similarly, an ungraded autographed Babe Ruth ball tends to sell in the $20,000 range; a PSA 9.5 example, however, sold for $388,375 by Heritage Auctions in 2012.
"The PSA/DNA staff of authenticators is the very best in the industry," said renowned Hall of Fame autograph collector, John Blattner. "They're the best."
View the set in the PSA/DNA Set Registry.
---
Please feel free to contact Kevin Glew at [email protected] if you have any additional information or comments. Please note that the Set Registry rankings reported are those as of November 2013.