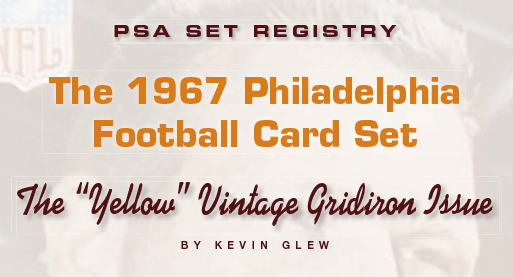 Their photos may be surrounded by yellow borders, but no one would dare accuse the gridiron giants in this issue of being cowards.
The 1967 Philadelphia Football set, the last of the company's four NFL offerings, is chock-full of Hall of Famers - including rookie cards of Leroy Kelly (#43), Dave Robinson (#80), Jackie Smith (#165), Dave Wilcox (#178) and Chris Hanburger (#183). But despite this impressive player selection, the yellow borders are the most talked-about feature of this set.
"The yellow borders certainly make these cards easily distinguishable from the other three Philadelphia sets," said Mike Thomas, who owns the No. 4 Current Finest, 1967 Philadelphia Football Set on the PSA Set Registry. "I kind of like that about them. The other three Philadelphia sets are a little too much alike for my taste."
Aside from its yellow borders, however, this Philadelphia issue is similar to its predecessors. Like the 1964 to 1966 Philadelphia offerings, this set is comprised of 198 NFL cards sequenced alphabetically by city and then by the player's last name within each team. Twelve cards are devoted to each of the 16 NFL clubs, with the first card in each team section being a team photo card, followed by 10 player cards and a team logo single.
The only exception is the segment dedicated to the expansion New Orleans Saints, who joined the NFL for the 1967 season. Because no team photo was available, a Saints helmet is pictured on the first (#121) and last (#132) cards of the New Orleans portion of the set. The backs of both cards list the players the Saints selected in the expansion draft, but the size of the helmet and the wording on the bottom of the fronts of these two pasteboards are different. Card #121 showcases a large helmet and the team name at the bottom, while the last card (#132) exhibits a smaller helmet, the team name and the following notation: "On the back of this card are names of New Orleans players and the teams from which they were picked." Additionally, the back of #132 is mistakenly numbered #121.
As with the previous Philadelphia sets, there are also two checklists at the end of the set, and like the 1966 series, card #196 highlights referee signals. However, the number of "Play" cards was reduced dramatically for this issue. In prior Philadelphia offerings, there was a "Play" card for each NFL team. In the first two Philadelphia sets, these cards presented diagrams of plays, but in 1966, the diagrams were replaced with action shots. Just three "Play" cards (#193 to #195) are included in the 1967 set.
"I'm sure Philadelphia got some type of feedback from the kids collecting at that time that got a 'Play' card. When you open up a pack, you'd rather have a player than a 'Play' card," noted Frank Massaro, who owns the registry's No. 2 Current Finest, 1967 Philadelphia Football set. "I'd think by 1967, Philadelphia kind of wised up and minimized the number of 'Play' cards without eliminating them."
Aside from the yellow borders, the fronts of the 1967 Philadelphia cards flaunt a large player photo, accompanied by the player name, team and position in a rectangular block across the bottom. The NFL logo is situated on the top left or right.
The horizontal, brown-bordered backs are divided into two sections. The left half showcases a trivia question about the player. To uncover the answer, collectors were encouraged to rub a coin over a blank area. The card number is also indicated in a helmet design at the bottom.
The right side of the card backs house the player's name, team and position, as well as their vitals (e.g., age, college, height, weight, etc.), followed by a biographical write-up. Copyright information runs up the middle of the card.
These cards were distributed in six-card, nickel packs and cello packs. There were no inserts in the wax packs. Hobbyists seem to agree that these cards were produced in smaller quantities than the 1964 and 1965 Philadelphia cards.
On his website (www.footballcardgallery.com), Thomas indicates that the 1967 Philadelphia cards were printed on two connecting, 132-card sheets (264 cards). With 198 cards in this set, Thomas believes that 66 cards were double-printed, although the double-prints haven't been documented in any price guide.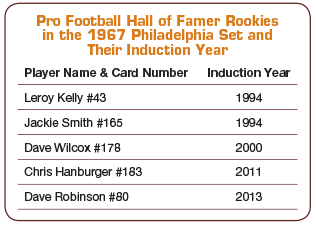 Thomas hasn't seen the 132-card sheets, but he's been attempting to recreate the sheets by collecting miscut cards and by applying what he has learned about the other Philadelphia Football sheets from the same time frame. (His virtual 1967 Philadelphia Football sheet can be found at this link.)
Among the cards Thomas believes to be double-prints are Hall of Famers Bob Lilly (#55), Herb Adderley (#74) and Fran Tarkenton (#106), as well as the first checklist (#197).
As noted earlier, this set boasts rookies of five Hall of Famers that, as No. 1 registry set owner Mike Cacchione points out, have been inducted relatively recently.
"The Kelly and Smith rookies are tough, but I find a lot of the other three Hall of Famer rookies," noted Thomas.
Joe Mancino, who has assembled the No. 5 Current Finest set, says the Kelly is "the biggest rookie in this set." Massaro says the Kelly is also elusive in top condition.
"There's only one example graded higher than an [PSA NM-MT] 8," he said.
The sole PSA MINT 9 Kelly rookie fetched $2,500 on eBay in May 2013.
Mancino adds that the Hanburger rookie is also evasive in pristine condition. There has yet to be a PSA 9 example of this card.
"Those cards in [PSA 8] have been selling for $400 or so," said Mancino.
Other prominent players to debut in this issue are Tommy Nobis (#7), Lee Roy Jordan (#54) and Dan Reeves (#58).
By my count, 34 Hall of Famers are featured in this offering, including pasteboards of Johnny Unitas (#23), Dick Butkus (#28), Mike Ditka (#29), Gale Sayers (#35), Bart Starr (#82) and Paul Hornung (#123). Cacchione owns the sole PSA 9 Butkus card.
"There are only two [PSA] 9s of Bart Starr," said Cacchione. "That's a very tough card."
The Hornung single is interesting because it lists his team as the New Orleans Saints. Many have probably forgotten that Hornung was selected by the Saints in the expansion draft and attended the club's training camp before a neck injury forced him to retire prior to the season.
The most difficult Hall of Famer to obtain in high grade in this series is Mel Renfro (#59). Cacchione has probably reviewed over 100 Renfro cards and they always seem to have some sort of flaw.
"I've seen them off-center top-to-bottom, but I've also seen them off-center left-to-right," he said. "And I've also seen them off-center both top-to-bottom and left-to-right."
On top of centering woes, Cacchione has also seen surface creases on the Renfro, and Thomas points out that it's often found with roller marks running vertically down the front. Of the 44 submitted to PSA, there has been just one PSA 8, with no examples grading higher. A PSA NM 7 sold for $204.49 on eBay in April 2011.
Another card that suffers from similar condition woes is the Tom Matte (#21).
"If you do a search on eBay, you'll see that almost every one has a roller mark [running] vertically down the front of the card," noted Thomas. "Some of the marks are darker than others, but I think almost every card has them."
Cacchione has also discovered a lot of the Matte cards with creases right out of the cello packs he opened.
"The [Matte] cards I had were all creased directly above the number '1' on the front of the jersey running left to right," he said. "Some [of the creases] ran longer, but most were about three-quarters of an inch or so."
Like the Renfro, just one PSA 8 Matte card exists (with nothing grading higher). The sole PSA 8 commanded a whopping $2,358 on eBay in October 2009.
Two other singles - the Baltimore Colts insignia (#24) and Frank Ryan (#44) - only have two PSA 8 examples each. And similar to the 1965 Philadelphia set, the second checklist, which is also the last card in the set, is much tougher to track down than the first checklist. There have been 217 copies of the first checklist (#197) submitted for grading, with 138 of those receiving a grade of PSA 8 or better. In contrast, just 98 of the second checklist (#198) have been sent into PSA and only 44 have been deemed PSA 8 or better. Thomas believes the first checklist was a double print and it appears twice on his virtual sheet.
"With the first and last cards, you always had the rubber band issues. You always had the wear and tear issues, especially if it's a checklist," explained Massaro. "Back then, kids didn't always save their checklists, and when they did, some of them would mark them up."
There are also several uncorrected errors in this set, the most glaring being that Bob Boyd is pictured on Raymond Berry's card (#14). There are also multiple spelling mistakes. For example, Ernie Wheelwright's last name is misspelled "Wheelright" (#11) and Rudy Bukich's name is spelled "Buckich" on his single (#26). Philadelphia also once again misspelled Herb Adderley's last name (Adderly) on his pasteboard (#74) and Charlie Johnson's first name (Charley) on his card (#161) and on the second checklist (#198).
Aside from the roller marks on the Renfro and Matte singles, these cards are also frequently found with chipping on their front (yellow) borders and back (brown) borders.
"The brown borders do show chipping on the corners," said Thomas. "Before I buy a card, I always flip it over to see [the brown borders]."
Thomas also sees a lot of rough-cut cards from this series.
"In the four years that they produced football cards, it looks like they never sharpened their blades," he said. "Each year they made their sets, the cuts were getting rougher and rougher."
Cacchione has noticed the same rough cuts.
"I'm not sure what they used to cut the cards, but a lot of them have really, really bad edges," he said.
Mancino says centering issues also plague these cards.
"In my experience, I've found centering to be a bigger problem than the yellow borders," he said.
PSA Population Report statistics indicate that this set is tougher to assemble in high grade than its Topps contemporary. The 132-card, 1967 Topps issue boasted cards of AFL superstars like Joe Namath, Len Dawson and Lance Alworth, but unlike its Philadelphia rival, it doesn't have any Hall of Famer rookies.
With Robinson's induction into the Pro Football Hall of Fame in 2013, the 1967 Philadelphia set boasts rookies of five players with busts in Canton.
"The number of Hall of Famer rookies from this set keeps increasing," said Cacchione. "There are still guys in this set who could end up in the Hall of Fame. Tommy Nobis is in this set. This set [also] has Dan Reeves' rookie card. Lee Roy Jordan is another rookie in there. You got a lot of really nice, early career cards of players."
Massaro echoes many of Cacchione's thoughts.
"Dan Reeves has a shot at the Hall of Fame. I think Tommy Nobis should be in the Hall of Fame. And Lee Roy Jordan is maybe not a Hall of Famer, but I think he's undervalued," he said. "I think the set, in and of itself, is extremely undervalued. And when more of these guys like Tommy Nobis start making it into the Hall of Fame, this set is going to start getting a little more publicity."
But Hall of Famer rookies aside, the 1967 Philadelphia Football set is still best known for its bright yellow borders.
"I love the yellow borders. I just think they're really sharp," said Cacchione. "These cards just don't look like anything else that Philadelphia produced."
---
Please feel free to contact Kevin Glew at [email protected] if you have any additional information or comments. A special thanks to Mike Thomas for sharing information from his website: http://www.footballcardgallery.com. Thank you to Mike Thomas and Heritage Auctions for providing photos for this article. Please note that the Population Report figures quoted and Set Registry rankings reported are those as of October 2013.