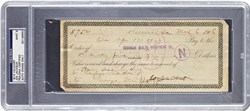 Goodwin and Company's current auction offers one of the hobby's rarest autographs, a signed Joe Jackson voucher, leads off our auction. This incredible document is graded 9 Mint by PSA/DNA. It will undoubtedly become a centerpiece in even the most advanced collection.
The most difficult Babe Ruth Goudey to find in high grade, the yellow #53, is presented in a breathtaking PSA 8 example. Another "Bambino" highlight in this catalog is a centered M101-5 Babe Ruth rookie.
One of the greatest athletes of all time, Jim Thorpe, is represented with a rare, high grade 1922 Zeenut card. This card is seldom seen and never in this superb condition!
Not to be missed is the stunning 1914 Cracker Jack Joe Jackson, a 1969 Topps Super Set graded PSA 9 and PSA 10, an outstanding offering of Type 1 vintage photos, the Clemente, Banks and Aaron rookie cards and several fabulous postcards some of which are signed by Cy Young and Honus Wagner. Finally, no Masterpieces & Uncommon Commons auction would be complete without a wide array of T206 cards with rare backs and print variations such as found in this catalog.
Note that Goodwin and Company's current auction is a departure from our normal Thursday auction close. This auction is now live and ends, Friday, November 15. Be sure to visit www.goodwinandco.com to bid today!