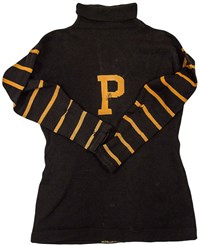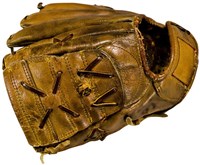 WEST BERLIN, NJ - OCT 30, 2013 -With only 3 days left in the Goldin Auctions' October Legends event, some of the most significant and unique game used memorabilia from many of the greatest players in sports will have a new home as the auction comes to an end. Until November 1, collectors can visit www.GoldinAuctions.com, and have the opportunity to bid upon more than 1,300 lots of memorabilia including 400 game used items, 40 championship rings and awards, dozens of historical sports documents and hundreds of lots of rare cards. For more information, visit www.GoldinAuctions.com.
Headlining the trove of game used memorabilia is a Lou Gehrig 'small signature' game used bat from 1936-38 (Lot #1). Graded PSA GU-9, the bat is one of the coveted Hillerich & Bradsby models rarely offered at auction as only seven were ever produced (current bid $160,771). A bat from the greatest first baseman in baseball history is rare, but a game used glove from the greatest pitcher in baseball history is even rarer. The 1959-60 Sandy Koufax Game Used Glove (Lot #7) is photo matched and has a rock-solid provenance from the man Koufax gave the glove to (current bid $35,433). A few of the other rare game used items include; (Lot #10) a 1955 Roberto Clemente rookie game used bat graded PSA 9 (current bid $47,163); and (Lot #5) an 1895-00 Princeton Tigers Game Worn football jersey, believed to be the earliest known football jersey in existence (opening bid $25,000).
For collectors who want a piece of their favorite championship team, the auction offers an incredible selection of nearly 30 championships rings including (Lots #22-53): 1975 & 76 Cincinnati Reds; 1996 & 98 NY Yankees; Super Bowl XVIII LA Raiders; Super Bowl XLII NY Giants player ring; 2006 Miami heat NBA Championship ring; and a 1978 Reggie Jackson Yankees Word Series ring (a second ring he ordered in 1978 and the one he wore as he kept original in safe) including an LOA from Jackson.
As of October 30 at Noon ET, here are some of the top items and their current prices.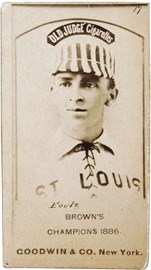 Lot #2 - The Cambridge Collection - over 2200 19th century baseball cards in the two original scrapbooks - $38,911
Lot #3 - 1917 Joe Jackson M101-6 (Mendelsohn) newly discovered one-of-kind baseball card -$32,157
Lot #6 - World's finest and highest graded Jimmy Foxx signed baseball (PSA 8.5) - $28,563
Lot #12-1939 Play Ball set. The highest ever graded set, collected by Jeffrey Gitomer, it is considered a PSA Hall of fame set. -- $117,900
Lot #16 - The 1956 Management contract between Elvis Presley and Colonel Parker granting Parker exclusive representation rights to Elvis. - $17,270
Lot #20 - Game Used Michael Jordan jersey from 97-98 Championship season (his last) Signed by Jordan with a letter from Chicago Bulls to Penny Marshall. - $25,286
Lot #21 - Yogi Berra 1955 Most Valuable Player Award - $19,489
Lot #22 - NY Giants Super Bowl XLII Player's Ring - $19.489
Lot #14 & Lot #15 - Game used Derek Jeter rookie batting helmet and rookie game used bat. $11,794 (Helmet) and $13,815 (Bat)
Lot #61 - Game used 2003 Mariano Rivera glove used for his 40th save that season. - $9,435
Lot #62 - Bryce Harper's Nationals jersey worn during first playoff game and playoff home run-$7,139
Lot #138 - 1955-57 Mickey Mantle game-used Hillerich & Bradsby M110 bat (PSA GU-8) - $21,438
Lot #247 - Albert Pujols 2011 World Series game used bat - $8,600
Lot #312 - Mike Trout's game worn fielders' glove from high school (LOA from Trout) - $11,120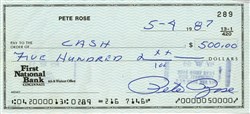 Lot #353 - Lot of four (4) Pete Rose Checks - not just any checks but four of the checks mentioned in the Dowd Report used by Rose to settle gambling debts. -- $2,500
Lot #367 - Marvin Miller's 1966 contract naming him Executive Director of the MLBPA (LOA from PSA/DNA) -- $2,600
Lot #371 - 1927 Babe Ruth and Lou Gehrig signed baseball. -- $19,489
Lot #373 - Home Run Champions baseball signed by Babe Ruth and Roger Maris - $7,312
Lot #790 - 1954 Red Heart #2 All-Time finest PSA graded complete set of 33 cards - $24,655
Lot #880 - Joe Montana's jersey worn in his final Championship game, the 1993 AFC championship (with LOA from Joe himself) - $16,097
Lot #976 - Wilt Chamberlain's 1967 contract with the 76ers. Signed by Wilt, team and league - $3,025
About Goldin Auctions
Sports memorabilia impresario Ken Goldin has sold more than $600 million in memorabilia from many of the biggest names in sports, history and pop culture and was the pioneer of using the medium of television to sell sports memorabilia. Earlier this year, Goldin Auctions sold a Honus Wagner T206 card for a public sale record $2.1 million. Goldin Auctions strives to break new ground and offer collectors the best in collectible treasures up for auction in the marketplace. All game worn or autographed items come with team, player, league or additional LOA from industry leading authenticators; and collectors can bid with confidence that their proxy/ceiling bids remain confidential. For more information, visit www.goldinauctions.com.