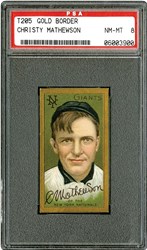 REA's Inaugural Fall Auction is live! Highlighted by the Michael Wachs #1 PSA Registry T205 "Gold Borders" tobacco-card complete set, the auction is comprised exclusively of extremely high-quality cards and memorabilia which are standard at REA. The Michael Wachs T205 set is one of the most extraordinary achievements in all of vintage card collecting. Due to condition and value, all cards from the set will be offered individually. Assembled over a period of decades, this legendary set is being retired as the #1 All-Time Finest set on the PSA Set Registry with an incredible 7.02 GPA. The set was inducted into the PSA Set Registry Hall of Fame in 2010, an honor reserved for only the finest sets. The T205 set, which features more than two dozen Hall of Famers, includes ideal examples of Christy Mathewson, Tris Speaker, and Cy Young in PSA NM-MT 8 and Ty Cobb and Walter Johnson in PSA NM 7. Collectors will be amazed at the stunning high grade of the Michael Wachs set, all the more so given the well-deserved reputation of T205 as one of the most condition-sensitive sets ever produced. The feat of assembling the set in an average grade of 7.02 becomes even more noteworthy when one considers that less than four percent of all T205s ever submitted to PSA have graded Near Mint 7 or higher. The Michael Wachs collection contains a jaw-dropping 192 cards graded PSA NM 7 or higher, including thirty-nine PSA NM-MT 8s and one PSA NM-MT+ 8.5. Approximately one out of every six T205s in the entire world ever graded Near Mint or higher by PSA are featured in this auction as part of the extraordinary Michael Wachs T205 Gold Borders set, and a total of 112 cards in the set rank as the highest graded on record. Any way you look at the set, it is simply an extraordinary collecting achievement and one which would be virtually impossible to ever duplicate in this uncompromising high grade, at least without help from cards from this very set! It is a special privilege for REA to present the set with each card offered individually, a manner which will allow many collectors to be able to acquire one or more cards from this historic set.
There are many other highlights! The Old Judge store advertising display (Lot #1) is one of the greatest and most important baseball card advertising display items in existence. A 1933 Goudey World Wide Gum "Triple Ruth" uncut sheet (with three Babe Ruths and one Lou Gehrig among its 24 cards), as well as a 1934 Goudey uncut sheet featuring Lou Gehrig, are two additional exceptional highlights. An extraordinary 1916-1918 Ty Cobb Pro-Model Bat (PSA/DNA GU9) presents a rare opportunity to acquire one of the finest Ty Cobb bats in existence with the added bonus of provenance tracing directly to Cobb. A flawless 1951-1952 Yogi Berra Pro-Model Bat (PSA/DNA GU10) with direct player provenance and a 1960 Ted Williams Pro-Model Bat dating to his final season are additional remarkable game-used bat highlights. In addition to the Williams bat, Boston Red Sox memorabilia is extremely well represented, highlighted by an incredible 1955 Ted Williams Boston Red Sox Game-Used Jersey (res. $40,000; est. open), a stunning 1915 PSA/DNA Type 1 Photo of the Red Sox pitching staff with Babe Ruth, as well as two presentation awards from Red Sox Championship teams: a 1912 World Champion's Medallion Presented to player Charley Hall (the equivalent of a World Series ring from 1912) consigned directly by his family, and a 2004 World Series Ring (the year "The Curse of the Bambino" was broken). Numerous signed items from Babe Ruth, Lou Gehrig, and other Hall of Famers appear throughout the auction as well as a run of World Series programs from 1911 to 1996 and an extremely rare 1923 Yankee Stadium Opening-Day Program. The auction features 1148 quality lots spanning all areas of sport and non-sport and closes Saturday October 19, 2013. The company is fresh off a record-setting $10.2 million auction which concluded in May. REA hopes the addition of a fall auction in the schedule will prove to be popular with collectors and consignors alike.
To review the catalog online, learn more about Robert Edward Auctions, receive a complimentary copy of the catalog or inquire about consignments, visit www.RobertEdwardAuctions.com. Robert Edward Auctions is currently assembling its next sale. For further information, contact Robert Edward Auctions, PO Box 7256, Watchung, NJ 07069, or call (908) 226-9900.
Robert Edward Auctions, LLC is one of the world's leading specialty auction houses, devoted exclusively to the sale of rare baseball cards, memorabilia, and Americana.