With 190 pounds of mostly muscle tamped into a five-foot-six-inch frame, "Hack" Wilson's body resembled his prime years in major league baseball: very powerful, but relatively short.
After playing in a handful of games with the New York Giants in his big league debut season of 1923, Lewis Robert Wilson saw much more action for the repeating National League pennant-winning Giants in 1924. Wilson played in all seven 1924 World Series contests, a hard-fought but losing effort to Walter Johnson and the Washington Senators.
Wilson's nickname reportedly surfaced during the 1924 season. The moniker is credited to various sources revolving around the slugger's resemblance in some way to one of the following: the early 20th-century wrestler George Hackenschmidt, Cubs' outfielder "Hack" Miller or a taxicab (also known as a "hack" at the time).
Regardless of the nickname's origin, checkered offensive numbers for the 25-year-old Pennsylvania native during the 1925 schedule contributed to a demotion to the minor leagues. After that season, the Giants pinned Wilson's name on the waiver-wire.
The Chicago Cubs, meanwhile, who finished last in the National League in 1925, hailed Hack from waivers and delivered him to Waveland Avenue, which bordered Cubs Park, the club's stadium.
The Cubs renamed the ballpark Wrigley Field in late 1926, but by that point, Wilson had already started making a name for himself in his new home.
Beginning in 1926, the outfielder hit at least 21 homers with 109 RBIs and a .313 average for five straight seasons. In that timeframe, Wilson won four home run titles and two runs batted in crowns.
In 1929, Wilson's bat helped the Cubs win the National League pennant, as his key numbers were 39/159/.345. In the 1929 Series he led all hitters with a .471 average, as the Cubs fell to the Philadelphia Athletics.
But many a baseball historian and Cubs' fan remember Wilson by one single season: 1930. In that campaign the diminutive and fiery outfielder hit .356 with 56 homers and 190 runs batted in, or so the story went for decades.
While Wilson's 1930 home run total was the National League record until the late 1990s, his RBI accumulation that year is still the major league mark. About 15 years ago, however, the Society for American Baseball Research (SABR) helped champion an RBI cause for the squatty slugger.
In short, research discovered a 1930 Wilson ribbie originally credited to another Cubbie. Substantial documentation backed the claim and eventually MLB revised Wilson's RBI record to 191.
But after that sensational season a mostly downward spiral began for Wilson, chiefly credited to too much alcohol consumption.
After a subpar 1931 campaign, the once great Cub moved on to the Brooklyn Dodgers in 1932, bouncing back to respectability with 123 RBIs. But 1933 saw his numbers dip like a biting curveball. Wilson spent about half the 1934 season as a Dodger and then played a few contests that year with the Philadelphia Phillies, ending his career.
From that point forward Wilson held mostly dead end jobs, but his battles with the bottle continued. He died essentially penniless in 1948 at age 48, just a few months after the 53-year-old Babe Ruth - the slugger he reminded some fans of for a couple of seasons less than 20 years before.
"Both Babe Ruth and Wilson had troubled lives," said collector Jason Glasser. "It's hard not to think they lived short lives."
Glasser owns a complete 1933 Goudey Baseball set (No. 6 Current Finest on the PSA Set Registry, No. 10 All-Time Finest) that includes both Ruth and Wilson, and it is the latter (card #211) that the hobbyist places among his top picks in his collection.
"The 1933 Goudey is the only Hack Wilson I own [a PSA EX-MT 6], but it's one of my favorites. I love that card," he said. "What is so interesting about that particular card, a very colorful card," he noted, "is that he was on the Dodgers. People don't think of Wilson as a Dodger."
Glasser observed that the 1933 Goudey Wilson, which shows the slugger finishing a swing with a bat, "takes you back to that time, to that era, more than most cards from that set."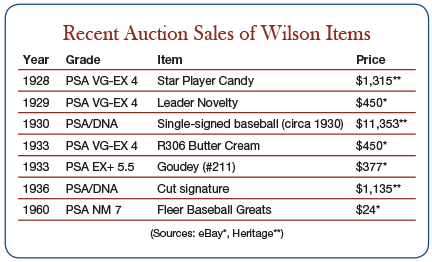 The 1933 Goudey Wilson remains, by far, the most prevalent of the slugger in the hobby from his active MLB service. There are over 400 examples of his card from that iconic set in PSA holders. The breakdown of that Wilson card in PSA NM 7, PSA NM-MT 8 and PSA MINT 9 is 34, 31 and 6, respectively.
In contrast, a 1933 Wilson piece that shows up on rare occasions: a PX3 Double Header Pin.
Collector David Duke is an avid PX3 fan, owning one of the few complete sets (No. 4 Current Finest and All-Time Finest). On his 1933 Wilson PX3, Duke said, "It's a highly collectible item. I treasure it."
The North Carolina resident said his PX3 Wilson (a PSA 6) is "one of the finest I own." Duke added, "There are only five PSA 6 PX3 Wilsons, with only one graded higher." He further notes that the PX3s are made of tin, came two to a package with gum in between the discs and when you "connected" them, back-to-back, they formed "a double header."
Wilson, unfortunately, did not appear in the 1934 Goudey Baseball offering, but he did show up in a very challenging set that year: National Chicle's Batter-Up issue. The 1934 die-cut set is the second, easiest-to-find Wilson card (#73) from his playing days, but only 48 PSA samples exist to date.
An even more offbeat 1934 Wilson item has a PSA Population Report total of one: a Diamond Matchbook cover. Sports memorabilia dealer Mike Mosier of Columbia City Collectibles said the 1934 matchbook, from Wilson's last season, enjoys a decent amount of popularity, even ungraded. "Wilson's [matchbook] is a little tougher to find than others in the set, even some of the other Hall of Famers," said the Indiana-based Mosier.
Earlier Years
Wilson's rookie card comes from the 1925 W504 Universal Toy and Novelty Company issue. Good luck finding that strip card, much less in decent shape. Whether it is an Exhibit card, an ice cream company issue (e.g., Harrington's, Tharp's or Yuengling's) or another hard-to-locate mid-to-late 1920s card, Wilson usually shows up in the Pop Report for any set he appears in, on average, with less than ten samples.
The 1927 E210 York Caramel Type 1 card of the slugger is a bit of a curiosity. Identified on the pasteboard as Hack Wilson, it appears 12 times in PSA holders, but the photo actually shows a player named Art Wilson. So is that 1927 York card really a member of "The Hack Pack"? Your call.
If a rare, somewhat exotic Wilson card is what you crave, the destination just might be in the 1930 Baguer Chocolate set, a Cuban issue. Only three Wilson Baguer's are encapsulated in PSA holders.
A few different 1931 Wilson's are in hobbyist's hands. The most prevalent? The W517s, with population numbers in the low 20s.
Post-Game Report
In 1960 and 1961, Fleer produced the "Baseball Greats" sets, with Wilson in each, showcasing several stars from many decades, including numerous Cooperstown enshrinees.
"I collected those Fleer sets as a kid," said Andy Sharp. The hobbyist now owns high-grade PSA samples of each offering, both with Top 20 slots on the Current Finest scoreboard.
Sharp pointed out that the 1960 Fleer Wilson (#48) depicts him in Cubs attire, but the 1961 card (#87) is unusual.
"The 1961 Fleer shows Wilson in a Phillies uniform; he only played for the Phillies for seven games at the end of his career," he noted.
What might be even stranger about Wilson for a particular pair of 1960 and 1961 baseball sets, containing players of various vintages, was his absence from them.
In both of those years the Nu-Card Company released baseball issues - Hi-Lites (1960) and Scoops (1961) - featuring notable MLB feats about current and former players. Several big names populate each, including Babe Ruth. But for some reason, no recognition of Wilson's impressive 1930 season, home runs or RBIs, can be found among more than 150 cards across the two sets.
In 1979 the Baseball Hall of Fame Veterans Committee voted Wilson into Cooperstown. As luck would have it, that year's Topps issue contained a subset pairing the all-time leader and season record holder in certain pitching and hitting categories.
For runs batted in, Hank Aaron's 2,297 represented the lifetime mark, still the gold standard, and pictured right next to "Hammerin' Hank" on that card (#412) is Wilson, for his standout year.
You can certainly say the slugger with the size six shoes "pulled his weight" in 1930 with respect to RBIs. Who knows, maybe he really tipped the scales at 191 pounds.
---
Doug Koztoski is a frequent contributor to SMR. He welcomes comments and questions related to this article at [email protected] Please note that the Population Report figures and Set Registry rankings are those as of August 2013.