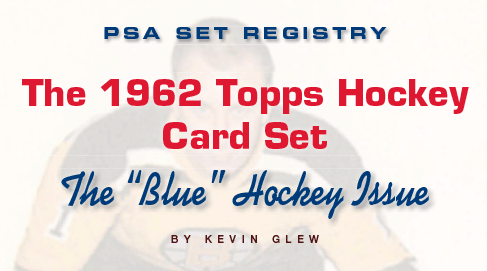 Finding pristine cards from this set is enough to make a collector "blue."
Fortunately, the PSA Set Registry enthusiasts pursuing the 1962 Topps Hockey set are a determined group that welcomes the challenge of tracking down these blue-bordered pasteboards in top condition.
"For me, the beauty of these cards is finding the high-grade material because they're so fragile due to their blue borders," noted Rich Katz, who owns the No. 1 set on the PSA Set Registry. "When you see nice examples of these cards, they really are quite outstanding compared to the cards which possessed white borders."
Earl Strohmeyer, who has assembled the registry's No. 5 Current Finest set, agrees.
"The one thing about the 1962 set that appealed to me was the fact that the blue borders were so difficult to find in really nice condition," he said.
On top of their distinctive, easily chipped blue borders, the fronts of the player singles in this 66-card series showcase photos against a plain white background. The team logo, player name, team name and position are highlighted across the bottom.
In this offering, Topps was once again restricted to manufacturing cards of players from the Boston Bruins, Chicago Blackhawks and New York Rangers, while Parkhurst published pasteboards of players from the Toronto Maple Leafs, Montreal Canadiens and Detroit Red Wings.
Strohmeyer points out that some of the same photos that Topps employed in their 1961 hockey set were used again in this series. He cites Phil Watson (#1), Stan Mikita (#34) and Rod Gilbert (#59) as examples.
"It looks like Phil Watson has a black eye or a bruise under his eye in his photo," noted Strohmeyer. "It's not the best picture Topps could've found of him, and they used it for at least two years."
Four players in the 1962 series are photographed without a logo on their jerseys. Two of them - Terry Gray (#20) and Murray Hall (#43) - are presented as members of the Bruins and Blackhawks respectively, but they never played a game for these NHL clubs in 1962-63. The two others - Al MacNeil (#32) and Bert Olmstead (#57) - switched teams in the off-season, so presumably, an updated photo wasn't available prior to production.
Unlike their 1961 offering, Topps didn't include a rookie designation on first-year player cards. They also dropped the "Hockey Highlights" cards from this set.
The predominantly light-blue backs showcase a black starburst at the top that highlights the card number, player name and position. A cartoon hockey player is located on each side of the starburst. The player's 1961-62 stats and biographical information in English and French follow, as well as copyright information that indicates the cards were printed in Canada.
These cards were distributed in five-cent packs that included gum and a "hockey buck." Modeled after the Canadian dollar bill, the Hockey Bucks were folded and inserted into packs. Eight players from each of the Bruins, Hawks and Rangers were featured in the Hockey Bucks set, which has proven to be difficult to assemble in pristine condition. Of the 116 submitted, there have been just eight PSA NM-MT 8s (with no examples grading higher).
"The centering is atrocious on them for some reason," noted Bobby Burrell, a highly respected hobby historian and author of Vintage Hockey Collector.
Burrell adds that the 1962 Topps cards were printed on 132-card sheets (12 rows of 11 cards). Because this was a 66-card set, it's safe to assume that each card was featured on the sheet twice.
Similar to the 1961 Topps Hockey issue, these cards are sequenced by team: Bruins (#1 to #22), Blackhawks (#23 to #44) and Rangers (#45 to #65). The respective coaches - Watson and Rudy Pilous - lead off Bruins and Hawks segments of the set, but the Rangers hadn't finalized their coach when these cards were being produced. Strohmeyer points out, however, that there is a card of Rangers trainer Frank Paice (#61).
A team photo card is the last card in each team section.
As with many vintage sets, the first and last cards in this issue command a premium. The aforementioned Watson single (#1) is elusive in top grade. Of the 87 sent into PSA, there have been six PSA MINT 9s, one of which sold for $1,030 on eBay in May 2012.
"I think it's just that the first and last cards in the set usually got beaten up a bit by all of the kids in the 1960s who were putting the sets together," said Strohmeyer.
The last card is a checklist and is the most difficult pasteboard in the series to uncover in PSA 8 or better condition.
"Between the fact that it's the last card in the set, the blue border and it being a checklist, there are a lot of things that make it an extremely tough card," noted Katz.
Making it even more evasive in top condition is the fact that it's located on the bottom right corner of the print sheet (it's also likely the last card on the right in the sixth row). Positions on the edge of the sheets traditionally make cards more vulnerable to condition flaws during the production process.
There are 11 Hall of Famers in this set, including Johnny Bucyk (#11), Glenn Hall (#24), Pierre Pilote (#28), Bobby Hull (#33), Stan Mikita (#34), Gump Worsley (#45), Harry Howell (#46), Andy Bathgate (#52) and Bert Olmstead (#57). There are also second-year cards of Hall of Famers Jean Ratelle (#58) and Rod Gilbert (#59).
The Hull is the set's most valuable card, but Strohmeyer says it's not particularly difficult to find in top condition. There are three PSA GEM-MT 10 examples - two of which are owned by Katz. One PSA 10 sold for $3,643.78 in a Memory Lane auction in December 2012.

Several rookies are also part of this issue, including Bob Perreault (#2), Bruce Gamble (#3), Tom Williams (#21), Chico Maki (#37), Jim Neilson (#49) and Vic Hadfield (#60).
Aside from the checklist, four other cards - Jean-Guy Gendron (#16), Andre Pronovost (#19), Dave Balon (#56) and Camille Henry (#62) - have yet to register a PSA 9 example.
But other than the checklist, hobbyists say the most difficult card to find in top condition is Ron Murphy (#40). Like the checklist, this card was located on the far right edge of the print sheet (likely in the first and seventh rows) â€" a position which made it susceptible to flaws.
"The Ron Murphy is almost impossible," said Katz.
Strohmeyer has been similarly frustrated by this card.
"I had the set completely finished except for one card and that was the Ron Murphy (#40)," he said. "At the time, there were only about three cards that were graded [PSA] 8s, but since then, I think the population has gone up. I know I spent two years waiting for that card to show up in an [PSA] 8."
Strohmeyer says poor centering hampers some of the Murphy cards. Just two PSA 9s and 17 PSA 8s exist. One PSA 9 sold for $650 on eBay in February 2012.
There are also two uncorrected error cards in this set. The Ab McDonald (#38) has his last name misspelled "MacDonald," while the Pat Hannigan (#64) showcases his last name as "Hanningan" on the card back.
Not surprisingly, this blue-bordered set is more difficult to assemble in top condition than its 55-card, white-bordered, 1962 Parkhurst rival. With 20 Hall of Famers - including Gordie Howe, Jean Beliveau and Jacques Plante - the Parkhurst issue has more star power than the Topps set, but it's sometimes mocked for its design.
"Some guys say that the Parkhurst set is ugly," said Strohmeyer. "It doesn't seem to be a difficult set. There are guys that go after it in PSA 9. I think it's a little easier to find higher grade cards for that set than it is for the Topps set."
As the chart illustrates, the distinctive yet fragile blue borders of the 1962 Topps cards make them more than three times more difficult to uncover in PSA 9 or higher than their Parkhurst counterparts. But the challenge of finding these cards in pristine condition certainly hasn't left 1962 Set Registry enthusiasts feeling "blue."
"The '62s are unique and have a beauty all of their own because of the blue borders," explained Katz. "When you see a nice '62, they talk to you because of that border color."
View the set in the PSA Set Registry.
---
Please feel free to contact Kevin Glew at [email protected] if you have any additional information or comments. Thanks to Bobby Burrell for sharing his resources for this article and to Earl Strohmeyer for providing scans. Please note that the Population Report figures quoted and Set Registry rankings reported are those as of July 2013.