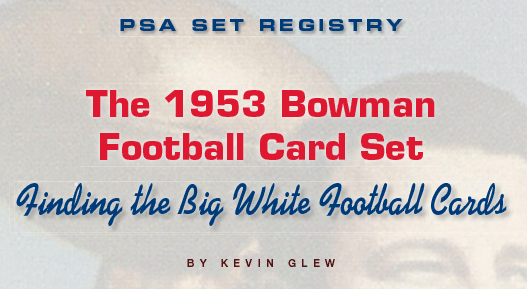 It's the big white football set.
That's what some collectors call the 1953 Bowman Football set whose card fronts flaunt a distinctive white football icon.
But while some collectors mock the design, cards from this offering have proven to be more difficult to obtain than singles from its Bowman contemporaries. In fact, if you examine statistics on the PSA Population Report, you'll discover that double as many cards from most gridiron issues from the same era have been submitted to PSA (see chart).
Mike Thomas, the webmaster of www.vintagefootballgallery.com, believes that a smaller number of these cards were printed.
"I think if people had the [1953 Bowman Football] cards, they would have them graded by now," he said. "The sense that I get is that something happened and they limited production."
Joe Mancino, who owns the No. 8 Current Finest, 1953 Bowman Football set on the PSA Set Registry, has heard that this set had the shortest print run of any of the 1950s Bowman Football issues.
Another factor in the relative dearth of PSA submissions from this series is that at 96 cards, it's the smallest Bowman Football set released during that era. Plus, it also lacks any Hall of Famer rookies.
"It's a very, very challenging set," said Ed Strauss, who owned the top set on the PSA Set Registry as of press time.
Kevin Hayslip, who owns the registry's No. 5 Current Finest set, agrees.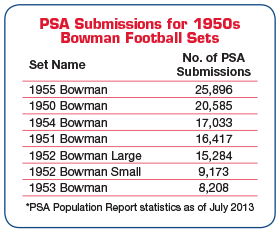 "The 1953 set is by far, hands down, the toughest 1950s Bowman set to put together," he said.
Thirty-six of the 96 cards - which measure 2-1/2" by 3-3/4" each - that comprise this set boast horizontal layouts on their fronts. The card fronts present player pictures with their names and teams identified inside the aforementioned large white football icon.
"To me, the big white football overwhelms the rest of the card and makes the 1953 Bowman set the least attractive of the early Bowman sets," said Thomas. "I think the design is step down from 1952."
And while Hayslip doesn't disagree altogether with Thomas's assessment, he adds that the white football gives the cards a "charm that the other sets don't have."
Thomas points out that Pete Pihos is pictured with the white football (with his name and team on it) in his hands on his card (#73).
"That's my absolute favorite football card," said Hayslip of the Pihos single. "Every time I see that card it just brings a smile to my face. I think whoever designed that card deserves a big slap on the back."
Thomas also notes that Topps doubled up on the white football on the Francis Polsfoot single (#34). In addition to the white football icon flaunting Polsfoot's name and team, the Cardinals' tight end is also pictured catching a white football. White footballs were actually used in the NFL during night games at the time.
The horizontal card backs showcase the card number, player name and position along the top, followed by the player's vitals (e.g., residence, age, height and weight), a short write-up, statistics or an explanation of a referee's call, a Football Quiz and copyright information.
According to Mark Murphy's The World's Best Unopened Pack, Wrapper & Display Box Guide (2nd Edition), these cards were distributed in penny and nickel packs with gum. The nickel packs contained six cards.
Although Thomas hasn't seen a sheet of 1953 Bowman Football cards, he believes they likely followed the same pattern as the other Bowman gridiron issues from the same era. He has constructed the virtual sheets for this series on his website.
Thomas believes that the 1953 cards were likely printed on three, 32-card sheets (with four rows of eight cards on each sheet). In December 2001, a 32-card, 1953 Bowman Color Baseball sheet was sold in a Lelands auction, so Bowman was, indeed, producing 32-card sheets that year.
Also, if these sheets follow the same pattern as their Bowman contemporaries, the cards were sequenced in numerical order on the sheets. For example, the first row of the first sheet would include cards #1 to #8 from left to right.
In most of their 1950s gridiron issues, Bowman attempted to ensure that each NFL team was almost equally represented. This was not the case with the 1953 issue, which includes 12 Chicago Cardinals and just two Green Bay Packers. The San Francisco 49ers (three cards) and Los Angeles Rams (four cards) are also underrepresented. This inequality has Thomas thinking that Bowman may have intended to produce a fourth sheet for this series that would've evened out the representation. Given that the 1954 Bowman Football set features 128 cards - or one additional 32-card sheet - this seems plausible.
"I have no first-hand knowledge that they were going to produce a fourth sheet, but that's the way it seems to me," said Thomas. "The distribution among the players on the different teams is really strange."
Over the years, it has generally been accepted that there are 24 short-print cards - including Hall of Famers Frank Gifford (#43), Emlen Tunnell (#53) and Lou Groza (#95) - in this set. But if Thomas's contention that this set was likely produced on three, 32-card sheets is true - and this makes a lot of sense - then it would be safe to assume that all of the 1953 Bowman Football cards were printed in the same quantities.
Unless, of course, all of the scarce cards were on the same sheet, as is reportedly the case with the 1954 Bowman set, in which cards (#65 to #96) from the third sheet are generally considered more elusive. However, the 24 short-prints - ranging in number from #39 to #96 - widely identified for this series are not on the same sheet. Also, if you review the PSA Population Report statistics, just two of the 10 lowest population cards are "short-prints," as identified by hobby publications.
"It doesn't make sense to me that there would be short prints," said Thomas. "The only theory I can offer is that maybe they did a survey at some time and had people count the cards in their collections. But I don't think anybody ever looked at sheets and came to those conclusions."
As mentioned earlier, this set does not boast rookies of any Hall of Famers. Eddie LeBaron, a Pro Bowl quarterback with the Washington Redskins and College Football Hall of Fame inductee, is the most high-profile rookie. His card is also the first in the set, which made it subject to the additional wear and tear of being on top of collector piles. And if Thomas's virtual 32-card sheets are correct, the LeBaron was also located on the top left edge of the first sheet, a position that frequently makes cards susceptible to flaws.
Of the 123 LeBaron cards submitted, there has been one PSA MINT 9 and nine PSA NM-MT 8s. A PSA 8 sold for $1,613.85 on eBay in February 2012.
Ray Renfro (#62), Ted Marchibroda (#93) and William Cross (#96) are three other noteworthy rookies in this issue. Because it's the last card in the series, the Cross single also tended to be damaged in collector piles. It also appears to have been located on the bottom right edge of the third sheet, a placement that would make it vulnerable to condition woes.
"The last card always sells for big prices," said Mancino. "It's about a $300 card in PSA [NM] 7."
The sole PSA 9 sold for $1,975 in a Mile High Card Company auction in November 2010.
This set also boasts the pasteboards of at least 20 Hall of Famers, including Marion Motley (#9), Norm Van Brocklin (#11), Bobby Layne (#21), Elroy Hirsch (#22), Chuck Bednarik (#24), Otto Graham (#26), Lou Creekmur (#34), Y.A. Tittle (#56) and Lou Groza (#95).
"There are plenty of good players in the set, just not the Hall of Fame rookies, which has probably kept it from being as popular as some of the other series," said Strauss.
Likely the first card on the left in the second row of the first sheet, the Motley (#9) is often heralded as the most difficult Hall of Famer card to uncover in pristine condition. Mancino says this card is frequently found off-center.
"The last card that I purchased for my set was the [PSA 8] Marion Motley that went for $930," said Hayslip.
Hayslip says that the Creekmur single (#34) is also evasive in top grade.
"That card would be one that I would almost rank with the Motley," he said.
Of the 77 Creekmur cards submitted, there have been eight PSA 8s (with no examples grading higher). A PSA 8 commanded $600 in a Greg Bussineau Sports Rarities auction in July 2012.
The second-year Gifford single (#43) is also highly coveted. There has yet to be a PSA 9 example and the sole PSA NM-MT+ 8.5 fetched $1,821.89 in a Mile High Card Company auction in October 2012.
Strauss says that the four most difficult common cards for him to obtain were Horace Gillom (#40), Don Paul (#47), John Rapacz (#57) and Dewayne Douglas (#65). Hayslip also had trouble tracking down the Rapacz and Douglas singles.
Like the LeBaron and Cross cards, the Gillom appears to have been located in a vulnerable edge-sheet position (far right edge of the first row of the second sheet).
"Personally, I would consider the Gillom to be the key card in the set," said Hayslip. "The Gillom cards that I've seen tended to be off-center. I've also seen a few of them that are miscut."
With just four PSA 8s and one PSA 8.5, the Gillom is the toughest card in the set to acquire in PSA 8 or better condition. The sole PSA 8.5 sold for $2,605 on eBay in January 2011.
But almost every card in this set is difficult to acquire in high-grade compared to cards in other Bowman Football sets from the same era (see chart).
"There seems to be a lot of centering issues with the 1953 cards," said Mancino. "If I had to make a comparison, it seems like 1952 cardboard stock is thicker than the 1953 stock."
Hayslip has also noticed a number of condition woes with the 1953 cards.
"I see a lot of miscut cards and the centering is horrible," he said. "I also see print defects, and fisheyes can sometimes be prevalent."
So with the dearth of these cards in high grade, combined with their comparative rarity in any condition, the big white football set just might turn out to be a decent investment in the future.
"One of the reasons I was attracted to this set is because I didn't see a ton of interest in it, and I thought it might be a pretty good investment," said Strauss.
Hayslip shares similar thoughts.
"I was given good collecting advice, so I was told, 'You try to collect what other people aren't and you try to sell what other people want.' I think that's a good investment philosophy," said Hayslip. "And I think my mindset back in 2006 when I started this set was that nobody was collecting it and the cards were really hard to find. Now I think people are starting to recognize the scarcity of these cards and the challenge of putting together the set."
View the set in the PSA Set Registry.
---
Please feel free to contact Kevin Glew at [email protected] if you have any additional information or comments. Thanks to Mile High Card Company and Mike Thomas for providing pictures for this article. Please note that the Population Report figures and Set Registry rankings are those as of July 2013.