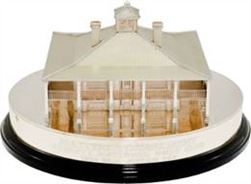 CHICAGO – With his ever-present straw hat and the prettiest swing in the game's history, Sam Snead carved his name into golf's Mount Rushmore as one of the most decorated athletes in American sports history. Now, for the first time, his legions of fans have an opportunity to compete for treasures from The Sam Snead Collection, the opening 14 lots of Heritage Auctions "Platinum Night" event. The auction will conclude with live bidding, on Thursday, Aug. 1, at the Chicago National Sports Collectors Convention.
"It's unquestionably the most significant personal golf collection ever to reach the hobby's auction block," said Chris Ivy, Director of Heritage Sports Collectibles. "This Platinum Night will feature several of the finest pieces from Snead's collection, notably trophies earned for wins at the Masters and the British Open, game used clubs, and even Snead's Hall of Fame plaque."
All lots are accompanied by a letter of provenance from Snead's son, Jack, who has consigned the collection.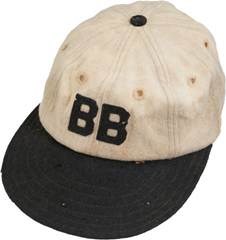 Sharing space with Snead in both the American sports pantheon and this "Platinum Night" auction is the iconic New York Yankees duo of Babe Ruth and Lou Gehrig, each of whom supply a game worn cap (two, in fact, for the Babe) to the event. An extraordinary example of a Babe Ruth game used bat, dating to the opening years of Yankee Stadium, will likewise take a turn on the block.
Perhaps the most notable game-used bat in the auction is one utilized by a man whose physical stature and baseball career rate as the shortest in Major League history. Saved by his family for 62 years and making its hobby debut is the tiny lumber carried to the plate by little person Eddie Gaedel, whose three-foot seven inch height earned him a four-pitch walk and immortality in the lighter side of baseball history on Aug. 19, 1951 at Sportsman's Park in St. Louis.
The auction will further burnish Heritage's reputation as the leading house for legendary sports artist LeRoy Neiman with the presentation of three original works in this event, each featuring a superstar athlete from the recently deceased painter's New York City hometown: A six-figure result is expected for his dazzling 1973 portrait of Babe Ruth at the plate, with images of a rookie Joe Namath and his running back Emerson Boozer trailing close behind.
Game worn jerseys figure prominently into the "Platinum Night" mix, with all four major American team sports well-represented.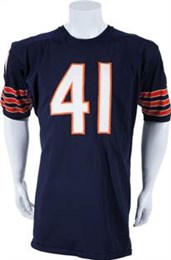 The heartbreaking story recounted in the classic film "Brian's Song" is recalled with a rare Chicago Bears jersey worn by Brian Piccolo and a legend on the rise is celebrated by a full uniform worn in collegiate action by Julius "Dr. J" Erving.
Stan Musial and Frank Robinson bring Cooperstown-quality jerseys into play, and the sweater worn by Bob Nystrom as he netted the 1980 Stanley Cup-winning goal for the New York Islanders will likewise go to the highest bidder on Aug. 1.
Transitioning from the thrill of victory to the agony of defeat, the auction supplies the debut hobby appearance of the gloves Roberto Duran was wearing as he registered the most famous surrender in boxing history against Sugar Ray Leonard in the unforgettable 1980 "No Mas" fight.
The fabled "Black Swamp Find" of 1910 E98 candy card continues to shine with the highest graded specimens on the SGC registry, and a fresh-to-the-hobby 1927 New York Yankees team signed photo will likewise tempt pre-war collectors.
Other highlights include:
1912 E300 Plow's Candy Christy Mathewson PSA NM-MT 8
1923 Christy Mathewson Single Signed Baseball
1914 Boston Braves World Championship Pin Presented to Bert Whaling
1974 Wayne Gretzky's 1000th Goal of His Lifetime Game Used Stick
1883 Cincinnati Red Stockings Trophy Bat Presented to 'Long John' Reilly
1928-30 'Shoeless Joe' Jackson Signed Bat from 1918 Chicago White Sox Teammate
1950 Jackie Robinson Game Used Bat, PSA/DNA GU 8
1932 Wimbledon Men's Singles Championship Trophy Won by Ellsworth Vines
Heritage Auctions, headed by Steve Ivy, Jim Halperin and Greg Rohan, is the world's third largest auction house, with annual sales more than $800 million, and 750,000+ online bidder members. For more information about Heritage Auctions, and to join and gain access to a complete record of prices realized, along with full-color, enlargeable photos of each lot, please visit HA.com.