You wouldn't want Herman Munster handling cards from the 1964 Leaf set that features photos of his family.
One of the running gags on The Munsters, which ran for 70 episodes from 1964 to 1966, was that Herman, a seven-foot-six, 380-pound Frankenstein clone, didn't know his own strength. When agitated he would stomp around the house causing plaster to fall from the ceiling, and at the end of the "My Fair Munster" episode, he pounds the floor while he's laughing, causing the whole house to shake.
So it goes without saying that if you were collecting the 72-card, 1964 Leaf Munsters set in high grade, you wouldn't want Herman Munster touching your cards.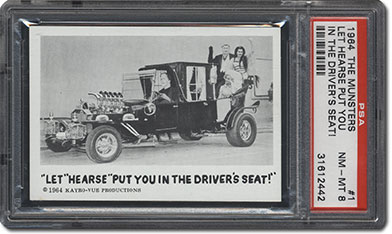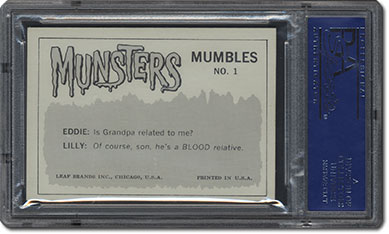 "The Munsters cards have a gloss on them which causes them to scratch and crack very easily," noted Brian Karl, who owns the No. 2 Current Finest Munsters set on the PSA Set Registry. "The scratches are hard to see, but when they are visible, they diminish the look of the card for me."
Rob Fagan, who has assembled the registry's No. 5 Current Finest set, shares similar observations.
"If you look at the [PSA] Population Report [for the 1964 Leaf Munsters set], there are only 29 [PSA GEM-MT] 10s out of 5,070 cards," he said. "If you touch the finish on the front of the cards too much, particles will get on the surface; you have to be really careful with them."
These glossy pasteboards showcase photos from the original Munsters TV series, which aired on CBS from September 24, 1964, to May 12, 1966. Pitted against its similar ABC rival The Addams Family, The Munsters focused on a working class family of generally good-natured monsters.
The aforementioned Herman Munster, played by Fred Gwynne, was a Frankenstein clone, while his wife, Lily (Yvonne De Carlo), and Lily's father, Grandpa Munster (Al Lewis), were vampires. The show also starred Herman and Lily's son, Eddie (Butch Patrick), who was a werewolf and their niece, Marilyn (played by Beverly Owen and later Pat Priest), who was a vivacious, blonde college student whom the rest of the family considered the odd-looking one.
Filmed in black-and-white, the half-hour show was meant as a satire of the family sitcoms and monster movies of the era. It wasn't a huge hit upon initial release, but it became very popular in reruns.
On top of the black-and-white photos from the series, the card fronts also offer a humorous caption in distinctive black lettering, as well as the copyright information (1964 KAYRO-VUE PRODUCTIONS) and white borders.
"I love the design," said Karl. "The black-and-white scenes take me back to when I was a kid and I used to watch TV. Everything was black-and-white when I first started watching TV as a kid. Sure, the captions on the front of the cards are a little corny, but I think that's what they were going for."
The white, horizontal backs feature the card number, copyright and printing (PRINTED IN U.S.A) information, as well as "Munsters Mumbles," which are jokes presented in dialogue form between cast members.
"The jokes on the backs are cute, but they're usually kind of corny," explained Fagan. "I don't buy these cards for their backs, and I don't think many people do, but you still look at the backs and you chuckle."
Hobby expert Bill Christensen notes that there is also a Canadian version of these cards.
"The cards printed in Canada have a long rectangle covering the 'Printed in U.S.A.' line," he said. "Also, the Canadian issue was printed on darker, rougher cardboard stock as compared to the U.S.A. issue."
The cards were originally distributed in five-cent packs (24 packs to a box). Christensen says there were five cards and a sticker in each pack. He doesn't believe gum was included. Unopened packs generally sell for $125 to $150 each, but within the last 10 years, at least one unopened box of 24 packs sold for $3,376.
There are no reported short prints in this issue, but the first ("Let 'Hearse' Put You in the Driver's Seat!") and last ("Now I See It – The Doctor Did Leave Out A Stitch") cards tend to fetch more than the others.
"Back in the old days we used rubber bands [to store our cards], and the first and last cards were always on the top and bottom with the rubber band around them," said Fagan. "Chances were high that you would get rubber band marks on those cards."
The first card is also popular because it features The Munsters clan in the "Munster Koach," the famous car from the series. There's one PSA 10 of this card and five PSA MINT 9s.
"Right now, the only card in this set that has eluded me in PSA [MN-MT] 8 condition is No. 1," said Ron Saad, who owns the registry's No. 9 Current Finest set. "I think three have come up in the past three years and they have sold between $300 and $350."
There are 10 PSA 9 examples of the last card. Saad was able to secure a PSA 8 copy for $150.
Saad says that card #8 "You'll Eat It, Or Else" also seems to command a premium. This card features Lily Munster holding a bowl of porridge (it appears to be from the "My Fair Munster" episode). There are 14 PSA 9s of this single, one of which fetched $88.87 on eBay in June 2011.
According to the PSA Population Report, the toughest card to obtain in PSA 9 or better is #33 "This is the Way Grandpa Kisses." There are just three PSA 9s of this single, while there are only four PSA 9s of #54 "Did They Say It's 'Good to the Last Drop?'" and #60 "Herman, Look It's the Cat Burglar and He's Stealing Our Rats!" A PSA 9 example of #54 sold for $120.39 on eBay in February 2013.
As noted earlier, scratches on the fronts of these cards are the biggest condition issue.
"One thing that I've noticed about these particular cards is that there aren't as many off-center cards as some of the other sets," said Saad. "They seem to be really solid cards. The corners are sharp on a lot of the raw cards that I've seen coming up for auction."
Hobbyists say the stickers – included at the rate of one per pack – are generally tougher to track down in pristine grade than the cards. The 16 stickers comprising this series are color drawings of characters from the show that were produced on thin stock. They weren't peel-off stickers, so moisture had to be added to their backs to stick them to an object.
"The stickers are thin and you have to lick them. They're like a postage stamp," said Fagan.
"I think the sticker set is harder to put together in a high grade [than the Munsters cards]," added Karl. "It's hard to find those stickers centered well and loose. A lot of kids – me being one of them – would stick them on things."
But Fagan has also been surprised at the number of PSA 10 stickers that have surfaced.
"I've noticed there are a lot of [PSA] 10s," he said. With 73 PSA 10 stickers total, "It's much harder to compete for the top spot on the [Munsters] sticker registry," Fagan adds.
Saad has seen the stickers fetch some lofty prices.
"I've noticed that some of the higher grade stickers are going for $500 in PSA 10, and the PSA 9s are going from $125 to $150," he said. "But I think as far as the stickers go, the price is actually going down a bit on eBay."
These Munsters stickers and cards were released at approximately the same time that Donruss unveiled its 66-card Addams Family offering. So not only were the TV shows competing for viewers, they were also contending for card collectors.
"To me, the Munsters set is a much nicer set," said Karl, who also owns the registry's top 1964 Donruss Addams Family set. "It's cleaner because of the gloss and it looks nicer. The Addams Family is kind of dull because the pictures are sometimes off and the registration isn't always perfect on the cards."
It seems that most PSA enthusiasts would agree. The PSA Population Report indicates that nearly double as many Munsters cards have been graded as Addams Family singles. And Saad has also noticed that the prices of PSA 8 Munsters cards have increased modestly in recent months.
"I would say the Munsters set is going to continue to increase in popularity," said Saad. "There is always an interest in these old shows. It's just like the comic book characters coming back [into the mainstream]."
View the set in the PSA Set Registry.
---
Please feel free to contact Kevin Glew at kevin.glew@sympatico.ca if you have any additional information or comments. Thanks to Rob Fagan and Mile High Card Company for providing photos to go with this article. Please note that the Population Report figures quoted and Set Registry rankings reported are those as of May 2013.