Leland's current auction is online, with bidding in progress and concluding on June 28th, 2013. For more information about the auction or to receive a complementary catalog email [email protected] or call 631-244-0077. To register visit the web site at www.lelands.com. This auction features over 15 collections (including The Ossie Schectman Collection), amazing sports cards, memorabilia and autographs, boxing memorabilia from Floyd Patterson, Bert Sugar, Larry Holmes & more, as well as Americana Memorabilia.

Auction Highlights include:
The auction also features these great collections: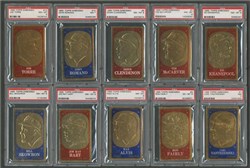 Auction ends this Friday, June 28. Visit www.lelands.com and register today. You can also reach Leland.com by phone 631-244-0077 and by email: [email protected].