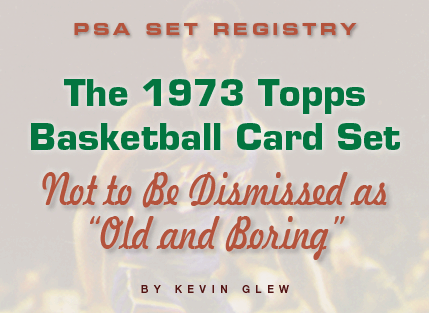 The San Antonio Spurs are often described as old and boring.
But while they might not be the most electrifying team to watch, they have secured four NBA titles in the past 14 seasons.
So it somehow seems appropriate that the Spurs made their cardboard debut in the 1973 Topps Basketball card set, an offering that is also frequently accused of being boring. The Spurs were born after the ABA's Dallas Chaparrals were moved to San Antonio following the 1972-73 campaign.
Showcasing a very plain design, the 1973 Topps series, at first blush, doesn't seem all that exciting, but like the Spurs, if you look closer, there's much to love about it.
"There is a very, very large number of Hall of Famers in the set, which does make it quite a prestigious set," noted D'Orsay Bryant, whose No. 1 registry set was named Best Modern Basketball Set of the Year in the 2012 PSA Set Registry Awards. "Almost all of the players are recognizable. Many of the players are household names that are the foundation of the NBA we know today."
Measuring 2-1/2" by 3-1/2" each, the 264 cards that comprise this set do not exhibit the groovy, psychedelic lettering that adorned its Topps predecessors. But like the previous two Topps hoops offerings, this set featured cards of both NBA (#1 to #176) and ABA (#177 to #264) players.
"It's probably the simplest of 1970s basketball sets," said Freddy Malamud, who owns the No. 7 Current Finest set. "There are no crazy pictures. Dull is probably a good word for the design. [The] 1971-72 [set] seems to be the one that everybody gets excited about the most because it's colorful, and it's the first full set [with both NBA and ABA players]; plus, 1972-73 was also colorful. Then they went to this set and it was just totally the opposite of everything else."
Kenny Hillyard, who has amassed the registry's No. 3 Current Finest set, agrees.
"From the '70s run, I would say that aesthetically it's probably only behind the 1974 set due to the simplicity of its design, but it does have a great Hall of Fame cast," he said.
The white-bordered card fronts showcase both posed and action shots. And as with prior Topps sets, some of the players – including Jim McMillian (#4), Pat Riley (#21) and Henry Finkel (#94) – are photographed with their jerseys on backwards. Though it hasn't been confirmed, the popular explanation for the players wearing their jerseys backwards was that if the jersey displayed the team's nickname or logo, then the player would forfeit their fee from the card company to the team. But with the vast majority of players now wearing their jerseys with their team names readily displayed, this doesn't seem to be an issue anymore. So perhaps old stock photos were employed for the few remaining players that are pictured with their jerseys on backwards.
Some players – including Eddie Mast (#28), John Wetzel (#72) and Paul Silas (#112) – sport blank jerseys, which is difficult to explain. Mast and Silas were involved in transactions in 1972 and the Hawks signed Wetzel as a free agent in January 1973, so Topps had plenty of time to secure photos of them in their current teams' jerseys.
The bottom left on the fronts of the regular cards also exhibit an image of a basketball falling into a hoop, with the team name emblazoned on the ball. Both the NBA and ABA had teams nicknamed the Rockets, so "Houston" was printed across the netting of the hoops on the NBA Rockets' cards (with the exception of the Rudy Tomjanovich single (#145), which mistakenly omits the city name).
The vertical card backs are printed in red and green on gray stock. The tops of the backs offer a cartoon illustrating a fact about the player, followed by the card number, player name and position. The backs also include the player's vitals (height, weight, date of birth, etc.), a short write-up, year-by-year statistics and copyright information.
For the first time during this era, separate all-star cards were not issued, but rather first and second-team all-star designations for the respective leagues were included on the fronts of the players' regular cards. These cards also boast "floating head" inset photos of the players – photos which were often placed in odd positions. On the Artis Gilmore (#250), for example, the inset photo is positioned so that it looks like he's holding his head.
Four subsets are also part of this issue, including NBA Playoff singles (#62 to #68), NBA Leaders (#153 to #158), ABA Playoff singles (#202 to #208) and ABA Leaders (#234 to #239).
The 1973 Topps Basketball cards were distributed in several different ways. Most were likely acquired in 10-card, 10-cent packs that also housed a piece of gum and a team logo sticker. Cards were also available in 54-card, 39-cent rack packs, wax trays (that consisted of three, 20-cent packs) and 500-count vending boxes.
Thirty-three stickers comprise the team sticker set. These stickers feature two teams: a larger team logo of one team (2-1/2" by 2-1/2") at the top and a team name in a banner (1" by 2-1/2") at the bottom. There are 10 cards featuring ABA teams and 23 that highlight varying combinations of NBA teams.
Jack Price, who owns the registry's No. 2 Current Finest team sticker set, says these stickers are difficult to find in pristine condition.
"We used to place these stickers on books, school wall lockers and other stuff," he said.
Bob McAdoo (#135) is the only Hall of Famer to make his cardboard debut in the regular 1973 Topps Basketball set. Of the 252 McAdoo cards graded, there has been just one PSA GEM-MT 10 and 43 PSA MINT 9s. One PSA 9 sold for $219.34 on eBay in July 2012.
Rookies of a number of other players that enjoyed long NBA careers are also part of this series, including Henry Bibby (#48), Kevin Porter (#53), Chris Ford (#79), Downtown Freddie Brown (#103) and Paul Westphal (#126).
"Some of the rookies in this set have become coaches," noted Bryant, referring to Westphal and Ford.
Second-year cards of Hall of Famers Phil Jackson (#71) and Julius Erving (#240) are also featured. In total, more than two dozen Hall of Famers are showcased – and many of them on multiple cards. When you count "Leader" cards, Gilmore, for example, is highlighted on three cards, while Kareem Abdul-Jabbar is on four. Other notable Hall of Famers include Walt Frazier (#10), Oscar Robertson (#70), Wilt Chamberlain (#80), Bill Bradley (#82), Jerry West (#100) and Pete Maravich (#130).
"One of the most difficult cards for me to obtain [in PSA 10] was the Pete Maravich," said Bryant, who managed to track down one of the two PSA 10 examples in existence.
Bryant says the Maravich is often hampered by poor centering. One of the PSA 10 Maravich cards sold for $1,725 on eBay in June 2009.
According to the PSA Population Report, the two most difficult stars to uncover in PSA 9 or better condition are Nate Archibald (#1) and John Havlicek (#20).
"With the Archibald, it's a combination of being the No. 1 card and all the damages that came with that position, and then [poor] centering," explained Malamud.
Of the 62 Archibald cards submitted, there have been just two PSA 9s (with nothing grading higher). A PSA NM-MT 8 sold for $209.99 on eBay in January 2011.
"The Archibald card from this set [in PSA 8] is more expensive than his rookie card," added David Robinson, who possesses the registry's No. 8 Current Finest set.
The Havlicek is similarly elusive. Just two unqualified PSA 9 examples exist. Malamud says bad centering also plagues this card.
"The Havlicek was one of the last five cards I obtained," said Robinson.
Some commons have also proven to be evasive. With just 17 submissions, the Mike Riordan single (#35) is the lowest population card. This was the last card that Hillyard needed for his set. The Dick Van Arsdale (#25) and Clyde Lee (#143) are the second least submitted singles (19 submissions each).
"There are four cards that seem to be almost impossible," said Malamud. "I have one of them – the Leroy Ellis (#34). He's probably the toughest. Dick Van Arsdale (#25) is impossible, and Mike Riordan (#35) and Don Buse (#222) are very difficult."
The Ellis and Buse were the last two cards that Robinson needed to finish his set.
"Those cards are notorious for having big print defects near their names," said Robinson.
There are just three and four PSA 9 examples of the Ellis and Buse cards respectively. A PSA 9 of the Buse fetched $100 on eBay in April 2012.
PSA Population Report figures seem to indicate that it's generally easier to track down high-grade examples from this series than it is from many of its cardboard contemporaries, but PSA 10s continue to be elusive.
"A lot of the cards have print bubbles and dots that appear in the background," said Hillyard. "Some of them have issues with the cutting, where the bottom edge was really rough."
So while this set – like the San Antonio Spurs – has been accused of being mundane, it is actually quite enticing and underrated. With a strong selection of Hall of Famers, some challenging low pop singles and the presence of both NBA and ABA cards, there is much to love about it.
"The Tall Boy cards are by far my favorite," noted Bryant. "But in the more modern cards, from 1972 on, this would be my favorite set, outside of the 1986 Fleer set."
As a bonus, the 1973 set also remains relatively inexpensive.
"There isn't that one big rookie in there that's going to cost you hundreds of dollars or so in order to complete the set [in PSA 8 grade]," said Hillyard. "It is a bigger set and that makes it a little tougher to put together, but I do think the 1973 set is one of the more affordable options for anybody looking to put a '70s basketball set together."
View the set in the PSA Set Registry.
---
Please feel free to contact Kevin Glew at [email protected] if you have any additional information or comments. Thanks to D'Orsay Bryant for providing photos to go with this article. Please note that the Population Report figures quoted and Set Registry rankings reported are those as of March 2013.