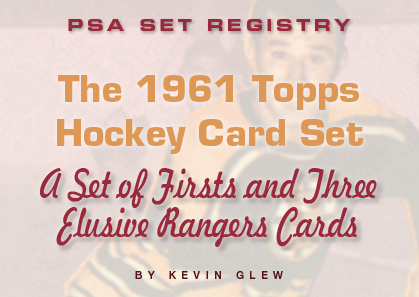 There are three U.S. teams featured in the 1961 Topps Hockey card set, but despite some desirable Boston Bruins and Chicago Blackhawks cards, three singles featuring New York Rangers players are the keys to this issue.
"When I first started collecting this set, I was told that I could forget about finding cards #63, #64 and #65," explained Alex Vlahovich, who owns the No. 5 Current Finest, 1961 Topps Hockey Set on the PSA Set Registry. "I was told that I'd be able to collect the rest and that I might even find [PSA MINT] 9s of the other cards, but that I wasn't going to find a [PSA NM-MT] 8 in those particular cards."
With patience and persistence, however, Vlahovich was able to track down PSA 8 copies of cards #63 and #65, but he's still seeking to upgrade his #64 card. The #63 pasteboard showcases the Rangers' team.
"The New York Rangers team card is a card that guys fight over," noted John Ryan Bourdeau, who owns the registry's No. 7 Current Finest, 1961 Topps Hockey Set. "I paid a pretty penny for mine, and I've seen them go for pretty high prices. I sent a couple [of raw copies] away to be graded, and there were centering issues with them."
The 12 PSA 8 copies represent the highest graded examples of this card. One PSA 8 fetched $271.66 on eBay in November 2012.
But with just 41 submissions, card #64 is the set's lowest population single. This is a "Hockey Highlights" card with the caption "Going, going, goal!!" that features Bruins forward Dick Meissner scoring on Rangers goalie Gump Worsley. Poor centering plagues this card and there are just three PSA 8s (with nothing grading higher). A PSA NM 7 fetched $156.50 on eBay in December 2012.
The third elusive single (#65) is also a "Hockey Highlights" card showcasing Worsley – this time making a save (the caption reads, "Gump makes important save"). As with the previous two cards, there has yet to be a PSA 9 example. One of the five PSA 8s garnered $208.89 on eBay in July 2009.
Why these three cards are so difficult to track down in flawless form continues to be a mystery. Despite exhaustive research for this article, an uncut sheet of cards from this offering was not uncovered (even noted hockey authority and author of Vintage Hockey Collector, Bobby Burrell, hasn't seen one).
An educated guess would be that these cards were located in edge positions on the sheet. These are sheet locations that typically make cards vulnerable to flaws like miscuts. Vlahovich adds that collectors also likely didn't covet the "Hockey Highlights" cards upon their initial release.
"They weren't as desirable because they were action cards as opposed to independent player cards," he theorized. "If you're a kid and collecting the cards, you want the players themselves. As a kid, you might be more apt to use an action card in your bicycle spoke."
These three singles are the most challenging in this 66-card offering that features standard-size cards (2-1/2" by 3-1/2") in four different designs. Horizontal team photos of each of the three teams – Bruins, Blackhawks and Rangers – are included in this issue. The Bruins team card is particularly noteworthy because it's the first card to picture Willie O'Ree, the first black player to compete in the NHL.
Similar to 1955 Bowman Baseball cards, the horizontal "Hockey Highlights" cards offer action shots inside a TV design. The card backs describe the action shots on the fronts.
Regular player cards feature photos superimposed over game action shots. The backgrounds are shaded a different color for each team: purple for the Bruins players, blue for the Blackhawks and sepia for the Rangers.
Several of the background action photos are repeated throughout the set. The fact that Parkhurst had exclusive rights to players from the Toronto Maple Leafs, Montreal Canadiens and Detroit Red Wings didn't deter Topps from using background action shots with players from these teams.
On the regular player cards, the player's name, position and team are indicated inside a puck along the bottom, while the backs flaunt dark red borders adorned with drawings of players in action. The horizontal backs also present the card number (inside a puck), the player name, position and team across the top, followed by the player's 1960-61 stats and a write-up about the player in English and French.
Burrell notes that this is the first year that the cards, packs and boxes of a Topps Hockey product all indicated that they were printed in Canada. The cards were printed at the O-Pee-Chee plant in London, Ontario.
Coaches and rookies are depicted on yet another card design. Their photos were displayed vertically inside what looks like a TV on its side. The cards of the respective coaches boast bright yellow backgrounds inside red borders, while the rookie cards exhibit green backgrounds inside yellow borders.
This was the first Topps Hockey set to include coaches cards, and the first to present cards with players designated as rookies right on the cards. With that said, some rookies – such as Ted Green (#2) and Orland Kurtenbach (#15) – were not designated as rookies on their cards.
Sequenced by team, the cards in this issue begin with the Bruins (#1 to #20), followed by the Blackhawks (#23 to #42) and then the Rangers (#45 to #63). Within each team, the first card is the coach, followed by the regular players, the rookies and a team card. Two "Hockey Highlights" cards are positioned after each team.
However, with the addition of two regular player cards – Bronco Horvath (#40) and Bob Turner (#41) – after the rookies and before the team card, the Blackhawks subset strayed from this sequence. This was probably a result of the players being acquired by the Blackhawks in the summer of 1961 after the set's original layout had been completed, forcing Topps to make adjustments.
This offering also introduces the first checklist (#66) that Topps ever included in a hockey set.
"I like the card design and the layout of the set. I like the way it's symmetrical," said Bourdeau. "You start off with a coach. You go through the teams, then you have the rookies, the action cards and then you go on to the next team. I like the fact that it's a simple layout."
Four cards, a piece of gum and a two-stamp panel were inserted in each five-cent pack. The stamps marked the first time that Topps included a premium with their hockey product.
Measuring 1-3/8" by 1-7/8" individually or 3-3/8" by 1-7/8" when still intact as a panel, the 52 different stamps comprising this issue are relatively difficult to uncover today. The set features 26 players from the Bruins, Blackhawks and Rangers – all of which are also included in the regular card set, with the exception of Jack Evans. Twenty-six All-Time Greats are also part of the set, with all but three – Sprague Cleghorn, Eddie Gerard and Alex Connell – also featured in the 1960 Topps set.
The stamps have a blue tinge to them, and the All-Time Greats stamps resemble those offered as inserts in 1961 Topps Baseball packs.
"The stamps say they are printed in the U.S.," said Burrell. "I don't doubt that the stamps were printed in the U.S. because they were such a mock-up of the baseball issue from the year prior."
The two most coveted rookies in the 1961 Topps Hockey set are Jean Ratelle (#60) and Rod Gilbert (#62). Both are Hall of Famers that averaged approximately the same number of points per game over the course of their careers, but the Gilbert card sells for significantly more in top condition. For example, a PSA 9 Ratelle sold for $1,373 on eBay in August 2012, while a PSA 9 Gilbert garnered $2,234 (nearly $900 more than Ratelle) in the same month.
"Jean Ratelle is more of a Jean Beliveau-type of hockey player. He was a little bit quieter. Gilbert had these matinee idol looks," explained Vlahovich, who was nine years old when this set came out. "Gilbert was like a movie star among hockey players, so I think he had that kind of cachet about him. Jean Ratelle, on the other hand, is very humble, reserved and not as flashy, both in his personal life and in the way he played hockey."
The Bobby Hull single (#29) – whose card back describes him as a "blond Adonis with muscles on muscles" – is also highly sought-after.
"Bobby Hull is the superstar of that era, so his cards will always have a certain draw and will always be expensive," noted Vlahovich. "He was probably the most popular hockey player of that time period. Bobby Hull was sort of like Sidney Crosby is today. He was sort of the face of the NHL during that period."
Of the 264 Hulls submitted to PSA, there has been one PSA GEM-MT 10 and 24 PSA 9s. One PSA 9 sold for $776.75 at auction in June 2012.
Several other Hall of Famers are also featured in this set, including Johnny Bucyk (#8), Pierre Pilote (#24), Glenn Hall (#32), Stan Mikita (#36), Doug Harvey (#45), Gump Worsley (#50) and Andy Bathgate (#53).
The Topps cards are generally more difficult to uncover in pristine condition than their Parkhurst counterparts. Bourdeau says the red borders on the card backs tend to chip. Centering issues are also relatively common.
But despite housing two Hall of Famer rookies, the first Topps Hockey checklist and pasteboards of several other superstars, this issue's key singles are cards #63 to #65, which have proven to be extremely difficult to uncover in PSA 8 or better condition.
"The [PSA] Population Report numbers are so small on those cards that you just cross your fingers and hope that some day one of them comes up for auction on eBay," said Bourdeau, about cards #64 and #65. Then again, he adds, if that were to happen, "there would be so many people bidding on the cards that I don't know if I could fork out the dough for them."
View the set in the PSA Set Registry.
---
Please feel free to contact Kevin Glew at [email protected] if you have any additional information or comments. Please note that the Population Report figures quoted and Set Registry rankings reported are those as of March 2013.