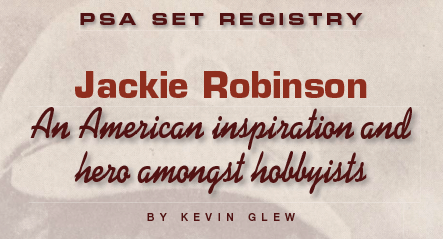 "A life is not important except in the impact it has on other lives."
This enlightened statement was made by Jackie Robinson, whose life was, by all measures, profoundly "important."
For years, legendary Brooklyn Dodgers executive Branch Rickey had secretly searched for a black player with the right combination of talent and courage to break Major League Baseball's color barrier. And in the athletic and fearless Robinson, he finally found his man.
After signing and starring with the Dodgers' Triple-A Montreal Royals in 1946, Robinson became the first African-American to suit up for a big league game in the 20th century when he stepped on to the field on April 15, 1947.
Subjected to merciless racial taunts on and off the field during that first season, the intrepid Robinson persevered to become a superstar, eventually leading the Dodgers to six National League pennants and a World Series title. In 10 big league campaigns, the electrifying trailblazer hit .311, was named the 1949 National League MVP and was a six-time all-star.
But his most significant contribution to baseball – and to the United States in general – came off the field as a symbol of hope. His bravery inspired, and continues to inspire, thousands, including a tenacious group of collectors who are pursuing his cards on the PSA Set Registry.
"I don't have any particular connection to Jackie Robinson, but I learned something about courage from him," explained Jonathan Orenstein, who owns the No. 4 Current Finest Basic Jackie Robinson Set on the PSA Set Registry and attended a game at Ebbets Field in 1956. "He was not afraid to fail, and that, I think, is the basis of his courage. He was not afraid to fail, so he went places where no one else would go."
Andy Linder, who has assembled the registry's No. 3 Current Finest Robinson Master Set, was born in Brooklyn and his great uncle owned a hat shop that Robinson frequented.
"I grew up in a very tolerant household in terms of respecting African-American people. My parents were always advocating equality," noted the 65-year-old Linder, who was at Yankee Stadium to witness Don Larsen's perfect game against his beloved Dodgers in Game 5 of the 1956 World Series. "As far as Jackie goes, he was a hero to all people. My parents would always talk about him, and he was an idol of mine."
Robinson has even inspired fans that were born after he played. Thirty-one-year-old Shaun Fyffe, who grew up in Poughkeepsie, New York, has worked diligently to put together the registry's No. 2 Robinson Master Set.
"Jackie Robinson is not only a baseball icon, but he's really an American icon," said Fyffe. "I was inspired by everything that he represented in terms of the struggles that he faced, and just being able to overcome those struggles is a powerful message."
Jason Eggert, a 39-year-old who grew up near Seattle, Washington, and owns the registry's No. 5 Master Set, was similarly captivated by Robinson's story. In fact, he's so passionate about his collection that he created a website (jackierobinson.net) dedicated to it.
"I always loved the history of baseball, and so I started doing some research on him and the amazing person that he was and the impact he had on baseball and America in general," explained Eggert. "Jackie Robinson was so instrumental in the Civil Rights movement. He was before his time in many aspects."
With this type of reverence, it's not surprising that competition for Robinson cards can be heated.
"The competition for Jackie Robinson cards is fierce," said Linder, who also collects cards of several other Dodgers from the same era. "I would say that out of all the players on the Dodgers, he's definitely the most difficult and expensive one to get. The other players don't even come close."
Fyffe adds that demand for Robinson cards is growing.
"There has definitely been an increase in interest," he said. "In general, I think pretty much every collector wants to have at least one Jackie Robinson card in their collection."
But what Basic and Master Set cards are the most coveted and elusive for Robinson collectors? Here's a breakdown:
Basic Set (8 cards)
1948 Leaf #79
Widely considered Robinson's rookie, this card is hampered by poor stock and print flaws in its yellow background. PSA MINT 9 examples have sold in excess of $40,000 as far back as 2001.
1949 Bowman #50
Like his Leaf rookie, Robinson's Bowman debut also tends to be plagued by print defects in its colorful background. There are both white and gray back versions of this 2-1/16" by 2-1/2" single. While many believe that the gray back variation is tougher to track down, it has yet to garner much of a premium. Of the 788 examples evaluated, there have been eight PSA 9s, one of which fetched $7,394.50 in a Memory Lane auction in August 2010.
1950 Bowman #22
The first 72 cards in the 1950 Bowman set, including the Robinson, are believed to have been short-printed.
"The hardest Robinson [Basic Set] card to find was a 1950 Bowman," said Orenstein. "That card is impossible. For some reason, they're usually off center and unattractive. The paper stock was not particularly good back then."
Of the 632 submitted, there have been 11 PSA 9s, one of which fetched $7,394.50 in a Memory Lane auction in November 2010.
1952 Topps #312
Although designated a double print, this sought-after single is also a vaunted high number that's positioned right after the Mantle rookie.
"From what I've seen over the years, it just seems like top-grade 1952 Topps Robinson cards are pretty tough," said Eggert. "A lot of times I see them with a black dot on the lower right-hand corner of the border."
Fyffe has seen a number of examples with poor centering. Orenstein says that prices of high-grade copies have risen significantly in recent years. A PSA 9 example sold for $15,405 at auction in November 2010.
1953 Topps #1
Also a double print, this is the first card of the set, which made it vulnerable to additional wear and tear.
"That card is difficult because there's chipping on the black border [on the bottom of the card front]," added Linder.
Poor centering can also be an issue. A PSA NM-MT 8 fetched $3,375 on eBay in September 2012.
1954 Topps #10
This coveted single showcases a large, color, profile shot of a smiling Robinson and a smaller black-and-white action photo against a bright yellow background. Finding an example with a background free of print blemishes can be challenging. Both white and gray back versions exist. The gray back variation is believed to have been printed in Canada and is more difficult to track down than the standard American white back.
"The only one [gray back] I've ever seen for sale is the one that I have," said Fyffe.
1955 Topps #50
With a horizontal card front that presents two Robinson pictures against a yellow background, this is one of the baseball pioneer's most attractive cards. Unfortunately, its left-to-right centering is frequently not aligned and black dots are sometimes visible on its yellow background. The sole PSA GEM-MT 10 example garnered $44,317.50 in a Memory Lane auction in April 2007.
1956 Topps #30
Employing the same horizontal format and profile shot of Robinson as the 1955 Topps single, this card distinguishes itself with a great action shot of the Dodgers' great stealing home on the card front. Poor top-to-bottom centering can be a problem with this single. Similar to Robinson's 1954 Topps card, both white and gray back versions exist. The gray back version is scarcer, but it generally only commands a modest premium.
Master Set (44 cards)
1947 Bond Bread
While the 1948 Leaf Robinson is generally recognized as his rookie, a 13-card set issued by Bond Bread paying tribute to the baseball pioneer was actually issued a year earlier.
These unnumbered, 2-1/4" by 3-1/2" cards feature Robinson in various black and white photos, while the backs feature comments about the bread. One card was distributed with each loaf of bread in select New York regions. As a result, these cards are much rarer than Robinson's Basic Set singles and are extremely difficult to uncover in flawless form. There has yet to be a single example to grade above PSA 8.
One of the Bond Bread cards, often referred to as "Portrait – Facsimile Autograph," was reportedly used for promotional purposes and is more widely available than the others.
Fyffe, who also owns the registry's No. 5, 1947 Current Finest Bond Bread Robinson set, says the "Leaping, No Scoreboard" and "Portrait, Glove in Air" Robinson singles are particularly elusive. A PSA VG 3 of the latter card sold for $7,702.50 at auction in March 2010.
"There has been an enormous increase in price between 2005 and now," says Fyffe about the sales price for the Bond Bread cards. "I think more and more people are starting to see that these cards just weren't as readily available as the Leaf or the Bowman cards, which were available on a wider scale."
1948 Old Gold Cigarettes
Two black and white advertising postcards (3-1/2" by 5-1/2") showcasing Robinson were released in 1948. The backs of these cards offer biographical information about the Dodgers pioneer.
The most common postcard presents Robinson kneeling in the dugout (denoted as "Kneeling in Dugout" in the registry listing), while a rarer card depicts him catching a ball ("Catching Ball"). Twenty-seven of the "Kneeling in Dugout" postcards have been submitted compared to just eight of the "Catching Ball" version. Linder owns a PSA EX-MT 6 of the "Catching Ball" version, which is the highest graded copy. A PSA VG-EX 4 example of this card sold for $701 on eBay in June 2011.
1952 Berk Ross
Reportedly distributed exclusively in the Northeastern U.S., cards from this series are plagued with centering issues and poor quality images. There have been just two PSA 9 examples of the Robinson single.
"I always loved the 1952 Berk Ross Robinson card, but I could never find one that had the eye appeal I wanted," said Eggert. "This past year, I found a [PSA] 7 that was really nicely centered. The centering is usually really bad on that card."
1955 Topps Hocus Focus #16
In an excellent blog entry, Bob Lemke (http://boblemke.blogspot.ca/) indicates that the 1955 Topps Hocus Focus cards were likely released in six-card strips in nickel packs. The Robinson was one of 23 baseball subjects from this series that is believed to include 126 cards in total.
Collectors had to wet these cards and expose them to light to bring the photo to life. Just one Robinson has been graded by PSA and it was deemed a PSA PR 1. Eggert owns a raw copy that he purchased as part of a nine-card lot off of eBay.
There is also a 1956 Hocus Focus Robinson that's evasive in pristine condition, but this card isn't part of the Master Set yet and hobbyists say it's easier to obtain than its predecessor.
With the new Robinson biopic – starring Chadwick Boseman as Jackie Robinson and Harrison Ford as Branch Rickey – slated for release in April, competition for these rare cards is bound to increase.
"I'm assuming the movie will develop more interest in Robinson cards," said Fyffe.
After he retired, Robinson was elected to the National Baseball Hall of Fame in his first year of eligibility in 1962. He also served as a business executive and continued to be a civil rights activist. Sadly, he died of a heart attack on October 24, 1972, when he was just 53.
Fortunately, his wife, Rachel, continues to share his story through the Jackie Robinson Foundation, which awards scholarships to disadvantaged minority students in the U.S. So while Robinson may have died more than 40 years ago, his message – "A life is not important except in the impact it has on other lives" – is still resonating, and there's no question that his life was, and continues to be, profoundly "important."
---
Please feel free to contact Kevin Glew at [email protected] if you have any additional information or comments. Thanks to Bob Lemke for allowing me to use information from his blog (http://boblemke.blogspot.ca/) Thanks also to Shaun Fyffe for sending his cards in to be scanned to go with this article. Please note that the Population Report figures and Set Registry rankings are those as of February 2013.