WEST BERLIN, NJ - MAR. 21, 2013 - Since 1875, discerning consumers have recognized Audemars Piguet as the leader in fine watch making. Similarly, since 1909, collectors of sports memorabilia have established the T206 Honus Wagner cigarette card as the ultimate centerpiece of any collection. Today, the two come together as "The Jumbo Wagner" -- one of the highest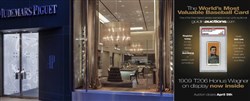 graded editions of the 1909 T206 Honus Wagner card and currently being offered for sale through April 5, by Goldin Auctions -- goes on display in the Audemars Piguet Flagship Boutique in New York City at 65 East 57th Street. Collectors can view the card through March 28, from 10:30-4:30 pm, or contact Goldin Auctions to arrange a private viewing.
The Wagner, graded EX 5 (MC) by PSA currently has a bid of $1.29 million*. Based upon the current environment and historical price increases, it is possible for this sale to set a new overall record price for The Wagner. In 2012, a Wagner graded VG 3 sold for over $1.2 million - a 76% increase over what another VG 3 Wagner sold for just four years earlier. (*includes 10% buyer's premium).
"With less than 50 authenticated Wagner cards out there, the opportunity to purchase one does not come around very often and it is obvious from the bidding there is quite a demand for this card from serious collectors," said Ken Goldin, Founder of Goldin Auctions. "We are pleased to be able to share this rare card with collectors and enthusiasts at this spectacular venue before it becomes the centerpiece of some fortunate person's collection."
Audemars Piguet, the world's oldest watch manufacturer still in the hands of its founding families opened its new 3,000 sq. ft. Flagship New York Boutique in 2009. The overall ambiance of the boutique is intimate, subtle and sophisticated. Walls in shades of cream, golden sand and taupe complement the dark brown wenge wood millwork and the wide plank oiled American black walnut flooring. Brushed stainless steel accents quietly echo the watches themselves.
Issued by the American Tobacco Company, from 1909-11 as part of the T206 series, less than 200 Wagner cards were ever issued. Production of the card was halted after Wagner, the Pittsburgh Pirates star shortstop, requested the tobacco company to stop including his image in the cigarette packs. As a result, there have been less than 50 authentic Wagner cards submitted for authentication and/or grading by the major card grading companies.
The T206 Honus Wagner up for auction has been referred to as "The Jumbo Wagner" by many in the world of sports collectibles due to its unusually ample borders. These dimensions, exceeding by far the standard size for a T206 baseball card, have virtually preserved a Near Mint example within its boundaries, elevating this example to an even higher and possibly unprecedented level in terms of condition. This card's very existence, along with its condition, have defied virtually all odds to provide one fortunate collector the bragging rights of a superb example of the most coveted card in the arena of sports collectibles.
For a look at the 850 items currently for sale by Goldin Auction through April 5, visit www.GoldinAuctions.com.